Spring Break 2023: 35 Fun Things To Do in Boston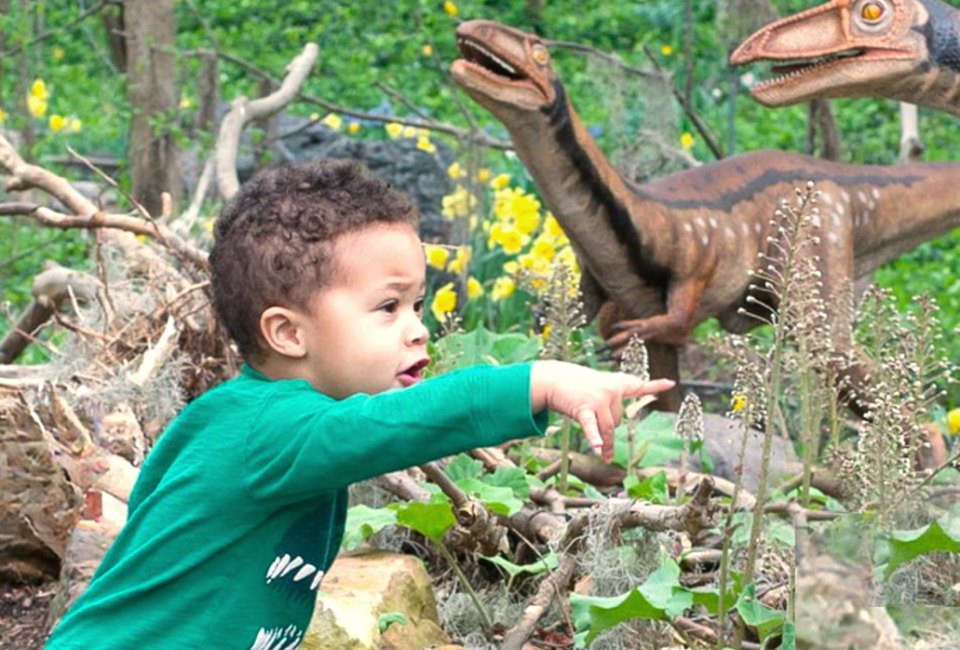 3/31/23
- By
Kip Wilson Rechea
Spring Break 2023 - Things To Do in Boston and Cambridge
1. Take the kids to Boston Symphony Hall for the BSO/BYSO Family Concert.
2. Head over to the USS Constitution Museum for the Kite Festival.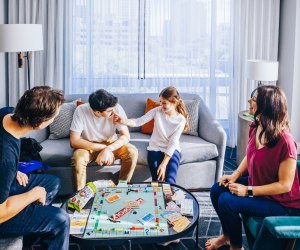 Grab a family suite and enjoy Cambridge like a tourist! Photo courtesy of Kimpton Marlowe Hotel
3. Indulge in a Cambridge staycation on the Charles at the Marlowe Hotel, enjoying scooters, family game night, and even in-house babysitting.
4. Become an Arctic Explorer at the Museum of Science.
5. Grab tickets for a Blue Man Group afternoon or evening show at the Charles Playhouse.
6. Cheer on the world-class athletes (and the non-world-class ones) participating in the Boston Marathon.
7. Explore the history of science at Harvard's Time, Life & Matter exhibit.
8. Take a stroll down Innovation Alley with hands-on exhibits, reading sessions, and team projects at the Charles River Museum of Industry & Innovation.
9. Take the running and jumping inside and visit one of these indoor play spaces.
10. Take a 90-minute chocolate tour of Harvard Square.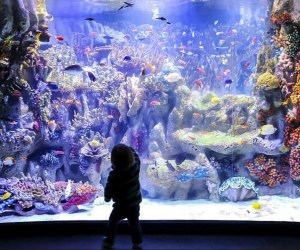 Get a close encounter with Boston's aquatic life this spring break 2023. Photo courtesy of the New England Aquarium
11. You may not be ready to plunge into the water yet, but you can still visit ocean life at the New England Aquarium. Make sure to swing by the touch tank for added fun!
12. Party for the Planet–and all its fabulous animals–at the Franklin Park Zoo.
13. Learn about the remarkable lives of sharks at the Harvard Museum of Natural History.
14. Hop on a boat and hit the water for a day of whale watching.
15. It's not springtime without a visit with baby farm animals! Pay a visit to a local farm to pet and feed the residents.
16. Let the little baking lovers whip up something tasty at Taste Buds Kitchen.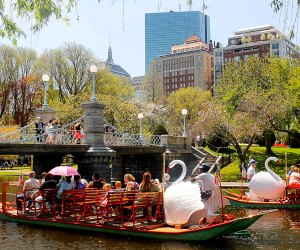 Swan Boats photo courtesy of the Boston Public Garden
17. Head over to the Public Garden for the return of the Swan Boats.
18. Search for ghosts and learn the secrets of Salem on a kids walking tour.
19. Navigate a laser maze, conquer a climbing wall, and design and build spaceships at the Legoland Discovery Center.

Take the kids out to the ballgame for April break. Photo courtesy of the Boston Red Sox, Facebook.
20. Buy some peanuts and cracker jacks and watch your little slugger run around the bases at Fenway Park.
Spring Break 2023 - Things To Do near Boston
21. Mix unique pastel paints and decorate ceramic art at CAMP Burlington.
22. Get the ultimate fun experience at Apex in Marlboro with a day of ropes courses, laser guns, go-karts, and more!
23. The Sheepshearing Festival is baa-ck with 100 vendors and artists, sheepshearing demonstrations, wagon rides, and more at Gore Place.
24. Take a ride to the Roger Williams Zoo and come face to face with 60 life-size animatronic and interactive dinosaurs.
25. View over 300 original NASA items at the Space Adventure exhibit in Chelsea.

Make new friends over a light lunch over Spring Break 2023 in Boston! Photo courtesy of the Southwick Zoo's Wild Adventure program
26. Calling all animal lovers: Sign up for the Southwick Zoo's Spring Wild Adventure program and spend the day playing games, crafting, and even meeting some animals up close!
27. Or maybe chill out with one more winter fun day and go for a spin at an indoor ice skating rink.
28. Test your mystery-solving skills in the Scooby-Doo escape room at Tewksbury's Escapology.
29. Just because it's not summer doesn't mean you can't hit the beach. Grab some pails and shovels (and maybe a jacket!) and build some sandcastles and collect shells.
30. It may not be warm enough for a dip in an outdoor pool, but you can still make a splash inside at one of these great indoor water parks.
31. Head to Mass Audubon's Drumlin Farm for some farming and nature exploration.
32. Make the break extra magical with a week of Disney-themed fun at Sugar Plum Parties in Billerica.
33. Bask in the warmer weather and take the family for an outdoor meal at one of these great restaurants.
34. Pack up the car with kids and snacks and roll out for a day trip!
35. Spring break is the perfect time to dust off the hiking boots and get vertical with a family hike.
Click Here to Sign Up!