4th of July Weekend in Boston: Fireworks, Parades, and More Things To Do with Kids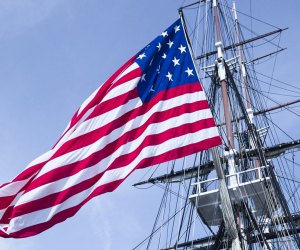 Looking for the best things to do in Boston this 4th of July weekend? The city is alight with fireworks, parades, and more family-friendly events to add to your list for this weekend.
Boston is the best place in the country to celebrate the 4th of July. Yep, we said it! For starters, it's the Cradle of Liberty, which gives our city certain rights to this holiday. Also, we have the Boston Pops 4th of July Fireworks, one of the largest 4th of July celebrations in the country with Harborfest, a celebration aboard the USS Constitution, and numerous fireworks celebrations taking place over the ocean. If you need a break from the red, white, and blue festivities, you can catch Jack and Beanstalk told by puppets or see the last weekend of the Asian Lantern Spectacular at the Roger Williams Zoo.
These are just a few of our favorite 4th of July weekend events; for a complete list of all the amazing Fourth of July fireworks shows near you, check out our Ultimate Guide to 4th of July Fireworks in Boston 2022. We also have the Best At-Home Fourth of July Activities for Kids, if you choose to celebrate without the crowds this year.
However you celebrate, we wish you a Happy Independence Day, Boston!
More Things To Do in Boston this Week with Kids: