6 Boston-Area Bars and Pubs That Are Fun for Family Dinner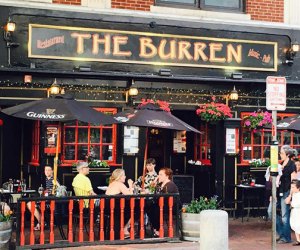 In Britain and Ireland, finding a pub is like shooting fish in a barrel. Over here, these cozy, community-oriented bars that combine good food and drinks are fewer, and finding one where you can bring your kids is even trickier, still. And yet, Boston is the proud home of some truly great family-friendly pubs where you can take your kids to eat in a lively atmosphere, and everyone will go home happy. We've covered some Irish-inspired stalwarts that are the places to be on St. Patty's Day...here, we're running through some of our fave options for grabbing some kid-friendly food, a proper pint for the grown-ups, and some fun family bonding anytime—all in an atmosphere that's suitable for babies through teens.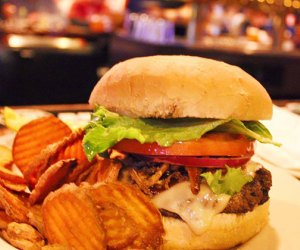 Burger and sweet potato chips are a popular combo at Cambridge Commons, our family's favorite spot.
Full disclosure: Cambridge Common is my family's favorite restaurant. We love it so much that I am hesitant to list it here lest it become more popular. That said, Cambridge Common is the ultimate family-friendly pub. On Mass. Ave. in Cambridge between Harvard and Porter Squares, the location can't be beat, but neither can the atmosphere and the service. The servers are friendly and helpful, kids get a special menu with crayons, and there are always games on the TV screens and colorful art on the walls. With lunch, dinner and Sunday brunch, you can't go wrong–my husband doesn't mind the 30+ beer list and the kids are down with the tater tots appetizer.
For a little bit of history, take your family to the Green Dragon Restaurant, across from City Hall. Founded in 1654, the Green Dragon was a favorite hangout of Paul Revere and John Hancock, where the plans for the invasion of Lexington and Concord were overheard. The Green Dragon has an authentic 17th-century vibe, and a kids' menu including fish and chips, chicken fingers, pasta and more.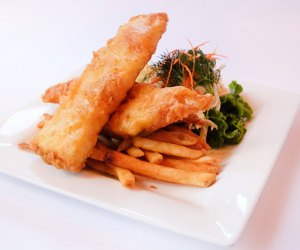 Fish and Chips are a must-order at Emmet's.
As a friend of mine recently told me, "You can't come to Boston without going to an Irish bar," and Emmet's Irish Pub and Restaurant certainly fits the bill. A cozy place on Beacon Hill, Emmet's has a kids' menu and serves brunch, lunch and dinner. Emmet's claims to be one of the most authentic Irish pubs in Boston, so don't leave without getting one of their "perfectly poured pints of Guinness."
If you're in Davis Square, check out The Burren, a Somerville landmark since 1996. Bring your kids for the Sunday Beatles Brunch, and stay for the weekly Irish music session. With a kids' menu for every meal, your children will be happy, and diners with specific dining needs will appreciate the vegan, vegetarian, and gluten-free options—which are often missing from actual Irish pubs.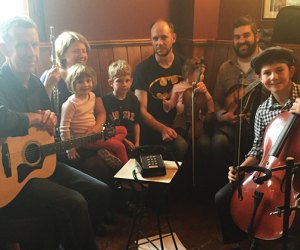 Hugh O'Neill's has live music and other entertainment.
It's worth getting out of the city to visit Hugh O'Neill's Restaurant and Pub in Malden. With 35 beers on tap, food for the wee ones, and music to boot, Hugh O'Neill's is a great place for the whole family. Hugh O'Neill's has the traditional old-time pub feel with a fireplace and dark wood bookshelves and even takes the local pub atmosphere to a new level with weekly trivia quizzes, as well as 50-cent wing nights, and Irish music seisiuns—not to mention weekly open mic nights and Sunday video game nights.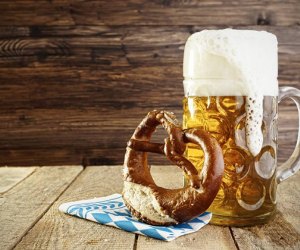 Jacob Wirth's is big, noisy, and excellent for kids.
Jacob Wirth Restaurant is an excellent option for theatergoers seeking an authentic German pub experience. Founded in 1868, Jacob Wirth was founded by a German immigrant who grew up in the same village as the Anheuser family and was the first distributor of Anheuser Busch products and was one of the founders of Narragansett beer. Specializing in Bavarian food like schnitzels and bratwursts, Jacob Wirth has an extensive menu with plenty of options for kids.
Top photo: The Burren. Photos courtesy of the pubs