5 Family-Friendly Irish Pubs for St. Patrick's Day Weekend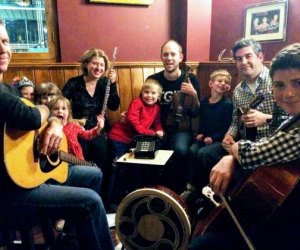 There are plenty of family-friendly ways to get in the spirit of St. Patrick's Day, from a free dose of Irish step dancing in Dorchester to the annual parade in South Boston. But perhaps the most authentic and enjoyable way to immerse the whole family in the Irish experience is right around the corner—at your neighborhood pub.
Kids at the pub? Absolutely. In Ireland, you see children in pubs all the time, especially in rural areas. Traditionally, the pub is the cultural focal point of the town. "Gathering as families is very important in Ireland. And for a whole variety of reasons—some as banal as the weather—the most ready place is the pub," says Brian O'Donovan, native of West Cork and host of A Celtic Sojourn on WGBH 89.7 FM. "They're open to all without invitation and provide warm, congenial spaces to chat with neighbors, find out what's happening, share or listen to a song or tune, or even join in a dance. I think that tradition and welcoming atmosphere has passed over here to their American equivalents."
Now, be sensible: I'm not recommending that you drag your kids to the jam-packed downtown pubs after work on Friday, where the drunken revelry of St. Patrick's Day can rival that of New Year's Eve. But if there's a true Irish pub in your neighborhood, it's likely fine to bring the kids for lunch or an early dinner—and some places even go out of their way to welcome the whole family.
Mr. Dooley's Olde Irish Country Pub—Wrentham
For example, while St. Patrick's Day pints will be pouring early and often on Friday, Mr. Dooley's also has a "Family St. Patrick's Day" on Saturday, March 18th, with Irish step dancing at 1 pm and live music from 2 pm to 6 pm. (Our daughter enjoyed a similar event at their Cohasset location a couple of years ago, pictured below.) This Metrowest outpost of the beloved Boston pub has plenty of nooks and crannies to get cozy in, and a kid's menu that includes staples like grilled cheese, chicken fingers, and mac and cheese.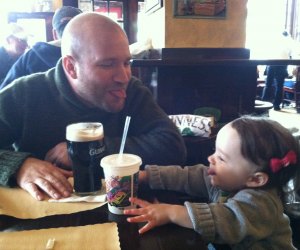 Hugh O'Neill's—Malden
Hugh O'Neill's is hosting a family-friendly St. Patrick's Day celebration, with live music from 11:30 am to 2 pm Friday, March 17th and again from 4 pm to 8 pm that evening. Kids are always welcome at their traditional Irish session on Saturdays (5:30 pm to 8:30 pm), and St. Paddy's performer Matt Heaton returns to serenade the brunch crowd at 12 pm on Sunday, March 19th. "As a true Irish Pub, owned by natives of Ireland, our goal always was, and continues to be, to make it the kind of place that four generations of a family like to come to and feel comfortable in," says co-owner Shane Smyth. "This is a common trait of pubs in Ireland, and one we've worked hard to recreate here at Hugh's. We like to think we've successfully done so, and love seeing kids running around the place having fun, and even better, watching the parents not get stressed out about this happening!" The craft beer list at Hugh's is probably the tops of any pub mentioned here, with close to three dozen delicious drafts competing with the Guinness tap, but kids are well taken care of, too. The usual suspects for the under-12 set (hot dog, grilled cheese, chicken tenders, cheeseburger, or mac and cheese) come with fries or veggies, soda, crayon pack, and a bowl of ice cream for dessert, all for just $5.
The Burren—Davis Square
No list of Irish anything in Boston is complete without The Burren in Davis Square, a musical institution. John Gannon leads a traditional Irish session in the front room from 3 pm to 6 pm on Saturdays, and kids are welcome. O'Donovan also loves the atmosphere of the Burren on Sunday afternoons, when there is a very family-friendly session. Meanwhile, the pub's musical co-founders Tommy McCarthy and Louise Costello are hosting a St. Patrick's Day variety show on Friday, March 17th (1 pm, 3 pm, 5 pm, and 7 pm), Saturday, March 18th (3 pm), and Sunday, March 19th (4 pm) in the pub's large back room. The all ages show is $25, and includes a dinner of corned beef and cabbage or Guinness beef stew, plus traditional live music, ballads, storytelling, and dancing.
Tinker's Son—Norwell
The cozy Tinker's Son in Norwell has five days of events and music planned, beginning with a traditional Irish session on Wednesday, March 15th from 5 pm to 8 pm. While there's music all day on Friday, March 17th—and I mean all day, beginning at 8:45 am—Saturday, March 18th might be a better time to take the kids, with Irish step dancing from 1 pm to 5 pm and live music (plus an "Irish Idol" open mic contest) from 3 pm to 7 pm. On Sunday, March 19th, there's more live Irish music from 11 am to 2 pm during the brunch buffet.

Finally, while it's not really an Irish pub, Bella Luna and the Milky Way in Jamaica Plain has been hosting an Irish session on Sunday evenings from 5 pm to 8 pm. It's not only family-friendly; kids even eat free. Meanwhile, grown-ups can order a proper pint of Guinness, or even a hard-to-find Brick Red ale fresh from the Sam Adams brewery next door.
284 Armory St., Jamaica Plain
Photos courtesy of Hugh O'Neill's pub (top) and author