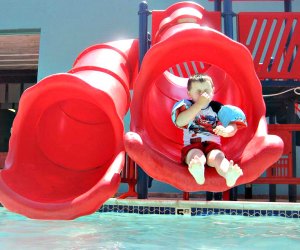 Swimming Pools and Spraygrounds with Day Passes or Memberships for Families Around Boston
We all could use a dip in an outdoor swimming pool during Boston's humid summertime. If you're looking for more of a swim than a splash pad will allow, or a little more excitement than Boston's free or nearly free pools offer you might want to consider paying for a day pass or a seasonal membership to one of these kid-friendly swimming pools featuring spraygrounds, kiddie pools, slides, and more. Here are seven gloriously refreshing options that will keep kids entertained all day. On a scorcher of a long day, the fees—and a bit of a drive, in some cases—will feel well worth it.
Outdoor Swimming Pools in Boston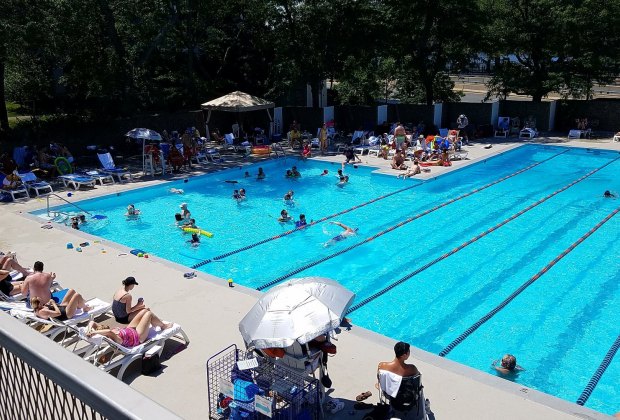 Lots of space and shade make the pool at The Clubs at Charles River Park special.
The Clubs at Charles River Park—Boston
While there are no tricky slides, CRP boasts the biggest pool in the city, which is a godsend on a hot and crowded day. You can count on a shallow kiddie pool and great snack bar, too. There are no day passes, but seasonal and even monthly memberships are available, which earn you access to fun classes and socials.
Outdoor Swimming Pools North of Boston
Ipswich YMCA—Ipswich
Another YMCA boasting an over the top-outdoor-pool area is Ipswich. This pool and water park features multiple slides for every size, a ropes course over the top of the pool, a splash and spray area and plenty of room to set up camp for the day and relax. Guest fees are $15 per adult, $5 per child or $20 per family for guests of members. Or, you can join the Y for the summer and also access the indoor pool, the gym, classes, and free childcare.
Outdoor Swimming Pools South of Boston
Dedham Health and Athletic Club—Dedham
This club's water park has multiple pools to splash in. Bigger kids can ride one of two huge water slides and grab a tube for some fun in the wave pool. The club also has a zero depth entry pool with a pirate ship and tipping bucket that's perfect for toddlers. Along with the pools, there are plenty of other ways to get wet, including as bumper boats and a spraying palm tree. There's also poolside dining and ongoing kids activities all summer long. You can opt for a membership that includes use of indoor fitness facilities as well as the pool or just join the Summer Club for a pool membership.
Outdoor Swimming Pools West of Boston
The Boston Sports Club has multiple pools, from lap lanes to ones with mushroom fountains and colorful animals.
Boston Sports Club—Wellesley
This BSC has an outdoor pool open from Memorial Day to Labor Day. The Club offers multiple pools: two kiddie pools with two slides; a walk-in pool with three water slides, a sprinkler, a waterfall, and a fountain; and a main pool with swimming lanes and a deep water diving section. The pool also features a poolside snack bar and dining area. Entrance is members-only, but summer pool memberships are available.
Pool Plaza: One Stop Fun—Westford
With a 1.5-foot toddler shallow pool and a 6-foot deep end, Pool Plaza at One Stop Fun will please all the kids in your family. The deep end offers four water slides, and there is a preschool slide in the shallow end for tiny tots. If your kids don't like to slide, there is also a spraying mushroom and water tables for entertainment. Pool Plaza has a snack shack with table service, as well as an air-conditioned snack bar for those scorching hot days. Day rates for the pool are $16 per child for the pool or $12 per member child, or $21 per child for pool and Gym Mania ($16 per member). Adults are free. Monthly memberships are also available.

The Underwood Pool has a large shallow end that's perfect for little kids.
Underwood Pool—Belmont
Underwood is a public pool, but it's one of the more upscale pools around. Recently redesigned, the pool has a large shallow end with a twisty slide for taller kids, as well as a smaller deep end with a diving board and a number of swimming lanes. Note: kids have to take a test to swim in the deep end, but tests are held every two hours in the afternoon. There is always an ice cream truck parked outside, and Stone Hearth Pizza has a stand at the pool all day long if you want to buy pizza. Residents pay $10 per child and $15 per adult for a day pass, while non-residents pay $25 per person. Family memberships are $550 for the season for non-residents, or $325 for residents.
Lifetime Fitness—Framingham
Lifetime has a lovely pool with two slides in the deep end, a shallow end with water features, and a separate lane pool for dedicated swimmers. Deck chairs with umbrellas back up to a quiet field, allowing parents to watch their kids swim from relative relaxation. There's a poolside cafe so you don't have to worry about packing lunch too! Day passes are $35 per day or $150 for 5 passes. Or, become a gym member for varying fees.

Codman has separate pools for tots and big kids.
Codman Pool—Lincoln
Codman is a beautiful–and quiet–bucolic option for families. Located behind the town schools, the pool is in an enormous field. With a toddler pool, a lane pool, and a slide, the pool is sure to please the whole family. Codman Pool has entertainment on summer evenings and a snack bar. After swimming, the kids can run in the field or watch people play baseball. Family memberships are $280 per resident or $600 per non-resident, with daily rates at $10 per person or $5 for guests of members.
JCC Greater Boston—Newton
The large main pool has a zero depth entrance perfect for younger kids, an inflatable slide, and lap lanes. Along with the main pool is a kiddie pool just for the littlest of swimmers. There's a picnic area and playground that includes foosball and ping pong for when you want to take a break from swimming. Monthly and full summer memberships for the pool are available.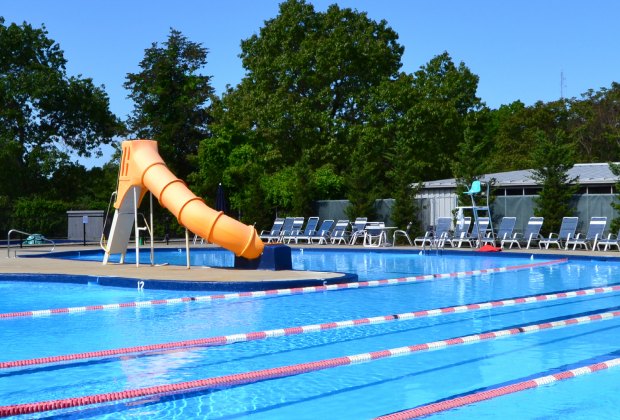 The big slide and a splashy turtle are highlights at the pool at the Waltham YMCA
Waltham YMCA—Waltham
This YMCA pool is a notch above most, with a shallow end and waterslide, a lane pool, a deep end, and a separate kiddie pool with a splashing turtle feature. Guest fees are $15 per adult, $5 per child or $20 per family for guests of members. Or, you can join the Y for the summer and also access the indoor pool, the gym, and the classes.
All photos courtesy of the pools or clubs