Little Seeds Play Space: Fabulous Fun for Boston Kids in Plainville, MA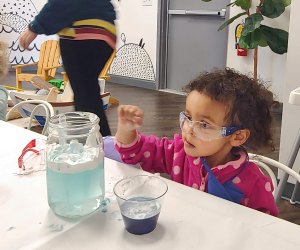 Wintertime or rainy-day doldrums got you down? The newly opened Little Seeds play space in Plainville, MA feels like a burst of sunshine among Boston's indoor play spaces. Wide windows, luxurious decor, and smiling faces grace this play area in an easy-to-get-to location just down the street from the Unlikely Story Bookstore and Cafe, and near to Juju B's as well. Register your little one for a STEM class at no extra cost, and explore the opportunities for enrichment provided in this modern business run by moms with a flair for the fabulous!
What to Do at Little Seeds Play Space
Little Seeds' charm is palpable when you walk through the front door. " We designed Little Seeds to feel like you're hanging out at a house of a friend with a really big playroom," says Little Seeds owner, Debbie. Guests are welcomed warmly, and asked to take their shoes and coats off and use the many benches, hooks, and cubbies for their belongings. The register and boutique area provide a gateway for the gated play space. Buy yourself a cup for the limitless coffee bar when you enter and pay admission (the charges are only for the children—thankfully, accompanying adults enter for free).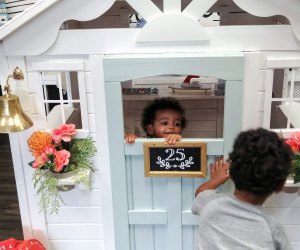 The play areas themselves were inspired by the different centers that you might find at a children's museum, with Montessori-style toys that encourage children to use their imaginations. When Little Seeds opened in spring of 2019, my one-year-old daughter especially loved the "baby" play area: a generous space set apart for the littlest ones, with a rocking chair for parents and soft rug and squeezable toys for babies. There's even a bookshelf to select titles from for quiet time with your little one.
The space has strong educational slant, with an emphasis on dramatic play through a variety of different imaginative child-sized stations. There's a music stage for toddler "bands", a camping area, a Le Petite Bistro for cooking and shopping pretend play, and more.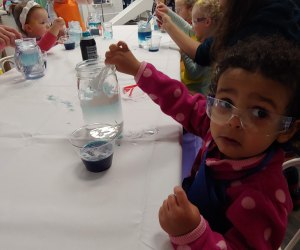 There are recurring classes, too, that are geared toward introducing little ones to new intellectual and creative concepts. I attended the STEM class with my two-year-old daughter, who loved it. I worried she might not be the right age for it, but she was in the middle of the range of ages of participants, who were young toddlers and preschoolers. According to owner Debbie, all recurring classes—even sophisticated-sounding STEM!— include fun, age-appropriate activities with an educational twist. My daughter was engaged and loved the sensory-focused activity, which was making "clouds" in mason jars to explore cause and effect.
We loved the calm, sunny, and educational atmosphere at Little Seeds. If you have an experience anything like ours, you and your little ones won't want to leave!
Know Before You Go to Little Seeds
Check out the active events page

on Facebook for upcoming activities such as STEM classes for toddlers and preschoolers, crafting, special activity "parties", and story time.

STEM classes at Little Seeds max out at 8 participants—a smart decision to keep the group focused and allow each child to have a hands-on experience. Register in advance

on their website

to ensure a spot for your child.

Bathrooms at Little Seeds are very clean and easily accessible with spaces for changing diapers.

There are often admission discount "deals" going on, so check the website or call ahead to ask.

Little Seeds has a rewards program in which you can earn rewards on the boutique and entrance fees.