Online Robotics Camp
Young Gates - Kids Online Personalized Classes

Artificial Intelligence with Scratch Online Camp
Young Gates - Kids Online Personalized Classes
Sign up for our free newsletters.
La Salette Shrine: Magical Christmas Lights are a Boston Family Tradition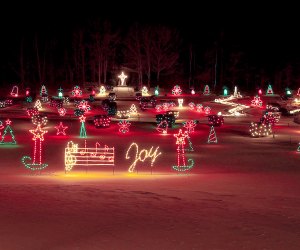 12/5/19
- By
Lauren Saunders
Boston boasts so many places to captivate kids with the twinkly glow of Christmas lights, from public holiday lights displays to spectacularly decorated private homes. But one local lights display is the most famous of all: La Salette Shrine. This stroller-friendly family attraction in Attleboro, MA, near the Rhode Island border, has enough lights—some 300,000!—to swell even the Grinch's heart with cheer during the holiday season. We recently visited with kids, and have tips for making the most of this special—and free!—family outing.

Biblical depictions are mixed in with secular scenes throughout the property.
What Makes LaSalette Shrine Lights Special
A harmonious mix of religious festival and carnival-style family fun, La Salette has a sweet atmosphere that has drawn crowds for over fifty years. The property itself is made up of a retreat center, a shrine to Mary, a residential buildings, a gift shop, and more. Lit up at Christmastime, La Salette offers a heart-warming family evening, filled with quiet moments walking around the sparkling pond, along with the fun of a Merry Go Round and train for toddlers.
Parking in the main lot, you'll see a well lit welcome area, lined with purple-lit trees. These are just the start of the glowing structures, stars, and figurines—some 300,000 lights sparkle across 10 acres. There are plenty of grounds to meander about, but if you have small children, especially ones in strollers, its best to stick to the paved paths near the main building and around the pretty, illuminated pond. Children's attractions are on either side of the main building near the entry, and they make what would ordinarily be a simple (but beautiful!) sightseeing trip for kids into a more interactive experience. Buy tickets at the kiosk for the small toddler train, one of the first interactive attractions you'll come upon; it's perfect for preschool aged kids and under.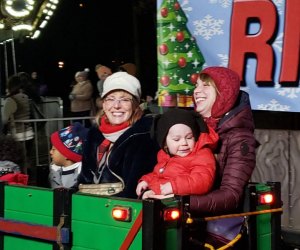 Little ones can enjoy a train ride while checking out the lights.
Outside to the right of the plaza are a couple more kid-focused attractions: Clopper the donkey is the main character of a cartoon-animated series books depicting the original Christmas. A live donkey is also situated by the outdoor creche nearby. Large trees tower over the walkways here, creating a canopy of lights. An animatronic scene as well as the large angel and wise men decorations will keep the kids wide-eyed as you conclude your visit.
There is no charge for entrance, but donations are welcome, which offers an opportunity to teach children about gratitude and generosity. An inspiring charitable organization, La Salette's weekly soup kitchen feeds Attleboro area residents. Conservation efforts have produced a collaboration with Massachusetts Audubon Society, and the creation of a wildlife sanctuary. La Salette is a place to visit year round, but the holidays certainly offer a special chance to connect with this peaceful place.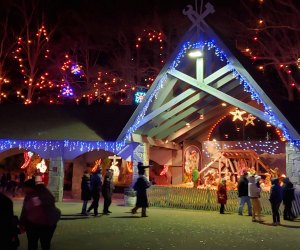 Nativity scenes sparkle at La Salette.
Tips Before You Go to La Salette Shrine
Look ahead to pick a night with decent weather to walk around, as the attraction is 99% outside.
Plan to spend at least an hour for your visit. We spent an hour and a half with two toddlers and a preschooler.
For your first trip, review or download a map from their website with bathrooms and attractions listed.
Lights go on at 5pm nightly and it is open until January 5th, 2020. Bring a fleece blanket to cover the kids in your stroller for the outside walk.
To warm up and use restrooms, follow signs for the indoor food court. Have cash on hand to pick up some cider or fried dough.
Photos with St. Nicholas are 5 to 9pm on Fridays through Sundays in the Welcome Center.
Top photo by Surunas Burdulis/CC BY 2.0 ​ All other photos by Lauren and Scott Saunders