Puerto Vallarta with Kids: 21 Best Things To Do in Puerto Vallarta, Mexico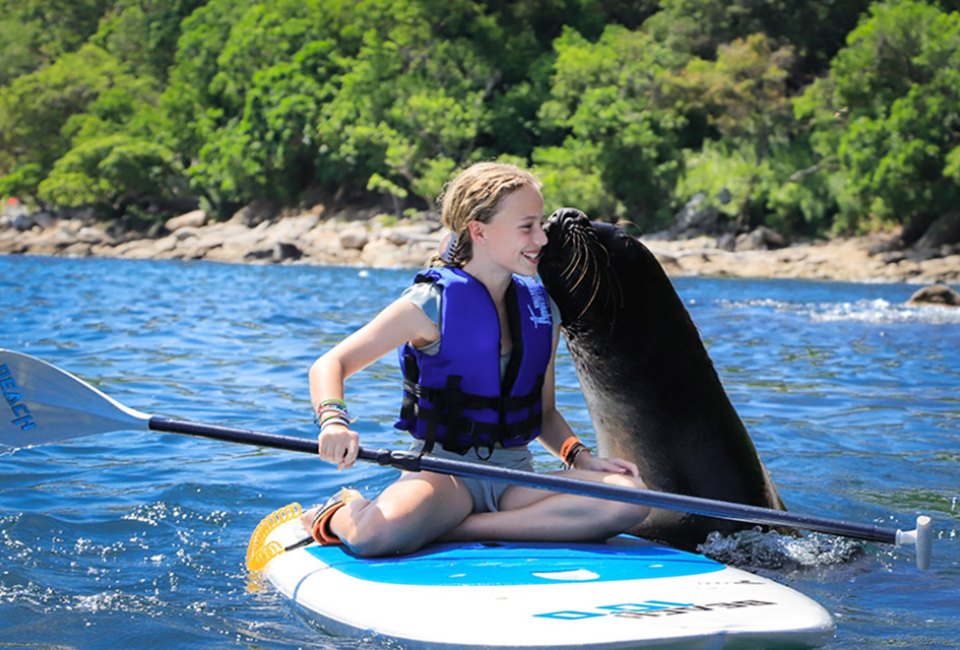 8/19/23
- By
Sandra Lee
Puerto Vallarta has everything that makes Mexico such a popular family vacation destination: warm and sunny weather, beautiful beaches, loads of outdoor activities, delicious cuisine, and family-friendly all-inclusive resorts. The city's manageable size and affordability are added bonuses that ensure everyone, from curious toddlers to uber-cool teens to adults in need of a little R&R, has a great time.
Whether you're swimming in the turquoise ocean water, learning to cook a new dish, or relaxing on a hammock while the kids play in the pool, you're bound to make lasting memories in Puerto Vallarta, as my family has over the years.
Here are the 21 top things to do in Puerto Vallarta with kids, including great Puerto Vallarta hotels and Puerto Vallarta restaurant options for families. Visit our Best Mexican Family Travel Guide for more great places to visit in Mexico, as well as our list of the best all-inclusive resorts in the US, Caribbean, and Mexico for kids.

Stroll The Malecón and enjoy gorgeous beach views. Photo by Mommy Poppins
Top Attractions in Puerto Vallarta for Families
Kids will love strolling this mile-long waterfront promenade lined with shops, restaurants, and street performers. Giant sand creations are constructed right before your eyes, and there are giant permanent sculptures to climb on. The Matamoros Lighthouse has the best view in town, especially during sunset.
When the little ones get hungry, cart vendors sell grilled shrimp and hot dogs. Don't miss a stroll through Los Arcos Amphitheater, where you might stumble across free cultural performances such as gaucho parades and mariachi festivals.
The Old Town Farmers Market, held each Saturday, is one of the best weekend attractions for locals and visitors. It's a producers-only market, and everything is grown or made within 75 kilometers of the town. Flowers, produce, homemade food, and locally made crafts are all for sale. You can also watch weavers and basket makers in action and listen to live music. Check the market's Facebook page for updates before visiting.
RELATED: Hotel Xcaret Mexico: An All-Inclusive Adventure in Playa del Carmen

Linger on Isla Río Cuale, a sand island that appeared in the river mouth in the 1920s. Photo courtesy of Puerto Vallarta
This shady oasis in downtown Puerto Vallarta is a souvenir shopper's dream, with so many unique finds including silver, ceramics, hammocks, and more. Families can stroll through the craft market and check out the little parks, rest on the many benches, and see the decorative sculptures and art displays. There are several bridges to the mainland, and kids can bike or run around the wide streets. There are also many iguanas hanging out on the rubber trees.
Consider a day trip outside city limits to explore this peaceful fishing village, home to a beautiful beach with waterfalls and coves. You'll need to climb a fairly steep path to get to the village, but ambitious kindergartners should be able to handle it, and kids will get an eye-opening peek into the rustic life of the town's several thousand inhabitants.
Book a day cruise with Vallarta Adventures, which includes a stop to snorkel and kayak, a cold buffet lunch, drinks, and a very helpful crew. Plus, you'll likely see whales if you cruise from December through March.

Filled with birds, local plants, and flowers, the Vallarta Gardens make for a complete day of relaxing enjoyment. Photo courtesy of the garden
When you need a day to relax and be out in nature, a trip to the botanical garden is a must. Families can see beautiful native Mexican plants and flowers, go on a hike, and even enjoy a post-garden swim at Río Horcones. There are options to explore the grounds at your own pace or go on a guided tour. Kids 4 and under are free.
Despite the fact that its name means "Beach of the Dead", Playa de Muertos is a great spot for older kids that like to go on adventures such as parasailing and Jet Skiing. It features beautiful golden sand and laid-back restaurants serving fried fish and fresh drinks at picnic tables right on the beach. For younger kiddos, check out Playa Conchas Chinas, a tiny cove with shallow water and plenty of tide pool exploration.
RELATED: Visiting Playa del Carmen and Riviera Maya in Mexico with Kids

Feel the strength of a newborn sea turtle's flippers as you help guide it to the ocean. Photo by Sara Marentette
More Fun Things to Do in Puerto Vallarta with Kids
7. Guide Baby Sea Turtles to the Ocean
From July to December, thousands of sea turtles hatch on the shores of Puerto Vallarta. Since they are vulnerable to predators, families can help guide them to the ocean safely by reaching out to the conservation organization Campamento Tortuguero Boca de Tomates to help with the task. The staff biologists are not only passionate about the mission, but they only ask for donations in return. You'll get an up-close and personal experience with sea turtles and learn a bunch as well.
8. Dolphin and Whale Excursions
See bottlenose dolphins (year-round) and humpback whales (from December to March) as they migrate from Alaska to Puerto Vallarta with an easy and fun boat excursion. Ecotours are run by enthusiastic naturalists that understand these beautiful marine mammals and have a wealth of knowledge. Make sure to bring a camera!
9. Pirate Ship Tour
Kids—and Johnny Depp fans—should have loads of fun on a high-seas adventure with Pirate Ship Vallarta. You can walk the plank, sword fight, watch pirates swing from the mast, and even go on an onboard treasure hunt. The ride lasts seven hours, with several hours spent kayaking, snorkeling, and swimming on a remote beach. While it comes at a hefty price, it's a memorable experience for sure.
A trip to Vallarta Zoo is a great adventure for kids, with unique opportunities such as feeding the animals and playing with jaguar and lion cubs. The majority of the zoo is shaded, and families can see a wide variety of animals including giraffes, hippos, peacocks, and more.

Take a scenic horseback ride through the mountains. Photo courtesy of Rancho el Charro's Mountain Waterfall Ride
11. Horseback Riding
Take horseback riding to another level with Rancho el Charro's Mountain Waterfall Ride. This unique experience brings families through the Sierra Madre Mountains, with beautiful backdrops and the sounds of nature along the route. You'll go through the jungle with an experienced guide and end up at a beautiful waterfall where you can swim and cool off after a long day. Kids 6 and under ride free with an adult.
12. Food Tours and Cooking Classes
Puerto Vallarta is one of Mexico's culinary gems. If you are a foodie family interested in eating like a local, book a guided tour with Vallarta Food Tours. There is a great deal to be learned about the culture, history, and sights of Puerto Vallarta as you stroll the city with your guide and nibble away.
Prefer to put on an apron and get in the kitchen? The ChocoMuseo has mini chocolate workshops for kids and families that include chocolate-making lessons and the opportunity to make your own milk or dark chocolate with over 15 filling options.
While you may not think of water parks when planning a trip to Mexico, both Aquaventuras and Parque Acuatico are very popular with families of little ones that want to splash and play all day. Kids can swim with dolphins, go down gigantic water slides, splash in the playground, and even zip line.
14. Zip Lining
Speaking of zip lining, Puerto Vallarta has fantastic opportunities to soar through the treetops. At Canopy River, families with kids ages 6 and older can ride an 11-zip line circuit, walking through nature paths along the way, taking a ride on a mule, and splashing into the river at the very end.
15. Volunteering
If you've ever considered vacation volunteering, Entreamigos is a center offering locals classes in English and circus arts, while the art studio turns recycled laundry detergent containers into ride-on children's toys that are sold at the shop. Families can help out in the library, the art studio, the play center, or the kitchen, and older kids can be homework helpers to younger kiddos. You can help those in need while learning a few words of Spanish.
RELATED: All-Inclusive Decadence at Mexico's Grand Velas Resort Los Cabos

Velas Vallarta is a highly rated Puerto Vallarta all-inclusive resort. Photo courtesy of the resort
Kid-Friendly Puerto Vallarta Hotels
This award-winning, beachfront Puerto Vallarta all-inclusive resort offers tons of family activities including two swimming pools, a kids club, water sports, arts and crafts, nightly shows and entertainment, and so much more. Three-bedroom suites are available to accommodate large families. Read our founder's glowing review of Velas Vallarta—she was especially impressed by its Earth-friendly green initiative!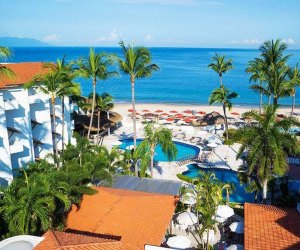 Buenaventura Grand Hotel is a low-key, kid-friendly, beachfront hotel. Photo courtesy of the hotel
The small Puerto Vallarta all-inclusive hotel sits on the beach right in the middle of everything and is only a few minutes walk from the Malecón. The cozy property is a good mid-price option, as it isn't a luxury resort but has everything families need. Accommodations include a daytime kids club for ages 4-12, several pools (including a separate kids' pool), babysitting services, and a recreation club.

Relax in the pool at Sunscape Puerto Vallarta. Photo courtesy of the hotel
A great hotel that fits those looking for a low-budget option, this Puerto Vallarta all-inclusive hotel is part of the Hyatt group, so those who have points can use it at this resort. Kids stay free with two paying adults, which is a huge win for big families traveling together. The location is just minutes from downtown, and you can easily see whales swimming around during peak season. The kids club and teen club are popular and even give guests the "red carpet" treatment.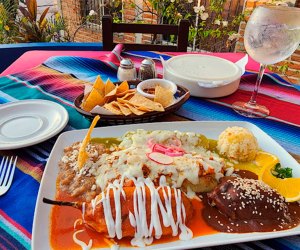 Enjoy delicious Mexican cuisine at Gaby's Restaurant Bar. Photo courtesy of the restaurant
Great Puerto Vallarta Restaurant Options for Families
This popular restaurant run by three generations of family serves up traditional Mexican cuisine in a colorful converted home. There are tables throughout the house, including on an upstairs patio overlooking the Malecón and the beach. Enjoy Mexican favorites like giant burritos, fajitas, and enchiladas, but there is also pasta bolognese or pasta with butter for the pickiest eaters.
Open 9am-3pm, Fredys Tucan is the perfect place to enjoy a delicious family breakfast or brunch. From American dishes like pancakes and waffles to Mexican specialties including chilaquiles and enchiladas, there is a wide variety of options to choose from. The kids' menu features mini alfredo pasta, happy-face pancakes, and other fun choices.
This laid-back, family-owned restaurant with an open kitchen specializes in seafood, ranging from typical favorites like breaded shrimp served with rice and salad to more adventurous items such as octopus casserole. The restaurant also offers several non-seafood items including burgers and BBQ ribs, as well as a kids' menu featuring quesadillas, chicken nuggets, and other child-friendly picks.
Disclosure: We may earn a small commission if you click through our link and make a purchase. This revenue helps us maintain this site, so thank you for supporting us.
Click Here to Sign Up!
i