Not Your Usual Back-to-School Supplies List: Actually Useful Ideas from a Teacher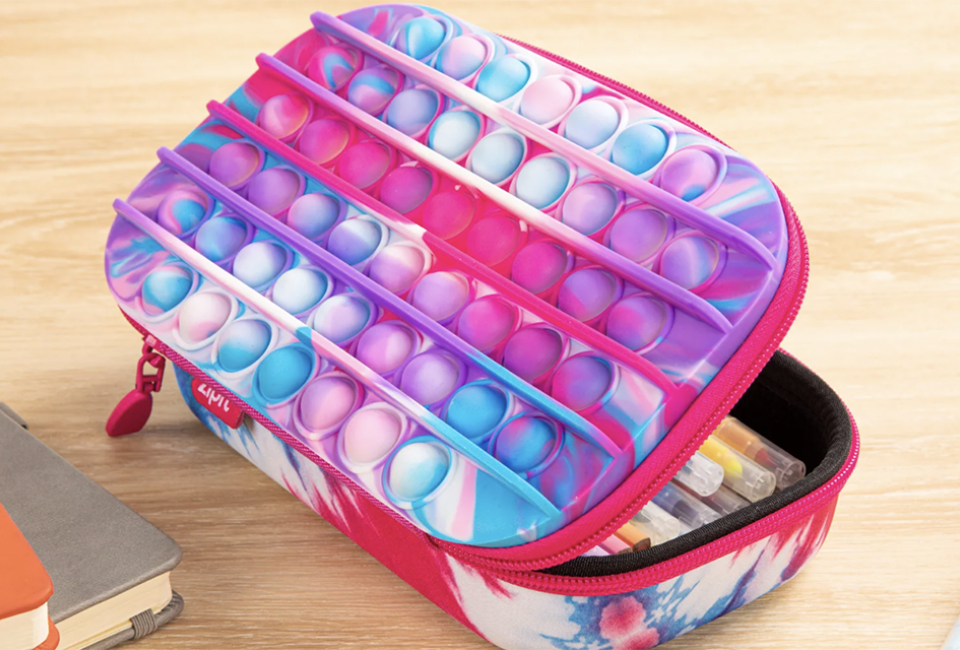 8/1/23
- By
Ally Noel
It's that time of year again – Back-to-School, which means it's time to go shopping for back-to-school supplies! There are plenty of boring back-to-school lists out there that have the typical pencil case, crayons, and a backpack. That's not what this list is.
This Back-to-School season, we've talked with a teacher and several moms to come up with favorite lesser-known items that we think deserve a place in your Back-to-School shopping cart. From noise-canceling headphones to erasable pens that really work, we come up with a list of unique essentials.
Whether your little one is starting kindergarten or heading back to elementary school, we've got you covered with a list of cool back-to-school supplies that will make the upcoming school year a breeze. For more Back-to-School ideas, like lunches kids actually like or first day of school traditions, check out our Back-to-School Guide.
More Back-to-School Essentials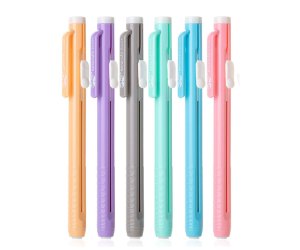 Mr. Pen Retractable Erasers won't leave you with broken or with broken erasers or messy shavings.
Our Unique Back-to-School Supplies List
Mr. Pen's Retractable Erasers have a convenient twist-up design making them a must-have for kids. Say goodbye to smudges and messy eraser shavings.
Buy it now at Amazon, or check out these similar ones from Universal at Target.
Ticonderoga Pre-Sharpened Pencils are a time saver for busy parents. I love how these pencils come perfectly sharpened and ready for action. With a smooth lead and reliable tip, they're my go-to pencil for schoolwork.
Buy it now at Amazon or Target.

Pilot FriXion Clickable Erasable Gel Pens truly are erasable, and the variety of colors is fun for kids.
Meet your new secret weapon: Pilot FriXion Clickable Erasable Gel Pens. These pens are like magic! The erasable design makes them perfect for anything from schoolwork to doodling. The clickable feature adds convenience, so no losing caps
Buy it now at Amazon or Target.

Unless you have a dedicated desk for everyone in the family, a lap desk like the LapGear MyDesk is a huge help.
This comfy and sturdy lap desk is a lifesaver for kids' homework, art projects, and screen time. Its spacious surface easily fits laptops, tablets, and even snacks! No more struggling with finding a suitable workspace – just pop this lap desk on your lap or any flat surface, and you're good to go! The built-in phone holder is perfect for keeping devices within reach, and the cushioned bottom ensures that everyone is comfy.
Buy it now at Amazon or check out this similar one from Sofia + Sam at Target.

Pen + Gear 2 Pocket Folder organizes and is tough enough to last all year.
I know, I know, your kid wants a flimsy kitty cat folder. These folders may not be the cutest, but they will last all year, and to me, that's better than cute kitten faces. The Pen + Gear 2 Pocket Folder's durable design keeps important papers, schoolwork, and art projects organized and safe in even the most cluttered of backpacks.
Buy it now at Amazon or get a 10-pack from Staples at Target.

noot Foldable Headphones are inexpensive and fold up neatly, so they don't take up space or get tangled up in backpacks.
Finally! No more tangled cords. Perfect for study time, these headphones have a 3.5mm jack, that makes them compatible with most devices. It folds up for easy travel to school and the variety of cute colors means everyone can find one they love.
Buy it now at Amazon or these, made by Inten, at Target.

Snug Kids Noise-Canceling Headphones are the ones we use at home, so kids can concentrate.
For school, I like headphones that aren't soundproof, so kids can hear the teacher. For home, with multiple kids, plus the rest of the family, I like these, which are super comfortable and make it easier for kids to concentrate. Plus, there are so many colors and designs! And right now, it's on sale for 39% off!
Buy it now at Amazon or this similar pair made by Altec Lansing at Target.

ZIPIT Pop-Up Pencil Case is not your average case. It's cute and helps reduce first day jitters.
I love products that double up on functionality. This pencil box not only holds all your stuff, but it's also a fun fidget! Plus, the secure zipper closure ensures that nothing spills out, making it ideal for on-the-go use too. No more lost crayons or scattered erasers.
Buy it now at Amazon or this similar one (for half the price!) at Target.
Elmer's Disappearing Purple School Glue Sticks are the only ones we use.
As far as I'm concerned, this is the only glue stick that any elementary student should have. The magical purple color vanishes as it dries, making it easy for kids to see where they've applied it. These glue sticks are also mess-free and washable.
Buy it now at Amazon or Target.
The Bostitch Twist-n-Sharp Pencil Sharpener's twist-to-sharpen feature is super easy to use – just let the kiddos twist, and voila! Plus, it comes with a nifty shavings tray, making clean-up a breeze.
Buy it now at Amazon or Target.

Thermos Funtainer is awesome for ice water in the summer, and cocoa for hockey practice after school.
This awesome kids' thermos keeps drinks icy cold or piping hot for hours, making it perfect for school lunches. Its durable stainless steel construction can withstand little hands' rough handling, and the leak-proof design ensures no messy spills. Plus, the easy-to-open lid means kids can independently enjoy their favorite beverages or snacks without any help.
Buy it now at Amazon or Target.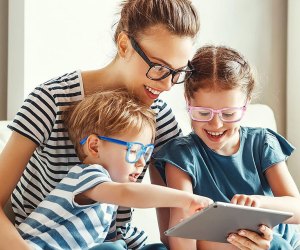 Stock up on these eye-saving Okany Bluelight Glasses for kids on screens all day.
These trendy specs shield young eyes from screens, easing digital eye strain and promoting better sleep. Let me just say that part again. These classes help with better sleep. Nuff said.
Buy it now at Amazon or these made by Cat & Jack at Target.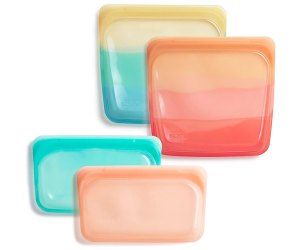 I'm usually not a fan of silicone reusable bags, but the Stasher Reusable Silicone Storage Bags made me a convert.
Ditch the disposable plastic bags and opt for this eco-friendly alternative. It's perfect for storing snacks and lunches. With a leak-proof seal and sturdy design, you can confidently throw it in your bag without any worries. I have tried a lot of silicone bags, and most are hard to close or clean, and this one is neither.
Buy it now at Amazon or Target.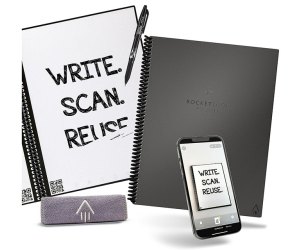 Rocketbook Smart Reusable Notebooks are great for school and even birthday gifts.
Discover the magic of the Rocketbook Smart Reusable Notebook. Older kids can ditch the paper waste with its erasable pages and effortlessly upload notes and doodles to their favorite cloud services. We actually give this as birthday gifts for older kids. It's on sale now, for back-to-school, so stock up!
Buy it now at Amazon or Target.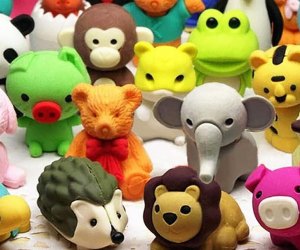 Animal Erasers Desk Pets make homework cute, if not fun.
Animal Erasers Desk Pets are cute, fun, and functional school supplies. They're not just erasers; they double as desk pets. Add these adorable Animal Erasers Desk Pets to your shopping list to add a little bit of fun to your back-to-school shopping list. Put a different one in kids' backpacks each day for a fun surprise!
Buy it now at Amazon or Target.
This nifty product keeps sanitizer within reach and attached to backpacks or lunch boxes, making on-the-go hygiene a breeze. Since it comes with several, you can attach one to the backpack, one to the lunchbox, one to the water bottle, and still have extras.
Buy it now at Amazon or Target.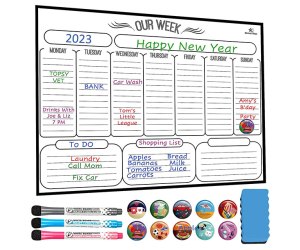 Magnetic Weekly Dry Erase Board Calendar Whiteboard help you stay organized for the crazy school year ahead.
I put everything on this board. After-school activities, carpool schedules, what's for dinner, when projects are due at school—everything. Kids can add their own homework or things they want me to buy at the grocery store. I couldn't function without it during the school year.
Buy it now at Amazon or Target.
If you don't have a huge closet or cart for art supplies, or even if you do, I like to have a little portable caddy where you can keep crayons, glue sticks, scissors, pencils, and markers. Plop it down next to any kid of any age working on homework or a craft project.
Buy it now at Amazon or Target.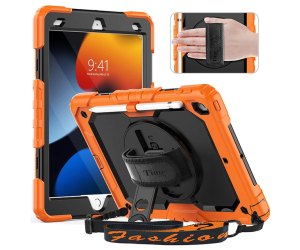 Timecity iPad Cases are a must-have at our house, because I'm not paying for a busted used iPad.
Most kids have school iPads or Chromebooks these days, and parents are often responsible for replacing them if they break. I love this iPad case, which is honestly unbreakable, and also props the device up for hands-free watching or reading. If your kids have school Chromebooks, not iPads, I like this hard shell.
Buy it now at Amazon or check out this indestructible iPad case at Target.
Disclosure: We may earn a small commission if you click through our link and make a purchase. This revenue helps us maintain this site, so thank you for supporting us.
Photos courtesy of the manufacturers
Click Here to Sign Up!