Submerge: NYC Marine Science Festival
Hudson River Park Pier 84

Cirque-tacular presents 'The Art of Circus'
BMCC Tribeca Performing Arts Center

Sugar Skull! A Dia de Muertos Musical Adventure
The Sheen Center for Thought & Culture
Legoland New York: 5 Things We Can't Wait To Do When the Theme Park Reopens for 2022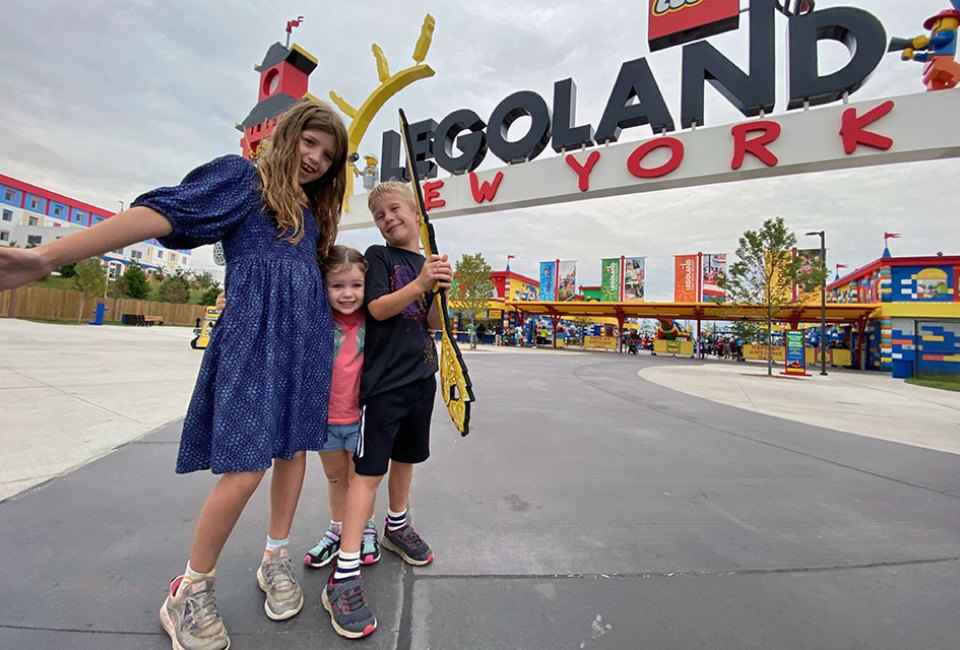 4/7/22
- By
Jody Mercier
Legoland New York is set to open for its second season on Friday, April 8, and we had so much fun visiting the mega theme park last season, we just can't wait for a full season of fun. Here are five things we're looking forward to at Legoland New York in 2022.
Find more local theme park fun in our Guide to Theme Parks and Water Parks.
Subscribe to our newsletters to get stories like this delivered directly to your inbox.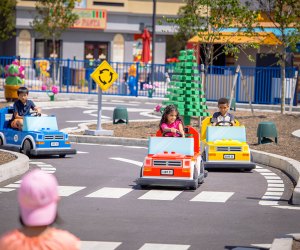 Get your driver's license at the Legoland New York Driving School.
1. Spring Break at Legoland
Originally set to open in July 2020, Legoland New York finally opened its doors over Memorial Day weekend in 2021. While that meant a full summer of fun, we're thrilled that it's opening in early April this year like many other local amusement parks, giving visitors access to its 150 acres all spring long. Following Friday's opening day, the park operates daily through Monday, April 25 to accommodate spring break visitors. It's open Fridays through Mondays through Monday, May 16, and gradually adds operating dates in late May and June before the summer season keeps it open daily. See the operating calendar for full hours.
2. Lego City Water Playground
The spring break crowds won't have access to this new water attraction, but it's a perfect excuse to plan a return visit. The Lego City Water Playground is set for a summertime opening and promises to be an oasis of cooling fun in the Lego City land.
RELATED: Guide to Theme Parks and Water Parks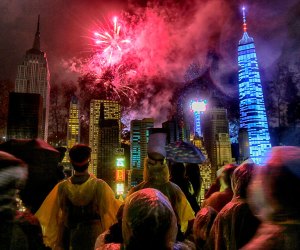 The sparklers are set to fly over Legoland New York on July 4 during its first Red, White & BOOM celebration.
3. Red, White & BOOM Celebration
There's no better way to celebrate the Fourth of July than with a spectacular fireworks display unless, of course, those fireworks take flight over the kid-friendly confines of Legoland New York. Book tickets now to be a part of the park's first Independence Day celebration.
4. New Stage Shows
Legoland New York's theme park experience expands well beyond its brick-themed lands and magnificent models! There's plenty of entertainment to be enjoyed on the streets as you wander from ride to ride and at its stage shows. This summer, it'll debut two new stages and accompanying themed shows. Catch the Academy of Arrrrr in the Lego Pirates land and see Detective Trace and Earth BEAT! on stage in Lego City.
RELATED: Six Flags NJ: An Amusement Park with Big and Little Thrills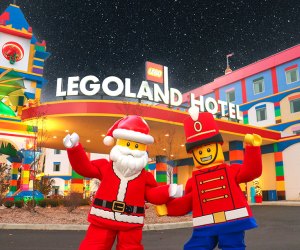 Christmas at Legoland New York? Yes please! A Christmas Bricktacular is set to close out the season in November and December.
5. Christmas Bricktacular
Not only will Legoland New York open earlier than last season, but it's extending its season on the back-end, too, with weekend hours in November and December where guests are invited to celebrate the holidays Lego-style. Meet a Lego Santa on-site and enjoy seasonally-themed builds throughout the park's seven lands.
Interested in checking out the fun for yourself? Single-day tickets and season passes are available online now. Like last season, a reservation is required to visit, so plan your adventure in advance. If one day isn't enough, consider an overnight stay at Legoland Hotel, which puts you just steps from the entrance. Fun extras like themed rooms, nightly entertainment, and a pre-park breakfast buffet add to the fun.
Unless noted, photos courtesy of Legoland
Places featured in this article:

Sign up for our free
newsletters.
Mommy Poppins is a family activity website that helps people find things to do with kids.
©
2023
MommyPoppins. All Rights Reserved.
mp-prod4-v4.32.99
Click Here to Sign Up!
i