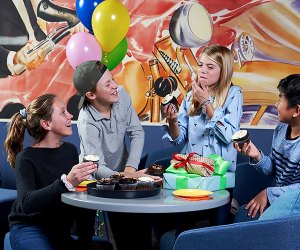 8 New Birthday Party Spots for Westchester Kids in 2019
Are you crowd-sourcing to find a fresh venue for hosting your next birthday party? We know the drill. Despite the scores of party venues in Westchester, there's often a desire for something new. Fortunately, a bunch of new venues opened in Westchester in the last year that offer kids' birthday parties. From sweet shops to swimming, climbing adventures to cartooning, this new mix offers a variety of activities. Your kids might even be grown-ups by the time you try them all!
Read on to learn more. If you haven't done so already, sign up for our newsletters to stay in the know!
Bedford Playhouse – Bedford
The recently renovated theater dates back to 1947 but closed in 2015. Advocates for preservation banded together in a labor of love to revitalize the space. In the newly revamped theater, party offerings include either reserving group seats at a regularly scheduled public screening or private rental of the space. Both options include a small popcorn, small drink, and film admission. The private rental also allows 45-minute use of its "celebration zone" in the cafe banquette area.

Aspecialty cone with a roasted marshmallow on top is an extra sweet way to indulge kids on their birthday. Photo courtesy of Bona Bona Ice Cream
Bona Bona Ice Cream – Port Chester
Ninety-minute parties are held in this newly opened ice cream parlor's private Sprinkle Room, which accommodates up to 16 guests. Parties begin with photo ops using props, a continuous slide show, and pizza. Decorate an apron or picture frame, then either make your own milkshake (the fancy kind, with the toppings plastered around the rim via buttercream), or make your own sundae (on a base of brownies or chocolate-chip-cookie waffles). But don't dig in yet! First, put on your goggles, because parties culminate with a celebratory sprinkle shower, when sprinkles rain from the ceiling confetti-style—right onto the frozen confections (and everywhere).
RELATED: Top Indoor Birthday Party Places for Westchester Kids

Boundless Adventure offers party packages to make the day stress-free and fun! Photo courtesy of Boundless Adventures
Boundless Adventures – Purchase
Seasonal parties are available at Boundless Adventures, the new treetop adventure park that opened last year on the Purchase College campus. While closed in the winter, the 2019 schedule runs April 5–November 30, with hours varying by season. Party packages include the climbing experience, a reserved picnic table, customizable electronic invitations, and a Boundless Adventures t-shirt for the birthday girl or boy. Optional goodie bags are available for a supplemental fee, and guests are welcome to bring their own food and drinks. Recommended party durations vary by age group: The facility recommends a two-hour party for children 8-9 years of age and a three-hour party for children aged 10 and up. Rates vary by age of participant, the number of participants, party duration, and day of the week (weekdays cost less than weekends).

Flowerbake by Angela has a cheerful party room and cakes made with organic ingredients. Photo courtesy of the shop
Flowerbake Bakery by Angela – Pelham
This Pelham sweet shop offers hands-on baking parties for kids in its cheerful setting and dedicated party room. For ages 5 and up, guests learn techniques for decorating cupcakes using buttercream, sprinkles, fondant, and candy. For ages 8 and up, guests learn how to bake a six-inch cake and learn techniques for how to prepare the cake for professional-looking decoration and then adorn it using buttercream and fondant. All parties are 90 minutes and include a chef's hat (personalized at the beginning of the party), food and drink, paper goods, balloons, and a box in which to take home the cake or cupcake. Add-ons such as piñatas, personalized favors, face painting, and photo booths are also available for a supplemental fee.
Goldfish Swim School – Yorktown Heights
Even winter babies can have a pool party at the recently opened Goldfish Swim School. With its tropical motif and brightly hued décor, the facility offers both classes and parties year-round. Party packages include invitations, two hours of private facility use, cupcakes, drinks, decorations (in a tropical theme, of course), and paper goods. Certified lifeguards supervise all swimming.
My Gym – Dobbs Ferry
While My Gym has other locations in Westchester, a new facility opened in Dobbs Ferry in 2018. For parties, My Gym boasts action-packed activities, games, puppets, songs, relays, rides, and more, with special requests accommodated when made prior to the party. A 90-minute private party package features 60 minutes of gym time and 30 minutes in the party room for up to 15 children. This includes a customizable electronic invitation, pizza, drinks, paper goods, and balloon bouquets, as well as two complimentary classes for the birthday girl or boy and one complimentary class for each guest. Outside food is not allowed.
One River School of Art & Design – Hartsdale and Larchmont
This new art school opened two locations last year, with art parties offered at both. Guests use professional art materials and receive instruction from three or more professional teaching artists staffing each event. Parties are primarily geared toward kids in grades K-5. Projects suitable for the two-hour timeframe include cartooning, sculpting, painting, and printmaking. Specifically, these might include pattern-printing on eco canvas bags, designing superheroes and their associated powers, sculpting pinch-pot monsters, or painting cupcakes on canvas using Pop Art–inspired dot-matrixes in the style of Roy Lichtenstein. Food, drink, and decorations are provided, and parents who wish to stay may linger in the gallery. Staff take digital photos throughout the party and create a Dropbox for families to access. Parties may be scheduled on Fridays or Sundays.
RELATED: 20 Free Ways To Celebrate Your Child's Birthday

Decorate a cookie at the Snackery Bake Shop in Larchmont. Photo courtesy of the shop
The Snackery Bake Shop – Larchmont
This sweet shop, which opened just in time for the holidays in 2018, is the newest addition to the party scene. Several culinary themes are available for the birthday girl or boy to choose from: cookie decorating, cupcake decorating, candy sushi, and edible slime. Parties are offered on Thursday and Friday afternoons and Saturday mornings. Pizza, water, and paper goods are provided. Outside food and drink are not permitted. Optional add-ons include coloring your own sugar cookies and refreshments for the adults. Up to 18 guests can be accommodated.
Looking for more party venues? Consult our directory.