11 New Birthday Party Venues for Westchester Families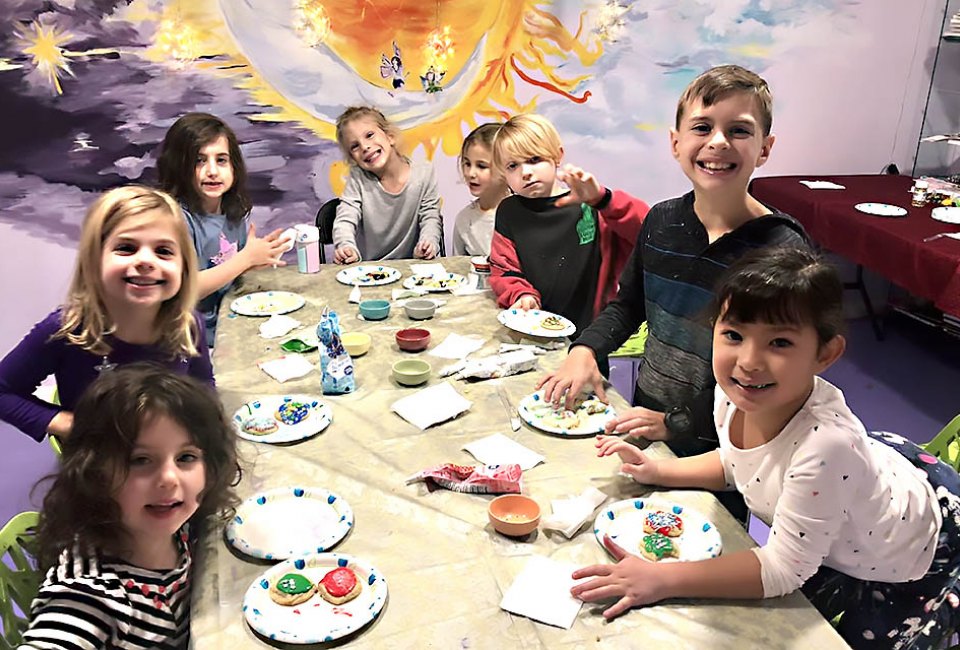 2/9/20
- By
Susan Miele
At Art XO Studio, choose an art activity such as decorating wooden piggy banks, canvas painting, building models, sensory play (for ages 1-3), tie-dye, and other options. Standard parties run two hours but can be extended by the hour. Although all ages can be accommodated, the sweet spot is 3-12 years old. Available times are Fridays at 5pm, Saturdays at 4pm, or Sundays at either 11am or 2pm; however, some flexibility may be available upon request. Standard parties cost $350 for 10 artists, with $15 charged for each additional participant. Food and cake are not included. Deluxe parties cost $450 for 10 artists and $24 for each additional participant, and include all supplies, pizza, drinks, and cake.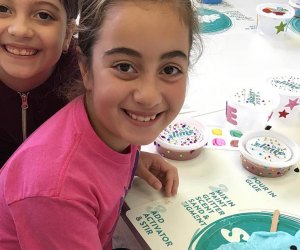 Have a slime-making party at ​D.I.Y. Slime in Larchmont. Photo courtesy of the shop
A venue we reviewed when it opened, D.I.Y. Slime is well-suited to kids who like slime, STEM, or mess-making. Parties include exclusive use of the facility, a one-hour slime-making session, and a half-hour for pizza and cake. Up to 15 children can be accommodated. Available times are Saturdays at either 10am or 5pm and Sundays at either 10am, 12:30pm, or 3pm. Contact the shop if other times are preferred. Choose from several different slime projects (choice of project determines the cost of the event): Basic Slime, Cloud Slime, Confetti Slime, Glow-in-the-Dark Slime (guests take home a black light), and Butter Slime (best suited for the younger partygoers). BYO food, drinks, paper goods, and decorations.
Located within the Jefferson Valley Mall, Footbik offers customizable birthday parties that allow for as low a commitment as a one-hour party (without use of the party room) or a longer party that includes pizza and cupcakes. Best suited for kids ages 1.5 through 10, the parties are led by a host and two coaches. Parties are typically held on weekends between 3:30 and 8pm. Pricing starts at $300 and varies based on the number of participants, party length, the addition of food, and other expenses. Amenities include the use of a bubble machine, temporary tattoos, e-vites, and balloons. Parties can accommodate up to 13 children.​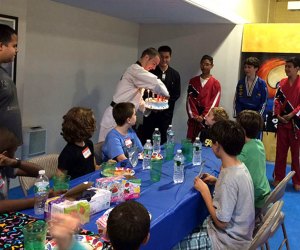 Parties at Hong lk Martial Arts include full use of the facility with one hour of coaching, games and demonstrations by Hong Ik Martial Arts Demo Team. Photo courtesy of the studio
Tae Kwon Do parties are available at this new Bronxville facility. The 90-minute parties include one hour of coaching, games, and demonstrations, followed by a half hour for food and cake. Parties are offered on Saturdays at either 1:00pm or 3:30pm. For up to 10 children, the rate is $350, with $10 charged for each additional guest. Invitations are included, but food, drinks, and decorations are to be brought in.
Imagymnasium offers several party packages that include music, games, and arts & crafts. Party themes include Out of This World, Unicorns, and Under the Sea, with a menu of related craft projects for the choosing. Party packages include the use of a private room, party hosts, tableware, decorations, crafts, and games. Food and drink, dessert, goody bags, and invitations are not provided. For up to 10 guests, rates range from $285 to $300 (not including tax), with $12 charged for each additional child, though some craft projects require a supplemental fee. Up to 16 children can be accommodated.
Up to 20 kids can be accommodated at these waterfront parties for fans of aquatic wildlife who don't mind a little wet mess. Activites might include seining, musseling, dipping into the touch tanks, crafting (things like painting seashells), and fish-feeding, all based on the Long Island Sound ecosystem. Parties are eco-friendly, so plastics are a no-no. A rain date is factored in to the plan. These two-hour parties cost $300 and are customized to the celebrant's interests.
The all-inclusive parties at Next Level Martial Arts include two hours of martial arts, games, pizza, drinks, and paper goods. Parties cost $399; for a supplemental fee of $100, hosts can opt to add a moon bounce. Geared toward ages 4 and up, parties can accommodate up to 20 guests and are offered on weekends.
This brand-new indoor play space opened in Larchmont only a couple weeks ago, so details about party plans are still being fine-tuned. Tailored to children under age 6, Pop In! offers assorted play stations that stimulate both physical and imaginative play. Both private and semi-private parties will be options, as will fully planned parties and a la carte events.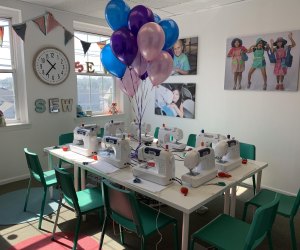 The "Extreme Sewing Machine Party" at Sew Happy is for ages 7-14. Photo courtesy of the studio
Though not a new business, Sew Happy recently relocated from Rye to Mamaroneck. Party options include the "Needles & Threads Hand Sewing Party" (for ages 6 and up), where either a Scottie Dog Stuffie, a pocket sloth, or a unicorn door hanger is created; the "Extreme Sewing Machine Party" (for ages 7-14), choosing to craft either an autograph pillow or a lined cross-body bag; and the "My Doll & Me Craft Party," where guests create garments and accoutrements for their 18" doll, with no sewing required. Parties run two hours, with 90 minutes allocated to the project and 30 minutes for food and cake. Two instructors lead the project. The price for up to 8 kids ranges from $395 to $450, depending on the package. Additional guests require a surcharge of $25 each, with a maximum of 12 guests. Prices do not include food, beverages, decorations, or paper goods, which are provided by the host.
Children's imaginations are sure to be stimulated at this venue's birthday parties. Would you like to be an engineer? Experiment with colors and circuits to create an LED light robot, octopus, or other project of your choosing. Want to be a paleontologist? Find fossils and examine your findings in a makeshift campsite next to—gasp!—an active volcano that might erupt at any minute. Are you an aspiring forensic scientist? Run an obstacle course and scavenge for clues with a magnifying glass, then study your findings (fingerprints; dental impressions) in the forensics laboratory. Love Lego? Build robots that use sensors to react to motion or tilt and move. Parties are geared toward kids aged 4-8, though some parties cater to a narrower range. Customization is also available, and up to 25 kids can attend.
Tig & Peach, whose opening we reviewed in the fall, offers two party options that allow for either hands-on (and cost-saving) planning or an all-inclusive party package. The "Life is Peachy" package ($699) includes exclusive use of the facility, a fully executed party chosen from any of the eight available themes, balloons, paper goods, food, and a banner. The "Keep it Sweet and Simple" package ($499) allows exclusive use of Tig & Peach but leaves the party planning to the host. Parties run 90 minutes or longer (tack on 30 minutes for an additional $100) and are tailored to the 5-and-under crowd. Scheduling options are Saturdays and Sundays at either 1:30 or 4:30pm.
Sign up for the Mommy Poppins Newsletter today!
i