Artificial Intelligence with Scratch Online Camp
Young Gates - Kids Online Personalized Classes

Online Robotics Camp
Young Gates - Kids Online Personalized Classes

Spark Math: Free Trial Class
Virtual
Sign up for our free newsletters.
Westchester Play Cafes with Fun for Kids and Perks for Parents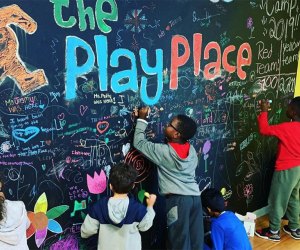 1/31/20
- By
Marisa Iallonardo
While it's fun to take the kids to a dedicated play space (and trust us, there are lots of those to choose from in Westchester), there are times when you want to go somewhere that has something for both you and the kids—where you're not just standing around, wishing for some coffee, brownies or—who are we kidding?—both, but actually enjoying them. You're in luck: There are a few play cafes in Westchester that offer just that.
Looking for even more places to take the whole family? Check out our kid-friendly restaurant guide.
Both Lil' Chameleon in Tuckahoe and The Voracious Reader in Larchmont, which were previously on our list, have closed. (The good-bye letter from The Voracious Reader is definitely worth a read.)
BeanRunner Café – Peekskill
Whether you're looking to have breakfast, brunch, lunch, or just a cup of coffee, you can do it at this Peekskill café, which has a room specifically geared toward families. There are tables where you can enjoy a full menu that includes everything from Nutella crepes and waffles to sandwiches, salads, and soups, as well as smoothies and desserts. (Fun fact: The owner is a coach for Westchester Striders, a kids' track & field club, and most of the dishes have track & field–themed names, like the 200 Meter sandwich and the Fiesta Finish Line salad.) Along with the tables, there's a comfy couch and chair, and the room has toys for kids, including rocking horses, air walker, digital screens for making funny faces, and more. The space is best for young kids, but tweens can try their hand at the chess tables set up as well.
RELATED: 10 Stores That Offer Free and Low-Cost Classes for Westchester Kids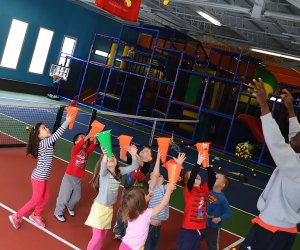 The Play Place has a cafe right in the center of the facility where you can relax while the kids play!
The Play Place – Elmsford
Ok, this one actually is a dedicated kids' play space—but with a staffed café right in the center and plenty of tables, it's a great spot to meet up with friends while kids have a blast climbing on, crawling through, and sliding down the indoor playground equipment. The café offers coffee, tea, and snacks like muffins, hummus, and yogurt. Along with the playground equipment, the Play Place also offers tennis, soccer, and other programs for a variety of ages. ​
Pop In! Play Space & Cafe – Larchmont​
Parents of toddlers and preschoolers take note: This new Westchester play cafe is geared toward the younger-than-6 set. You'll find play areas with opportunities to build and more, and a cafe stocked with snacks and drinks. Want to just make a quick stop? Pop In has ticket options for as little as 15 minutes (just $5), as well as hourly rates and "ticket packs." Note: The play space just opened on Friday, January 31, and the cafe is set to open by late February.
Meeting up for a play date before doing some shopping? Play at the Westchester is another option that offers something for parents and kids: You can grab a juice from Juice Generation or coffee from Bluestone Lane Coffee and bring it in to Play. Hang out on the chairs while your kids play with Magna-Tiles, create pictures using the touch screens, and more.
Photos courtesy of the venues
Originally published in 2018 and updated since