Reclining Liberty Statue Comes to the DC Area — and Kids Can Climb and Touch It!
8/25/23
- By
Jennifer Marino Walters
Lady Liberty has come to the DC area—well, sort of. Reclining Liberty, a 25-foot sculpture modeled after the Statue of Liberty in New York City, was installed on the front lawn of the Museum of Contemporary Art (MoCA) Arlington in Virginia on August 3, 2023. The statue, made by sculptor Zaq Landsberg, depicts Lady Liberty lying on her side with her head resting on one hand.
Reclining Liberty was originally installed in NYC's Morningside Park in 2021, then moved to Liberty State Park in 2022. It will remain on view at MoCA Arlington until July 28, 2024.
For more information about museums and exhibitions in the DC area, visit our DC Museum Guide for Kids and Families.
About Reclining Liberty
Reclining Liberty is made of plaster resin, foam, wood, and steel. It's covered with a coating of oxidized copper paint that makes it look like the actual Statue of Liberty. It weighs between 2,500 and 3,000 pounds.

Reclining Liberty's pose was inspired by Asia's Buddha statues. Photo courtesy of the Arlington Neighbors Helping Each Other Facebook page
The Meaning of Reclining Liberty
Reclining Liberty was inspired by the giant reclining Buddha statues in Asia, which are meant to represent Buddha in one of the stages of his path to enlightenment.
"By merging the traditional Buddhist reclining pose and the quintessential American figurative symbol, Reclining Liberty asks the viewer to contemplate the status of the ideals the Statue of Liberty represents," co-sponsors MoCA Arlington and Arlington Arts said in a news release.
Landsberg told the Washington Post that the Statue of Liberty means a lot to him because he comes from an immigrant family. His hope is that Reclining Liberty will inspire viewers to think about the ideals of immigration, freedom, and patriotism.
Why You Should Take Kids to See Reclining Liberty
Unlike many of the famous monuments and memorials in DC, kids are allowed to—and even encouraged to—touch and climb on Reclining Liberty.
"I love that the work brings the Statue down to the eye level and reach of the public," MoCA Arlington Curator of Exhibitions Blair Murphy said in a news release. "Its playfulness and accessibility suggest that the ideals of liberty and freedom represented by the Statue of Liberty are active, tangible, and evolving and need to be directly engaged with, debated, and defended."
On a more superficial level, just think of the awesome Instagram photos you can get!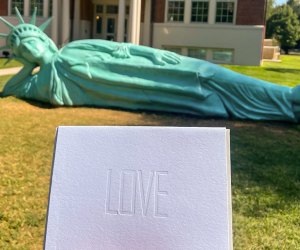 Reclining Liberty will be in Arlington through July 2024. Photo courtesy of the Museum of Contemporary Art in Arlington
How to Visit Reclining Liberty
Reclining Liberty is located on the front lawn of MoCA Arlington at Maury Park and will be there until July 28, 2024. The address is 3550 Wilson Blvd in Arlington, Virginia, and it is completely free to visit.
A series of public programs will accompany the statue's yearlong residency at MoCA Arlington. Keep checking our DC events calendar to see when they'll take place!
Places featured in this article:
---
Museum of Contemporary Art Arlington
Sign up for the Mommy Poppins Newsletter today!
i