Holiday Shopping in Queens: 8 Great Stores for Unique Gifts for Kids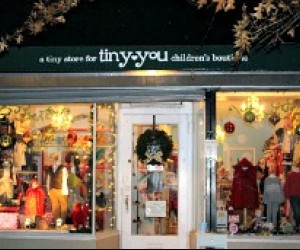 When looking for truly unique presents for my family, I skip the big chains and shop locally at some of my favorite independent stores. Lucky for me, many of my go-to gift spots are located right in my home borough of Queens.

Over the past few years, lots of cool, locally owned Queens boutiques have been opening up or expanding. These are the kind of places where you can pick up interesting (and often eco-friendly) toys, clothes, books, gear and other items for children and sometimes adults, too. If you don't have time to stop in, most of these stores have websites so you can buy online while still supporting a community business.
Lockwood – Astoria
32-15 33rd Street between 34th Avenue and Broadway
I raved about this amazing lifestyle store when it opened in 2013. The children's section includes unique Queens-themed onesies and T-shirts alongside Zutano clothes, toys by Melissa & Doug and small indie companies, plus fun picture books like the My First Superhero series that come with masks. Bonus: There is a play shop area and a coloring table so kids can stay occupied while parents shop.

Tiny You – Sunnyside & Long Island City
46-21 Skillman Avenue between 46th Street and Carolyn Avenue
10-50 Jackson Avenue near 50th Avenue
One of my favorite Sunnyside shops opened a second Queens location in Long Island City earlier this year. Both stores offer a great selection of unique children's clothing, shoes, accessories and toys. Many of the items are locally made and some are even one-of-a-kind! I love the chunky funky necklaces by 2Fab Chicks and handmade hair accessories by Pitchoun Designs. Plus there's a toy box filled with playthings for kids to try out.

Tees to Tiaras – Whitestone
14-01 50th Street near 14th Avenue
Opened in 2012, this children's boutique carries clothes, toys and accessories, most handmade or created in the U.S.A. When I visited, the cute knitted ear warmers by Knitted by Ella and unique accessories like blinged-out bows, headbands and custom feather from Melina's Bowtique all caught my eye. Kids love the huge life-size stuffed animals and animal rockers.

Thank Heaven – Forest Hills
7218 Austin Street between 72nd Road and 72nd Avenue
With clothes and playthings for children ages newborn to 8 years, Thank Heaven stocks stylish European and American brands like 3 Pommes and Kiwi Industries. My daughter loved the handmade wooden music boxes by Tree By Kerri Lee—so unique.

Malawi – Fresh Meadows
187-22 Union Turnpike near 188th Street
The true veteran on my list, this Queens store has been around since 1972. But Malawi manages to stay current with hip children's clothes by the likes of Flowers by Zoe, Joe's and Zinnias. You'll also find a small selection of toys such as stuffed animals by Gund, bubbles, books, pocketbooks, cars and trucks.

New York Hall of Science Gift Shop – Corona
47-01 111th Street
The museum's gift shop is chock-full of engaging science-themed toys and games for children of all ages. You don't need to wait until your next NY Hall of Sci visit to shop here: Just go to the admissions desk and explain that you just want to hit the store or make your purchases online. The astronaut ice cream and stuffed animal astronaut monkey are fun stocking stuffers, and the plasma ball with lightning inside is always a hit!

Oliloli – Forest Hills
103-23 Metropolitan Avenue near 71st Drive
Why give an item when you can give an experience? This bright and airy art studio opened in 2011 and offers a variety of creative projects for kids and adults. Make a doll house, decorate wooden or ceramic figures, paint on canvas or personalize your own pottery.

Find more great ma-and-pa places to shop in our Holiday Shopping Local Gift Guide.
This post originally published in December, 2013.