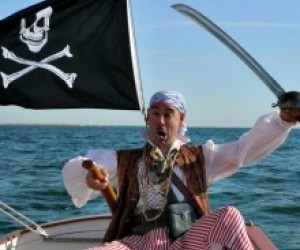 Ahoy Mateys: Pirate Fun for NYC Kids - Festivals, Sails & Shows
Pirates is one of those words that elicits completely different reactions from kids and grown-ups. Although everyone pretty much pictures lawless bands of marauders in search of booty, as an adult, I think about awful, ripped-from-the-headlines stories while my son imagines Johnny Depp in eyeliner. Thankfully for children, pirates don't have any scary real-life connotations—they're as make believe as princesses, unicorns and dragons. So indulging your child's pirate fantasies can be fun for the whole family.

There are lots of interactive ways for kids to play pirate in New York City that are much more stimulating than spacing out to yet another episode of Jake and the Never Land Pirates. From swashbuckling festivals to pirate shows and exhibits to sailing the high seas (a.k.a. New York Harbor) on a pirate-themed cruise, here are five ways for kids to get their pirate on in NYC.
Hit a pirate festival
Summer is the season for swashbucklers! There are two big annual pirate-themed family festivals near NYC: Pirates of the Hudson at Westchester's Philipsburg Manor in July, and the Pirate Festival at the Long Island Maritime Museum in June. Though those have both passed for 2013, you'll find plenty of pirates at the New York Renaissance Faire in Tuxedo Park, which runs weekends through September 22, and the FREE Medieval Festival in Fort Tryon Park on Sunday, September 29. All of these gatherings feature cool vendors and live performances, plus lots of people in elaborate costumes. It's truly impossible to overdress, so break out the pirate hats, swords, eye patches and stuffed parrots. While the fifth annual PirateCon on Saturday, September 21 is, like its holiday season counterpart SantaCon, pretty much a bar crawl of costumed twenty-somethings, your kids may get a kick out of seeing tipsy pirates stumbling through the streets, so keep an eye out. Better for kids: International Talk Like a Pirate Day held every September 19. Brush up on your yo-ho-hos and send the kids to school in their best pirate garb. There are no organized events but maybe it will inspire you to start your own community gathering.
Go on a pirate-themed cruise
No landlubbers here! Embrace your inner buccaneer on the high seas on a pirate-themed family cruise. Mommy Poppins is sponsoring its very own Pirate Cruise on New York Harbor on Tuesday, August 20. Join us on Manhattan by Sail's Clipper City Tall Ship for pirate tattoos and face painting, and a performance of David Engel's Pirate School! during which kids will learn to walk, talk and act like swashbucklers. They'll even get to help hoist the sails! Busy on that date? Manhattan by Sail will work with you to create a special pirate sail for your child and his pals, which includes helping to raise the sails, taking a turn at the wheel, face painting, a treasure hunt and storytelling pirates on board. There are also the Jersey Shore Pirates, who set sail out of Brick, NJ on a ship complete with water cannons, a lookout deck and a swashbuckling crew.
Explore a nautical exhibit or museum
Earlier this summer I took my son to Shipwreck! Pirates & Treasure at Discovery Times Square, which is on view through January 5, 2014. We got an up close look at unearthed treasures from ships lost at sea. The highlight for my kid was definitely the World of Pirates gallery, which resembled the interior of a ship and featured info about Blackbeard, Captain Kidd and other famous swashbucklers. Plus there's a nautical knot tying station and other interactive activities. You can read my full review here. While the City Island Nautical Museum and the Red Hook Water Front Museum aren't pirate-specific, they both offer an in-depth look at seafaring life. Sadly the South Street Seaport Museum is currently closed but its collection of beautiful vintage vessels are docked at Pier 17.
Romp in a pirate playground
NYC boasts multiple playgrounds with nautical themes that are great for pirate play and photo ops. Staten Island's oceanfront Seaside Wildlife Nature Park is a true treasure. Renovated in 2010 and inspired by the area's seafaring history, the playground features an awesome shipwrecked boat to explore and access to the waterfront. The Main Street section of Brooklyn Bridge Park has a small nautical-themed playground with a boat-shaped sandbox. City Island's sole playground, Ambrosini Field, has a sailing ship-style play structure with two tall masts.
See a swashbuckling show
In the past we've raved about Peter and the Starcatcher, a super-imaginative prequel to Peter Pan best for tweens and up with a hilarious turn by the villainous Black Stache, a.k.a. Captain Hook. Younger kids should enjoy the antics of David Engel, who does a couple of different interactive pirate-themed shows. Check his website for upcoming dates.