Spring Break 2023: 26 Fun Things To Do in Philly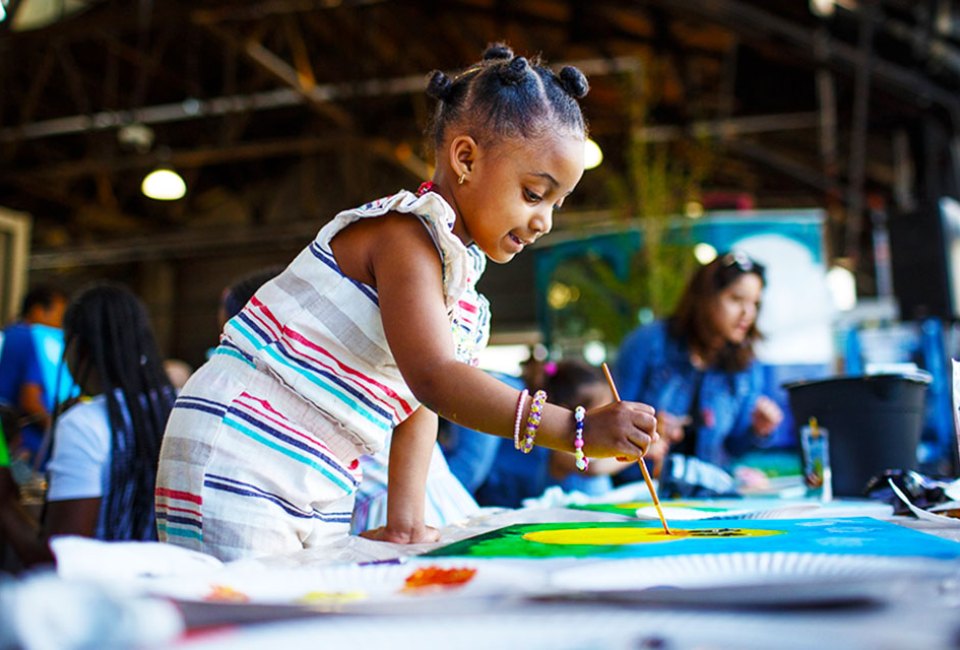 3/31/23
- By
Hillary Moses Mohaupt
Are you ready for spring break? Whether you're sticking close to home or venturing into the suburbs, there's lots of explore in the Philadelphia area with kids! Check out the best Greater Philly activities that will keep your kids engaged this April (and hopefully offer you some enjoyment too). And if you're looking for something to do on a specific day or something to do at the last minute in Philly, check out our events calendar, which always has something new to do in Philadelphia.
Fun Activities During Spring Break in Philadelphia
The new season kicks off April 7! Pay a visit to the Delaware River and dozens of local artists. Support our community and view the works of more than 20 Philadelphia artists -- and best of all it's free!
Take your sports fans out during spring break for a soccer game at Subaru Stadium on the Delaware riverfront in Chester. Tickets start at $32.
Grab your kids and your mitts and head out to the ball game this April, with home games starting up again in the new season! Tickets start at $20.
The Japan America Society of Greater Philadelphia hosts this annual, free celebration of cherry blossoms at Shofuso on April 15 and 16, though the gardens are also open Wednesdays through Sundays all spring and summer.
They say April showers bring May flowers, but rainy days can be tough with small kids, especially when you're trying to figure out how to keep kids busy during spring break in Philadelphia, The good news is we have a whole list of the best indoor play places in Philadelphia, all designed to keep your kids busy and entertained. Need to to recharge while they play? Check out our favorite kid-friendly coffee shops. And if the weather really has you done, we've got you covered with 50+ indoor activities to do on a rainy day in Philadelphia.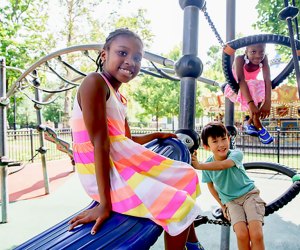 Franklin Square is known for its playground, but make sure to take a ride on the carousel too! Photo courtesy of Visit Philadelphia
Get Outside in Philadelphia During Spring Break
Maybe your kids have gotten tired of your favorite Philadelphia neighborhood playground, or maybe you just want to check out a playground featuring a pirate ship. Check out our round up of the best playgrounds in Philadelphia and the suburbs, including tot lots for the littlest ones!
Sometimes when the weather is beautiful and your kids have a lot of energy to burn off a picnic in a park can be the perfect thing to keep everyone happy. That's why we've rounded up our favorite picnics parks in Philadelphia and its suburbs.
RELATED: Guide to Philly Museums for Kids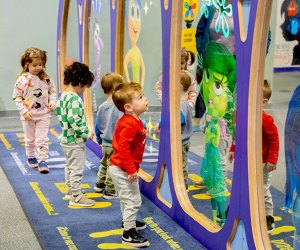 Visit Please Touch Museum's exhibit Emotions at Play with Pixar's Inside Out.
Visit Museums in Philadelphia During Spring Break
Explore life at sea during the Revolutionary War on Saturdays and Sundays throughout April! (Hint: Contact your local library to see if they offer complimentary passes to this museum and you might be able to score free admission.)
Head to the Franklin Institute through the summer to take in this once-in-a-lifetime exhibition featuring all favorites from your own childhood! Notes that smaller strollers are okay to bring into the exhibition but double strollers and joggers are not. Daytime tickets run $41 for children and $45 for adults and include general admission to the institute.
The Please Touch Museum is a must-visit for most families, and that's especially through May 7, as the museum is hosting an interactive exhibition about feelings, memory, and imagination. Reservations are required to visit the museum, and cost of admission changes depending on the day of your visit.
You won't believe your eyes at one of Philadelphia's newest family museums located in the heart of historic Philadelphia. An anti-gravity room, infinity tunnel, and kaleidoscope are just a few of the illusions you'll find af this museum. And if that's not enough to intrigue you, read a full review of the Museum of Illusions!
Go back in time and be a tourist in Philadelphia by visiting the top sits in historic Old City Philadelphia. From Ben Franklin to Betsy Ross to the Liberty Bell and much, much more, historic Philadelphia has so much to explore.
Head to Chestnut Hill for Woodmere Art Musuem's latest family-friendly exhibition "Kidding Around," featuring artworks about childhood. Kids will love doing the scavenger hunt provided in the exhibition and will enjoy a romp through the outdoor sculpture garden.
Head to the Academy of Natural Sciences to get up close and personal with some new feathered friends. Open through May 28, the exhibition celebrates the birds that make their way to Philadelphia. Admission to this special exhibit is included in the general admission price, which starts at $21.
Head to the Rocky Steps and wander the Art Museum as a family. The Art Kids Studio is open for drop-in art making during much of spring break week!
Many libraries offer free passes to local museums, zoos and gardens. It's a great way to check out some place new!
RELATED: Do you kids love science? Check out some of the best places to learn about science and nature in Philadelphia.
Did you know that Philadelphia is home to the oldest zoo in the country? In addition to big cats, reptiles, and birds from around the world, starting on April 1, you can visit the dinosaurs at the Philadelphia Zoo! Dino-mite! Best for kids older than 2, the exhibition costs $6 in addition to zoo admission. Learn more about what you need to know before you go to the Philadelphia Zoo in this handy review.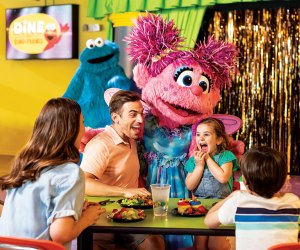 Enjoy a delicious buffet meal, and photo opps with your favorite Sesame Street friends at Elmo's Eggstravaganza. Photo courtesy of Sesame Place
Celebrate Easter in Philadelphia During Spring Break
There are so many places to see the Easter Bunny in Philadelphia, so hop on over to this list of options to have breakfast and photos with this new rabbit friend.
Most kids get eggs-cited about trains, and Easter Bunny trains are no eggs-ception. Luckily there are a lot of options to ride the train with the Easters Bunny in the Philadelphia area. Hop aboard!
All through March through April 7, head to South Philly to "eggs-splore" South Street to find 50+ eggs designed by local artists, CAPA students, and local business owners.


The 4th annual PEEPS in the Village is now on display at Peddler's Village through April 23rd. Photo courtesy of Peddler's Village
Fun Activities During Spring Break in the Philadelphia Suburbs
Peddler's Village - Get your family together for an arts and crafts night and create a unique a Peeps display. Then enter Peddler's Village Peeps display competition. From March 13 through April 23 (except for Easter Sunday), visit the village and tour all the submissions. Vote on your favorite (until April 1), while you stroll through the many shops in this super cute and quaint Lahaska destination. Then head over to Giggleberry Fair, where your kids can enjoy riding a carousel as well as shooting balls and running through obstacles at Giggleberry Mountain. An arcade is also onsite.
From April 1-8, Bucks County's Shady Brook Farms will feature spring break activities that kids of all ages are sure to enjoy. From go-karts and inflatables to play areas and obstacle courses, how can you go wrong? Be sure to bring a basket to collect eggs, too, then watch a live chicken show (and think about what came first). Don't forget to grab a photo opp with the Easter bunny! Admission is $10 per adult and $15 per child -- and tickets are cheaper online than at the gate.
RELATED: Easy Spring Break Vacations for Philly Families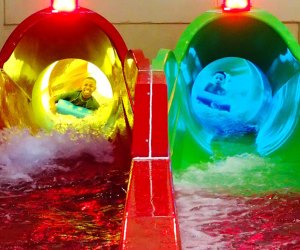 Let the water thrills begin at Sahara San's. Photo courtesy of Sahara Sam's Oasis
This indoor water park is about a half hour's drive outside of Center City Philadephia, located in West Berlin, New Jersey. Spend the day relishing 80 degree temperatures, imagining it's summer instead of spring. Tube along a lazy river, try your balance surfing, or plunge through the various water slides.
Up for a drive with your little ones? Take the car out to Lancaster and spend the day in the sun touring this amusement park, featuring more than 30 rides and live shows. While there are a couple of coasters, the rides at this theme park generally target a younger crowd, with non-intimidating attractions like bumper cars, train rides, fun slides, and kite flights. Take advantage of their $34.99 Eggcellent Easter Celebration tickets on weekends in April.
The Philadelphia area has lots of great trails and hikes that are great for families, even toddlers in strollers. Lace up your shoes, grab some snacks, and hit the trails.
What better way to make memories with your kids than reeling in some quality time on a local lake?
New Jersey has 130 miles of shoreline, with beautiful beaches, boardwalks, and unique plant and animals. Hit your favorite beach or check out a new one before the crowds get unbearable this summer.
Sign up for the Mommy Poppins Newsletter today!