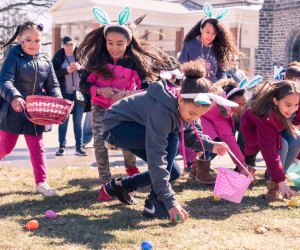 Easter Egg Hunts Around the Philadelphia Area
As Peter Cottontail makes his way to the Delaware Valley, Philly kids should find their favorite basket and get ready to search high and low for eggs at these local Easter egg hunts. Most of these egg hunts are outdoors. In the event of questionable weather, please be sure to check directly with the organizers to see if they have a rain date. All of our event listings link to official websites. Also, make sure to click through to our events calendar for exact times since many hunts have multiple time frames based on age.
The majority of these egg hunts are FREE and are a great way to welcome spring and create Easter traditions with your kids. Be sure to check our Easter Bunny Express post for information on special holiday train rides and our Easter Bunny Breakfast, Brunch, Lunch, and Dinner post with plenty of eating options for your family.