Fun Corn Mazes near Philly--Plus a Few Hay Mazes!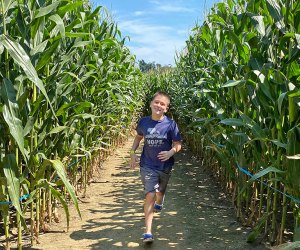 9/16/22
- By
Lori McManus
As cool, crisp nights begin to make outdoor excursions more bearable, fall-themed activities for families pop up all over the Philadelphia area. Philly families can choose traditional favorites such as apple picking, searching for the perfect gourd in the pumpkin patch, or enjoying the fall colors. But have you ever considered exploring a corn maze?
The corn maze is a Pennsylvania tradition—quite literally. The first corn maze as we know it was built in the state in 1993. Almost 30 years later, the Keystone State boasts some truly impressive mazes, and we've rounded up the best ones in the Philadelphia area, plus a few hay mazes.
Many of these mazes feature special themes, games, and activities. The sheer variety of these mazes offers something for kids of all ages. Some farms offer nighttime hours, where kids can work their way through a darkened maze with flashlights. Some mazes even offer thrills and chills for the truly adventurous. All told, there is something for everyone.
For more seasonal fun, browse our Fall Activity Guide for Philadelphia Kids, which contains plenty of ways to enjoy the season, including our roundup of 50 must-do fun fall activities for Philly families.
Great Corn Mazes and Farm Fun Near Philly
Voted the No. 1 corn maze in America, the corn maze at this farm contains more than 2½ miles of paths, bridges, and clues across 5 acres in the Amazing Maize Maze, designed each year by Don Frantz and the American Maze Company. Choose different challenge levels based on how quickly kids would like to complete the maze, which can take anywhere from 20 minutes to several hours. This year's theme is "National Parks: Celebrating America's Beauty." On Friday and Saturday nights in the fall, visitors can bring their own flashlights and tour the maze in the dark. Other activities include wagon rides, barnyard animals, play areas, pumpkin picking, and many edible treats. The farm is open Thursdays from 10am to 5pm and Fridays and Saturdays from 10am to 10pm.
Designed for good, old-fashioned family fun, this 5-acre maze takes about 45 to 60 minutes to complete. A 1-acre junior maze is perfect for smaller kids. Other entertainment includes 100-foot corn chute slides, tractor tricycles, hayrides, a corn box, and more. With 18 acres and more than 45 family-centered activities, you can make a day of this farm visit. The corn maze opened in September, and the Fall Festival runs through November 6.
There are a multitude of scarecrows hidden throughout this 5-acre maze, intended for kids 7 and older. There is also a 3-acre corn maze for kids younger than 7. Other kids' activities include wagon rides to the pumpkin patch, barrel train rides, visits with the goats and alpacas, and a free playground.
RELATED: Family-Friendly Fall Hikes in the Philadelphia Area

Test yourself in the maze and then search for the perfect pumpkin at Johnson's Corner Farm.
Fall fun is bountiful at Johnson's Corner Farm. Weekend activities such as apple and pumpkin picking, hayrides, gem mining, live music, and food trucks can be expected in addition to the farm's corn maze. Weekday specials to see the animals in The Discovery Barnyard are available, but the corn maze is only available on Saturday and Sunday. Reservations are recommended.
Guests who visit Kohler Farms can expect hayrides on Fridays at 4, 4:30, and 5pm and on Saturdays and Sundays from 10am to 4pm. The hayride includes a family-friendly corn maze, hay maze, and obstacle course. Kids can pick their own pumpkins for an additional fee. The farm begins offering hayrides the first weekend in October.
RELATED: Great Fall Festivals for Philly Families, 2021

Enjoy a hayride before taking on the corn maze at Linvilla Orchards.
Located in Delaware County, the corn maze at Linvilla Orchards' Pumpkinland is open through November 6. Discounted timed tickets can be purchased in advance online. A limited number of walk-up tickets are available. Pumpkinland has many additional attractions, including a straw bale maze, apple blasters, train rides, and pony rides. The corn maze is open Fridays from 11am to 5pm, as well as Saturdays and Sundays from 10am to 5pm. This spot is most interesting for younger children.
The Lytle family has lived on and worked this farm since the 1940s. About 30 years ago, the family got into the pumpkin business and about 11 years ago created its corn maze. This spot provides a free hayride out to the pumpkin patch and a 5-acre corn maze. In addition to pumpkins and gourds, straw bales and corn stalks are available for purchase. The corn maze is open September 17 through October 30, Thursdays and Fridays from 3pm to 6pm; and Saturdays and Sundays from 10am to 5pm.
The 5-acre cornfield maze at Merrymead is open Saturdays from 11am to 5pm and Sundays from noon to 5pm Moonlight Maze hours are Fridays and Saturdays from 6 to 8pm. Younger children also can enjoy the 700-foot cornstalk tunnel. Harvest Festival weekends include children's games, moon bounces, and hayrides. The corn maze opens for the season on October 1.
Roba Family Farm features a 4.5-acre Mega Maze, complete with 11 puzzle pieces for travelers to find and put together. There's a mini maze too, and it's all part of the farm's Harvest Festival, which has plenty for kids to do, including regular performances from the Marvelous Mutts, a troupe of canine acrobats. Fall activities open on September 9 and continue through October 30.
RELATED: Halloween Fun Guide for Philly Families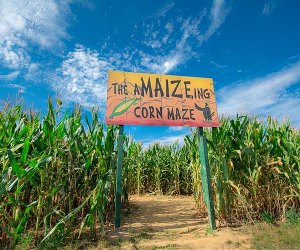 Enjoy a 5-acre maze and more fall entertainment at Shady Brook Farm.
Every Fall, Shady Brook offers guests a chance to explore its 5-acre maze during its FallFest celebration. In addition to the corn maze, the farm features traditional activities that include wagon rides, pumpkin picking, and apple picking. Kids can also enjoy the playground, jumping pillow, spider web, and SBF 500 pedal go kart track. An eerie illuminations light show, which costs extra, is a fun Halloween activity for older kids. You can buy advance tickets on the website.
Make your way through the 5-acre family-friendly maze. For older kids or teens, you can take on the scary haunted hay maze (not recommended for small children), which is another 5-acre haunted corn maze. Older kids and teens may also enjoy the Corn Walk of Horror, which is a set path with spooks, also not recommended for small children. The regular corn maze is open Fridays, Saturdays, and Sundays; while the haunted attractions are open on Fridays and Saturdays only.
RELATED: Family-Friendly Fall Weekend Getaways Not Far from Philly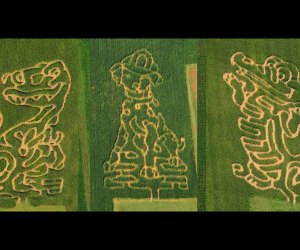 Wilcox Farm has kid's corn mazes and as well one of the largest corn mazes in the area.
With more than 8 miles of trails, be prepared to experience one of the largest corn mazes in the area (well worth the approximately one-hour drive from Philadelphia). There is also a small corn maze and play area for younger children. The maze opens September 9 and remains open until November 6 from 9 a.m. to midnight on Fridays and Saturdays, and from 9am to 9pm on Sundays. Visitors to the large maze will not be admitted one hour to closing due to the time needed to complete the maze.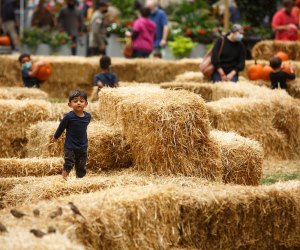 Head to Dilworth Park where kids can romp through the massive hay maze. Photo by Matt Stanley for Center City District
Fun Hay and Straw Mazes Near Philly
For those craving that fall farm feel without contending with that traffic on the Schuylkill, head to Dilworth Park where kids can romp through the massive hay maze that takes over Greenfield Lawn for a limited run from September 30 through October 9.
Woodmere Art Museum's beautiful Chestnut Hill sculpture garden boasts a straw maze every fall that's perfect for smaller kids. Tickets for the straw maze grant free admission to the museum as well, where you can see exhibitions of work by Philly artists and enjoy a host of family programs.
Unless noted, photos courtesy of the venues. This post was updated in September 2022..