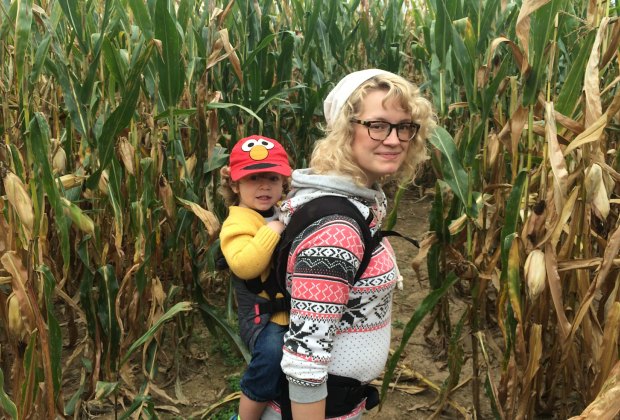 Best Fall Corn Mazes Near Philly for Hayrides, Pumpkins, and More
As cool crisp nights begin to make outdoor excursions more bearable, fun fall-themed activities for families to enjoy seem to pop up all over. You can choose traditional favorites such as apple picking, pumpkin picking, or enjoying the fall colors or go on an adventure, exploring a corn maze as a family.
The corn maze is a Pennsylvania tradition—quite literally. The first corn maze as we know it today was built in our state in 1993, and 25 years later, the Keystone State boasts some truly impressive mazes. The largest occupies twenty five acres, and many of them feature special themes, games, and activities. The sheer variety of these mazes offers something for kids of all ages, and some farms even offer nighttime hours, where kids can work their way through the darkened maze with flashlights. Some mazes even offer thrills and chills for the truly adventurous. All told, there is something for everyone.
1. Cherry Crest Adventure Farm Lancaster - Ronks
The corn maze at this farm contains over 2.5 miles of paths, bridges, and clues across five-acres in the Amazing Maise Maze, designed each year by Don Frantz and the American Maze Company. Choose different challenge levels based on how quickly they would like to complete the maze, which may take anywhere from 20 minutes to several hours. On Friday and Saturday nights in the fall, visitors can bring their own flashlight and tour the maze in the dark. Other activities available include wagon rides, barnyard animals, play areas, pumpkin picking, and many edible treats. The farm is open Thursdays 10 AM - 5 PM and Fridays and Saturdays 10 AM - 10 PM.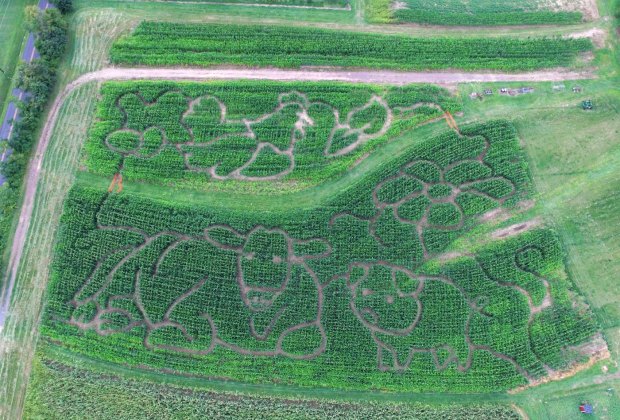 Last year's maze at Hellerick's features a farm animal theme. Photo courtesy of Hellerick's Farm's Facebook page
2. Hellerick's Family Farm - Doylestown
Designed for good old fashioned family fun, the five-acre maze takes about 45 to 60 minutes to complete. A one-acre junior maze is perfect for the smaller kids. Moonlight hayrides and the flashlight maze are Friday and Saturday evenings. Other entertainment includes 100-foot corn chute slides, tractor tricycles, hayrides, a corn box, and many other activities. With 18 acres and more than 45 family-centered activities, you can make a day of this farm visit. The fall harvest festival with special fall programming runs daily September 14-November 3, 2019 from 10 AM–6 PM (Sunday - Thursday) and 10 AM - 10 PM (Friday and Saturday).
3. Hurricane Hill Farm Corn Maze - Coatesville
The corn maze opens Saturday, September 21, 2019. This year's theme is the "A Journey to Ancient Rome" with a maze paying homage to the 2018 NFL Champions. Guests may choose the one-acre beginner's maze or the larger, Philadelphia Eagles-themed maze which is 5 acres. Hurricane Hill estimates that it takes about one hour to complete the larger maze, and it offers a maze tracker system where visitors can follow their progress on their smartphones. You can also choose from 1 of 3 games to play while you're in the maze, which include word jumbles, picture stations, and more. In addition to the corn maze, guests can enjoy pumpkin picking, hay rides, pedal tractors, a cow train, moon bounces, and, new this year, a pumpkin jump and tire course. The maze is open Saturdays and Sundays 10 AM–6 PM with the final maze ticket sales happening at 4 PM through November 3.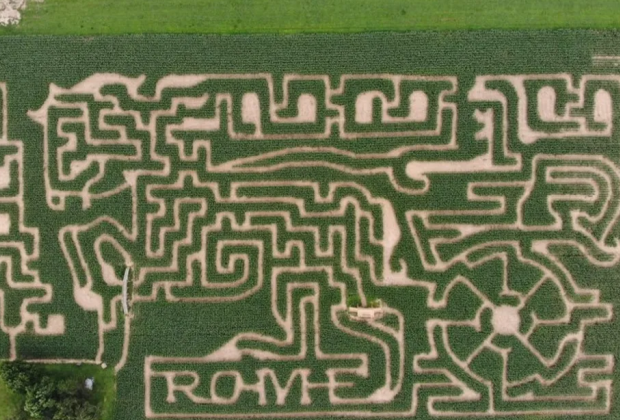 The Hurricane Hill Farm corn maze pays tribute to ancient Rome. Photo courtesy of Hurricane Hill Farm.

4. Indian Acres Tree Farm - Medford, NJ
There are 27 scarecrows hidden in the 5-acre maze here, intended for kids 7 and older. There's a 3-acre corn maze for kids under 7, and the farm also offers face painting, barrel train rides, and a free playground.
5. Merrymead Farm - Lansdale
The five-acre cornfield maze at Merrymead is open Saturdays (11 AM - 5 PM) and Sundays (12 PM - 5 PM) starting October 5 and October 6, 2019. Moonlight Maze hours are Fridays and Saturdays from 6–8 PM. Younger children can enjoy the 700-foot cornstalk tunnel which is open during the week and on weekends. Harvest Festival weekends also include children's games, moon bounces, face painting, hay rides, and more. And don't miss the lighting of the "Great Pumpkin" on September 28th.
6. Roba Family Farms - North Abington
Roba Family Farm features a 4.5 acre Mega Maze, complete with 11 puzzle pieces for travelers to find and put together. There's a mini maze too, and it's all part of the farm's Harvest Festival, which has plenty for kids to do, including regular performances from the Marvelous Mutts, a troupe of canine acrobats. The farm's fall activities are going on from September 13 - November 3, 2019.
7. Shady Brook Farm - Yardley
At Shady Brook, the 5 acre maze is part of Fallfest, which also features plenty of kid-friendly activities such as pig races and wagon rides. The action really picks up at night, when Horrorfest takes over. There are four spine tingling activities, including Carnage, billed by Shady Brook as the "maze of horror." Older kids can bring their own flashlight and test their bravery. The fall fun kicks off the weekend of September 14 and 15, 2019 and then runs daily starting October 4 - 31, 2019. Horrorfest opens Saturday, September 28 and continues Fridays through Sundays for the month of October.
8. Springdale Farms - Cherry Hill, NJ
Families can journey through this ocean-themed corn maze. Visitors can expect to spend about two hours navigating the clues and the many twists and turns of this maze that spans several acres.There is a small hay maze for younger children, along with other fun farm activities. Open Saturdays and Sundays 10 AM–4 PM from September 13 - November 3, 2019.
9. Snipes Farm - Morrisville
The theme of this year's corn maze at Snipes is "Wonderful Wetlands," complete with games and puzzle. On weekend evenings, it's "Spaceship Earth," and you can find your way through the maze by flashlight, while solving a puzzle about the Earth and its natural resources. The fall events kick off September 21, 2019.
10. Winding Brook Farm - Warrington
Make your way through the five-acre family-friendly maze, then take on the scary haunted hay maze, another five-acre haunted corn maze, and the Corn Walk of Horror, which is not recommended for small children. The attractions are open Fridays through Sundays in October.
11. Wilcox Farm - Boyertown
With more than eight miles of trails, be prepared to experience one of the largest corn mazes in the area (well worth the approximately one-hour drive from Philadelphia). There is also a small corn maze and play area for younger children. The maze from September 6 - November 10, 2019.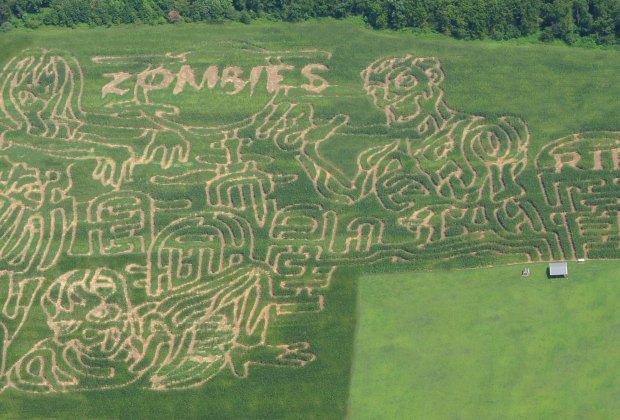 The Wilcox Family Farm Corn Maze this year is zombies! Photo courtesy of Wilcox Family Farm.
Browse our Halloween Guide for even more seasonal fun ideas.
Top photo of Hellerick's Farm courtesy of Cait Sumner for Mommy Poppins
Post updated September 2019