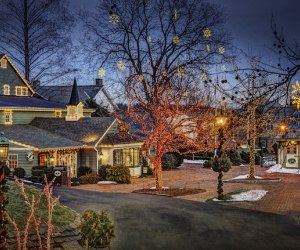 10 Ways to Celebrate the Holidays in Bucks County, PA
There's no doubt about it, the holiday season is one of the most beautiful times of the year. With lights and activities everywhere (and sometimes even snow!), this magical time of year just warms the heart. If you've never been, Bucks County is the perfect place to celebrate the holidays. There's something about this place that makes the season feel a little bit more special. Plus, the area offers so many wonderful activities that are perfect for families looking for some holiday spirit.
Whether you want to see some Christmas lights, do some holiday shopping, or take a trip to Sesame Street, there are plenty of ways to spend time with the family in Bucks County.
Shady Brook Farm's 22nd Annual Holiday Light Show- Yardley
November 19, 2016 - January 8, 2017
There's no need to even leave your car for this holiday light show. Stay warm as you drive through the beautiful display, or opt for a more up close look with a wagon ride. While you're there, take photos with Santa, pick out a Christmas tree, and hot cocoa and s'mores. Wagon rides are $12/person or cars get in for $25. Check the website for dates and times before heading out as there are some exceptions.
First Crossing Reenactment- Washington Crossing Park
December 11, 2016 10 AM - 4 PM (Crossing at 1 PM)
This Bucks County tradition features hundreds of reenactors and George Washington himself! Watch these reenactors row across the river just as they did on Christmas night in 1776. This reenactment includes colonial era games, period demonstrations, and other fun activities. Adult tickets are $8, children 5-11 are $4, and kids 4 and under are free.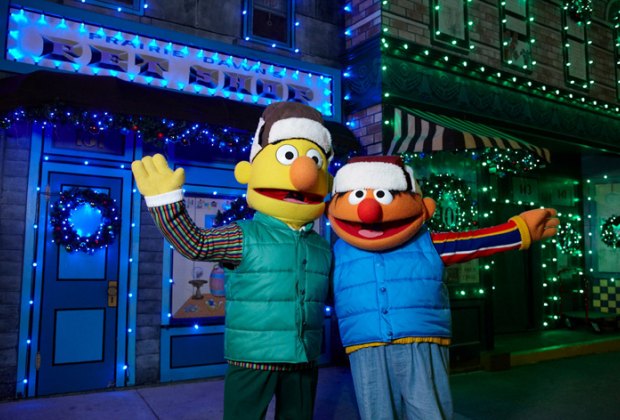 Photo courtesy of Visit Bucks County.
A Very Furry Christmas at Sesame Place- Langhorne
November 19, 2016 - January 1, 2017
Sesame Street comes alive with the lights and festivities of Christmas! See special Christmas shows, amusement rides, Santa, and a brightly lit Neighborhood Street Party Christmas Parade.
Peddler's Village- Lahaska
November 18, 2016 - January 2, 2017
Peddler's Village has everything you could possibly imagine when it comes to holiday celebrations. From the Grand Illumination Celebration on November 18, to the Christmas Festival December 3 & 4, and, of course, all the lights and the Gingerbread House Competition display November 18 - January 2. Peddler's Village is the perfect place to get into the holiday spirit, and you can do even do some Christmas shopping while you're there!
Photo of TreeFest courtesy of Visit Bucks County.
11th Annual Bucks County Holiday TreeFest- Bensalem
November 22, 2016 - January 5, 2017
With 25 uniquely themed trees on display, TreeFest is fun for the whole family. Come to the kick off on November 22 to see Santa arrive by firetruck at 6 PM to light the displays. Don't forget to vote for your favorite tree!
Pearl S. Buck 38th Annual Festival of Trees- Perkasie
November 8 - December 31, 2016 (dates and times vary)
Visit the home of Pearl S. Buck in all its holiday glory. Decorated by 29 artists, organizations, and community groups, there's so much to see at this fun holiday treasure. Cast your vote for your favorite decorator by December 7. Winners will be announced on December 9. Tour times and prices vary.
New Hope and Ivyland Railroad North Pole Express- New Hope
Looking for a holiday train ride? Look no further than the North Pole Express. Listen to Christmas carols, drink hot cocoa, and enjoy cookies while Santa and Mrs. Claus greet each guest with a gift. Ticket prices vary.
Under the Tree: A Century of Holiday Trees and Toys- Doylestown
The Mercer Museum's annual holiday exhibit decorated trees and toys from the Victorian era through the 1980s. From classic wooden toys to Easy-Bake Ovens and Cabbage Patch Kids, see what the kids of the past hoped to find under the tree on Christmas morning. Tickets are $14 for adults, $12 for seniors, and $8 for kids 6-17.
Header image of Peddler's Village courtesy of Visit Bucks County.