5 Great Mini Golf Courses in and Around Philly
Miniature golf is one of those summertime activities that entertains the whole family. A putter, a brightly colored ball, and the possibility that your three year old will get a hole-in-one, and everyone is bound to have some fun. Although there aren't as many mini golf courses around here as at the shore, there are a few great spots to grab a putter and try your skills. Try one of these to add mini golf to the summertime mix of splash pads and spray grounds, pop up gardens and parks, and free outdoor movies and concerts.
Franklin Square Park Mini Golf
Adults: $9
Children 3-12: $7
Children under 3: Free
A staple in center city, Franklin Square Mini-Golf is open almost year round, meaning anyone can play now and into the fall. With holes featuring beautifully recreated historic landmarks like the Ben Franklin Bridge, the Philadelphia Museum of Art, and the Liberty Bell, the 18-hole course will keep older kids entertained, but may take more time than littler ones have patience for. Thankfully, it's located in Franklin Square so kids can run around the fountain, take a ride on the Carousel, or head to the playground once they're done playing. Rent the Pavilion at Franklin Square for birthday parties and entertain your guests with miniature golf and unlimited carousel rides.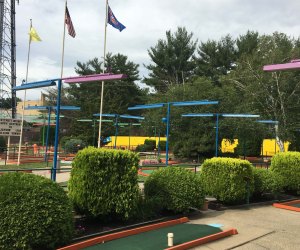 Putt Putt Fun Center
Adults: $6.50
Children 5-13: $5.50
Children 4 & under: $1

Putt Putt Fun Center is a year-round outdoor facility with a course for players at every level. With four progressively more difficult courses, all on relatively flat terrain, even the littlest ones will feel their confidence grow as they get their first hole-in-one. Located in the back of a a strip of connected shopping malls (look for the sign with Modell's and Planet Fitness), Putt Putt Fun Center has an arcade and snack bar, too. With all sorts of weekday and early morning specials, it offers an affordable and fun day for the family. Birthday parties at Putt Putt Fun Center include 18 holes of miniature golf with trophies, ribbons and prizes for everyone, so everyone's a winner. Birthday party packages are available and include arcade tokens, pizza, hot dogs, and ice cream birthday cake.
Freddy Hill Farms
Adults: $6
Children under 5: $4
($1 discount for weekday before 5:00 PM)

With two stunning 18-hole mini-golf courses, a farm zoo, batting cages, a driving range and homemade ice cream, Freddy Hill Farms is a perfect summer weekend destination for the whole family. The two courses, named Discover America and Waterfall Adventure, have been beautifully designed and landscaped with waterfalls, rapids, caves, and mountain terrain. Discover America is the easier of the two, although both are challenging. While waiting for their turn, children can explore the little scenic views. What could be better than homemade ice cream on one's birthday? Homemade ice cream with all of your friends. Freddy Hill Farms has birthday packages with miniature golf, private party tables, snacks, and gift bags. An ice cream cake costs extra.

Adventurers Mini Golf
Adults: $9
Children 4-12: $7

Looking for something to do on a rainy day? Adventurers Mini Golf is an indoor, glow-in-the-dark, 18-hole course that's challenging enough for adults and fun for kids. Located in a renovated warehouse, its unexpected fun centers around colorful flourescent murals on the walls and outlines of the holes that glow in blacklight. Dress your kids in white so they can glow too (and so its easier to keep track of them). Check the website for hours, as it's open weeknight evenings and weekends (closed Monday and Tuesday). Little adventurers can play in the dark and party in a lit room at Adventurers Mini Golf. Birthday party packages include miniature golf, arcade tokens, and a party room where renters can bring in their own food or have it catered.
Artful Golfer Mini-Golf Course / Penn's Landing
Adults/children: $5
Adjacent to the BlueCross RiverRink where, over the summer, rollerskating replaces iceskating, there's a fun new 9-hole miniature golf course that's one of the most creative and unusual around. Each hole is designed by an individual artist, giving them all a different feel. With lots to do at Penn's Landing including games, skating, concerts, food, and more, it's a fun place to spend a few hours, but check times and get there early. It can get crowded in the afternoon and evening.
Photos of Putt Putt Family Fun Center provided by the author.