Will Nursery University Preschool Documentary Make "Park Bench Wisdom" Wiser?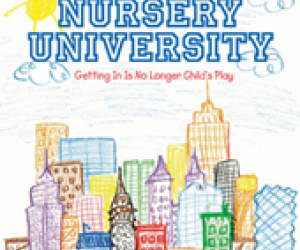 Getting into a preschool in NYC is harder than getting into Harvard. That's the premise of a new documentary about the preschool admissions process in NYC. Nursery University follows six families from different walks of life as they navigate, ruminate and, ultimately, dominate the preschool process.
Nursery University starts by drawing you in to the all too familiar drama of NYC preschool admissions, beautifully capturing every piece of "park bench wisdom" that's ever passed the lips of a distraught NYC parent. Beware: this part of the film made me so sick I almost stopped watching it, about to shrug Nursery University off as yet another piece of media hype feeding the fire of parent's anxiety rather than portraying a real and balanced picture of preschool admissions.
It turns out the directors had me just where they wanted me.
In fact, Nursery University provides a great window into the many sides of the Nursery School admissions process in New York City, showing the process through the eyes of six different families plus an amazing peek from the Admissions Director's point of view as well.
For sure, the best part of this film from a parent's point of view will be the scenes that take place in the admissions office of the Mandell School. You actually get to see the private conversations that the admissions team has as they evaluate and select parents. These scenes alone will be worth seeing the movie for the insight of scenes like he one where you see an application being set aside because the parent was pretentious enough to put their letter on David Letterman Show letterhead. These are the details that every parent salivates over finding out and there are a lot of them in the film.
Nursery University provides the most balanced, honest, informative and complete picture of the New York City preschool application process that I have seen anywhere. It's the message that I have been trying to promote in our own preschool guide and I hope that this film will help make the park bench wisdom a little wiser.
Nursery University is now available on DVD from our affiliate, Amazon. Buy it here.