Tribeca Film Festival for NYC Kids: Family Street Fair and Other Free Fun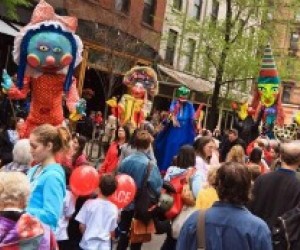 One of NYC's best known spring events, the Tribeca Film Festival, is set to take over downtown from Wednesday, April 15 through Sunday, April 26, and as always there are lots of awesome FREE activities for families. The main kids' event, the Tribeca Family Festival Street Fair, takes place on Saturday, April 25. While the crowds are huge, there are tons of surprises, cool experiences and great entertainment that make it a must-do.

In addition to the Family Festival Street Fair, there's Tribeca/ESPN Sports Day, plus a series of outdoor "drive-in" movies, an indoor screening of Back to the Future and other family fun—all 100% FREE.
Click through to our listings for all the details, including location and time.
Tribeca Drive-In
Thursday, April 16-Saturday, April 18
FREE
For three consecutive evenings, enjoy no-cost family flicks on Brookfield Place's outdoor waterfront plaza. Pre-screening activities begin at 6pm and movies start at dusk. Arrive early to snag seats, and bring blankets and jackets! It's not summer yet.
Clue
Thursday, April 16
Celebrate the 30th anniversary of the movie based on the iconic murder mystery board game. Come dressed as your favorite Clue character for a chance to snag prizes, or enjoy pre-screening fun like a murder-mystery photo booth, board games and scavenger hunts.
Lady and the Tramp
Friday, April 17
Introduce your kids to the classic animated Disney dog romance between well-to-do uptowner, Lady, and her wrong-side-of-the-tracks beau, the Tramp. Pre-screening entertainment includes accordion players, Italian love song sing-alongs, face painting and a photo booth.
A Faster Horse
Saturday, April 18
This world premiere documentary, directed by TFF alumnus David Gelb, tells the story of Ford's foray into redesigning its iconic Mustang. Arrive early to dine on an all-American meal, answer movie trivia and participate in other contests.
Tribeca Family Festival Street Fair
Saturday, April 25
FREE
One of the most popular festivals in town, this amazing (but very crowded!) family favorite features block after block of fun, including bouncy houses, games, face painting, arts and crafts, contests, a soft play area specifically for toddlers and much more. There's also tons of entertainment, like performances by Broadway shows such as Wicked and Les Miserables, stilt walkers, magicians, popular kiddie bands and an appearance by the Rockettes. If your kid is curious about what happens behind the scenes on film shoots, head to the Tribeca Studios Backlot where they can see what it takes to work on a real set, learn how to create animation on a phone or tablet, or pose like a star on the red carpet.

Tribeca/ESPN Sports Day
Saturday, April 25
FREE
Same date and time, this one-block offshoot of the main Street Fair offers interactive sports-related games, demos and activities. There are also appearances by local teams, athletes, mascots and sports personalities. This year, Super Soccer Stars will host clinics for kids and Double Dutch Empire will teach you to jump rope. Baseball more your sport? Both New York Women's Baseball and New York Empire Baseball will be on hand with pointers and clinics. You can also star in a draft-day photo shoot, posing onstage with the "Sports Day Commissioner" as you hold up your favorite team's jersey.

Back to the Future
Saturday, April 25
FREE
Catch a no-cost screening of this 30-year-old family classic at the Tribeca Performing Arts Center. Introduce your kids to one of the most successful franchises of all time. While admission is free, it's on a first-come first-served basis. Line starts 30 minutes before showtime, so arrive early!

Downtown Youth Behind the Camera
Sunday, April 19
FREE
Watch young NYC filmmakers show off their short flicks at the SVA Theatre in Chelsea—this is the one event not held in Tribeca.

Tribeca Online Film Festival
FREE
The fest will offer select movies online, which saves parents the cost of a sitter. And here's something fun for children: Tribeca Kids Access, an online channel where 10- to 14-year-olds from downtown schools report on all the happenings at the Film Fest from their unique point of view. You can find the content in the Family Festival section on the tribecafilm.com/family website.

For more information about any of these events, visit tribecafilm.com. You can also follow the fest on Twitter.

There are lots of other fun festivals and fairs going on around town. Check out our roundup of Spring Festivals or browse our Events Calendar.
This post originally published in April 2010.