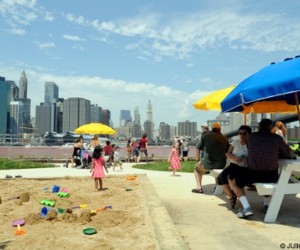 Best Family Friendly Outdoor Bars in New York
It's officially the last weekend of summer and Labor Day Weekend traditionally means barbecuing with friends. While I don't have a place to barbecue, I'm still in the mood to hang out outdoors and drink some beers with friends, while my kids play nearby. So I gathered up some of the best places to get that same backyard barbecue feeling at one of NYC's outdoor family friendly bars, where you can hang out outdoors with some friends, some beer and chow while our kids hopefully play contentedly in the child-friendly space available.
Here are the best family-friendly outdoor bars in NYC to share a beer with kids (well, don't share the beer with your kids, but you know what I mean):
Habana Outpost
Habana Outpost is always a great place to hang out with kids. Their Kiddie Corner is open on weekend afternoons and offers eco-enlightening activities to keep kids occupied while you enjoy the great Latin food and drink in their outdoor patio.
This weekend, however, there's even more of a reason to go. While Saturday and Sunday kids can make notebooks out of recycled materials, on Labor Day Monday Habana Outpost hosts a Back to School Bash from 12-5pm. Check their site for details.
Pier 1, Brooklyn Bridge Park
The brand new Brooklyn Bridge Park's Pier 1 is the urbane Brooklyn Heights version of Water Taxi Beach with a big sandbox (toys provided, plus grassy knolls, and umbrellaed picnic tables. Let your kids play while you suck down a brew, chow and enjoy the breeze and great views of Manhattan, the Brooklyn Bridge and Olafur Elaisson's Waterfalls. Open until 10PM through September 28th, there's even a shuttle bus from the Brooklyn Heights train stations, or just walk over the Brooklyn Bridge to make it the perfect evening.
Bohemian Hall and Beer Garden
One of the last original beer halls and outdoor beer gardens, this Astoria outpost is the real deal. Many nights you'll find a band, comedy or other entertainment, or maybe you just need to drink beer and polka with your half-pints. Check their calendar for events.
Brass Monkey
This Meatpacking District Bar has been a favorite hang out with kids for a while (they even have a kids menu), but the newly opened roof deck makes it even more of a prize. Now you can enjoy one of their 75 beers and low-key Celtic fare outdoors.