Great Birthday Parties for Crafty NJ Kids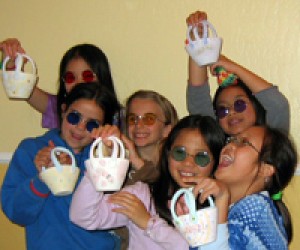 As my daughter's 6th birthday approaches, I am scrambling to find an entertaining and unique party location. My house is small, so a home party is not an option (plus the mess and clean up. Ugh!). A party that would involve the 3 F's, food, favors and fun, seems like the perfect formula for NJ kids and their party-planning moms. How about a make-your-own-craft party? New Jersey has a variety of studios that offer make-and-take crafts for your little Picasso. Aspiring painters, potters, glassmakers, and jewelers can satisfy their creative side. The best part is that the finished masterpiece becomes your built-in favor! Check out some of our favorite New Jersey arts'n'crafts studios. And for even more fab ideas, check out our NJ Kids' Birthday Party Ideas Guide.
Art 4 All (Somerville, NJ)
Art 4 All has been an educational art studio for over 25 years. While there are many different art classes to choose from, they also offer birthday parties for children on Saturday afternoons. The instructor/owner is a former art teacher who teaches all the classes and runs the parties with her qualified staff of teachers. Children can make a sun-catcher, placemat, paint a t-shirt or tote-bag, or create a tinsel painting (the latter for 8 years and up). There are 2 rooms available, one in which the art project is done, and the other is for the party. Parents provide the food and cake. Parties are appropriate for ages 3 and up. (908) 725-4490.
Color Me Mine (Bernardsville, NJ)
Color Me Mine is a walk-in pottery studio in Bernardsville. Paint-it-yourself birthday parties are offered for children of any age with a minimum of 10 guests. Parents must remember, though that pieces take some time to be fired and baked, and that they will have to return to the studio to pick them up and deliver them to party guests. (908) 953-9000.
Glassworks Studio (Morristown, NJ)
Glassworks is a glass design studio in which budding artists can create a fused glass item from glass pieces and fragments. Parties are held on weekends and last for 1.5 hours. All parents have to do is bring the food and drink! Glassworks provides a large, bright and comfortable space that belongs only to the party. This makes for a very worry free event. We encourage parents to allow the kids to focus on the great glass art first and foremost. Glassworks is extremely accommodating, welcoming and a unique creative experience with a final project that can literally last!" Sounds awesome…. (973) 656-0800.
Just Bead Yourself (Westfield, NJ)
Just Bead Yourself is a walk-in jewelry studio. Children of all ages can participate in creating necklaces, bracelets, and earrings. Kids' party options are varied and are appropriate for children ages 3 and up. Just Bead Yourself also offers specialty parties, such as an "Afternoon Tea Party with My Doll and Me" party, a "Gemstone Energy Party for Kids" and even "Mommy and Me Beading Parties" which is designed for the younger set, ages 3 – 5. Mom even gets to make earrings for herself at no additional charge! Parents provide food and drink.
Future Fashionistas (Livingston, NJ)
Future Fashionistas was co-founded by Hallie Dennis and Mindy Schneier, both trained fashion designers with years of experience in the fashion industry. Birthday parties at Future Fashionistas are 90 minutes, and are centered on one fashion theme, such as accessories, t-shirts etc. 12 children create their fashion of choice and in some cases may stage their own fashion show. Hallie and Mindy want you to know that the most popular party is the bohemian "Fringe Frenzy"—it's all the range and the latest trend for your future fashionista! (973) 874-9403.
Bella Princess (Bloomfield, NJ)
Bella Princess offers interactive parties at their space in Bloomfield or at your home. However, in addition to their character parties, Bella Princess has a "Tropical Spa Party" for your birthday girl, with a 1.5 to 2 hour spa "retreat". Party hostesses will pamper guests with facials, manicures/pedicures, beauty tips and the opportunity to make their own lip gloss or lotion. Spa robes are also included as a party favor. A very special and relaxing fest! (973) 429-1108.
Originally published 2012