Indoor Climbing Gyms: Spidermen of Fairfield County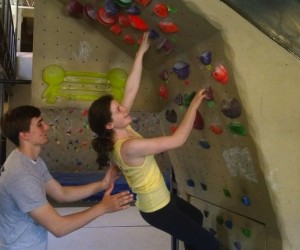 Families looking for cool and refreshing fun on a hot summer day can consider indoor climbing. Moving up vertically is both exciting and a thorough workout for all ages...Here's a review of our first-time visit to an indoor climbing gym along with a listing of other walls to climb in Fairfield County. We've listed climbing gyms in Hartford County here.

The new Fairfield Sportsplex at 85 Mill Plains Road has an exciting indoor climbing gym, Rock Climb Fairfield. The facility is comfortably air-conditioned, which serves new visitors well when they first face the intimidating 40 foot high walls.
The walls are dotted with hundreds of 'holds'; little protruding objects of various sizes and shapes that climbers grab and step onto to scale the walls, just like spiderman. Instead of a spiderweb though, they rely on a rope 'belayed' or controlled by a belaying partner at the foot of the wall. Holds of different colors plot different routes of various difficulty.
New climbers are encouraged to start out with a one hour climb supported by a staff belayer. These experienced and passionate climbers are very friendly and patient with first-timers. They help them select and adjust the necessary gear - shoes, harnesses and helmets – and the appropriate routes. They explain the safety rules, basic techniques, hold the rope and encourage you on the way up.

Everything moves smoothly. After gearing up, our belayer, Christine led us to our first challenge. Although not visible from the entrance, the gym has 'shorter' walls for novices with beginners' paths set with larger 'holds' coming at more frequent intervals in a predictable and straight pattern making climbing easier.

Easier, however, does not mean 'easy' by any means. We quickly found out that climbing is hard, it requires agility, balance, mental focus and hard work from arm, shoulder and leg muscles alike. It is also pleasantly rewarding, not only do climbers experience the real 'high' of accomplishment reaching the top of the wall, but they also get to float back down, slowly lowered by the belayer. We conquered four different, increasingly challenging routes. By the end of the session, we developed some confidence and quite a bit of muscle fever.

Children of all ages try and enjoy wall climbing. Their muscles can pull their relatively lighter bodies easier. During our visit, a tiny 5 year old girl was scaling the walls with enviable speed, skillfully pushing the thin rubbery soles of her shoes against the wall when holds were too far apart. While some routes may be too challenging for younger children, there are plenty of appropriate wall routes. The exciting several story high rope ladder and a gigantic cargo net seem to attract the youngest crowd. For young children, the experience of the way down is at least as much fun as the climb up.

Carabiner's, like most similar facilities also has a bouldering cave, a 14 feet high platform with sides shaped into steep walls and half-ceilings and equipped with holds for rope-free climbing. For those of us with insufficient upper body muscles, bouldering is just too hard. For others, including many preteens and teens, hanging in there by your fingertips is the ultimate fun. Finally, for a special challenge almost everybody tries (and falls off) the tightrope.

Indoor climbing is not an inexpensive entertainment: a staff belayed, one hour session costs $90 for a family of four, including gear rental. Experienced climbers who can obtain belayer certification or take the necessary course ($35 per person) can climb in pairs belaying for each other. A climbing pass for a day costs $18 for adults, $15 for students and $12 for children under the age of 10. Gear rental costs up to $10.

If anyone in your family has a fear of heights, indoor climbing is probably not for you. But if you are happy hovering a dozen or more feet above ground for an hour or so, hit the wall of the climbing gym: it really is fun exercise. On belay!

Indoor climbing facilities in Fairfield County:

Rock Climb Fairfield
85 Mill Plan Road
Fairfield, CT, 06824
203-416-5500

Hours: Call for hours and reservations.

Easton Community Center
364 Sport Hill Road
Easton, CT 06612
203-459-9700

Hours: Call 24 hours in advance to schedule time.

Sono Field House
365 Dr. Martin Luther King Jr Drive
Norwalk, CT, 06854
203-604-9030

For rates and hours call. Field House features a 1,500 square foot rock climbing area and an exciting ropes challenge course.
Originally published 7/17/11 by Monika Nika.
Photo courtesy of Rock Climb Fairfield.