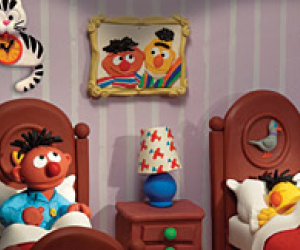 New York City Kids Weekend Events January 30-31: Free Screenings & Swim Lessons, Haiti Relief Concerts, Winter Fun and More
With winter break still a few weeks away, and cold, wind and snow in the forecast, you and the family might be looking for a cure for those mid-winter blues. (And since City Bakery's Hot Chocolate festival doesn't start until Monday, we've got plenty to keep the blues away until then.) This weekend you can take the kids to special for-families Haiti Relief Benefit Concerts, go on a marine watch, learn how to swim or the secrets of snow globes, plus catch a free screening of Charlotte's Web, ice skate with the King of Pop and enjoy some free winter festivals and ethnic concerts.
Oh and don't forget to enter our contest to win a free iPod Touch (see details in the left sidebar on our homepage).
Saturday, January 30
Marine Mammal Watch--Coney Island, Brooklyn
You might not be willing to put your swim suit on and head out for a dip, but that doesn't mean you can't enjoy the wonders of seals, whales, and dolphins. Learn about local marine life and catch a glimpse of it, too. FREE Want to go on more marine life adventures? Read about seal watching in New York City.
Charlotte's Web--Inwood, Manhattan
I've always been partial to CW (that's what happens when your name is Charlotte), but I'm not alone in my love for this famous children's story. Watch it for free during the first installment of Indwood Hill Park's Kids' Movie Night program. Snacks and refreshments, too! FREE
Free Swimming Lessons--Various Locations, All 5 Boroughs
Once upon a time, I was a lifeguard and swim instructor, and I know first hand how expensive swim lessons can be. That's why you'll want to know about the registration for the free Saturday Learn to Swim Parks Dept. program this Saturday, January 30. Kids are accepted on a first-come-first-serve basis, so we recommend not waiting until the last minute (you can register on Feb. 6, too). Visit the Parks Dept website for times and locations in all five boroughs. FREE
Chana Rothman Family Concert--UWS, Manhattan
Chana Rothman puts on a show complete with kids songs, songs about peace and some Hebrew music. After the show, there is an interactive workshop with Chana just for kids. FREE
A Family Concert to Benefit the Children of Haiti--UES, Manhattan
This event sounds awesome on several different levels. First, it is a suggested donation of $10/family that goes to the UNICEF/Haiti Earthquake Fund, and second, kids get a classical and international music eduation, and are encouraged to bring drums, pots and pans with them to partcipate in the community drum circle. $10/family
Snow Globe Secrets--Mid Island, Staten Island
Make your own snow globe (with hidden treasures and special effects) while discovering what hidden wonderlands live inside the glass domes. Pre-registration required. $5
Sunday, January 31
Fati & Charles, Spanish Music for Kids--Flatbush, Brooklyn
Fati & Charles sing and dance songs from El Baile del Sombrero, their new CD for kids in Spanish. There will be all sorts of dancing and plenty of interactivity. Plus, Vox Pop is a pretty cool (and totally kid-friendly) cafe as is, and is more a cafe/gallery/performance/community space with fair trade coffee and tea, microbrewed beer, local foods, and an organic, diverse, and affordable menu. FREE
Tu B'Shvat Winter Garden Festival--Chinatown, Manhattan
Tu B'Shvat is the Jewish Arbor Day, and this festival calls for you to unearth your green roots and remind yourself of the natural beauty around you. You'll trace your family tree, plant a personal flower pot, sample holiday foods, participate in a traditional Tu B'Shvat seder and go on a special architectural tour highlighting the green restoration of the 1887 Eldridge Street Synagogue. FREE
Michael Jackson Skate--Prospect Park, Brooklyn
Ice skate to the tunes of the late King of Pop, and practice your moon-skate at the same time. $5/adults, $3/kids, $6.50/skate rental
Kids Helping Kids Concert--The Bowery, Manhattan
Rock out to some of the Bowery Poetry Club's favorite kids' artists (like Hayes Greenfield & Jazz-A-Ma-Tazz, Niall O'Leary Dancers, Uncle Rock,
Louise Rogers & Washington Heights Children's Jazz Choir, and
Rolie Polie Guacamole) while donating to children in Haiti. You can also bring one small basic plaything (suggestions: small stuffed animal, small plastic car, crayons, etc.) – to be sent directly to children in Haiti. $5/minimum suggested donation
Sesame Street Family Day--Kings Highway, Brooklyn
Readers raved about this event when they held it at the central Brooklyn library location. Lots of fun events celebrating 40 years of Sesame Street. FREE
Tales from the Land of Gullah--Crown Heights, Brooklyn
Celebrate the Grand Opening of the Brooklyn Children's Museum's newest exhibition, Tales from the Land of Gullah. Special opening-weekend programs highlight the exhibit, which shows how the Gullah people of Georgia and South Carolina preserved much of their West African heritage and have given treasured customs to America. Events include a make your own woven basket workshop, learning and making plant dyes, and more. $7.50/person
Lunar New Year Performance--Flushing, Queens
Get a jump on Lunar New Year with this energetic Koran dance and drum performance that should be interesting and exciting for kids ages 6 and up. $12 for adults, $8 kids.
Also Happening this Weekend:
--Pretend there wasn't a mini-snow storm yesterday and gear up for summer with The New York Camp Fair in town again this weekend

--The Special Needs Camp Fair is also going on this weekend

--Check out more Kid- and Family-friendly Haiti Relief Benefit Concerts

--Two more cool benefits this weekend:
Go Country For Coney (Save Coney Island)

Housing Works Playhouse Benefit Concert for Families with Peter Yarrow (of Peter Paul and Mary)
Looking for more to do this weekend? There are even more event ideas in our new event calendar!
Did you know you can get this round-up in your inbox every week? Sign up for our free newsletters.