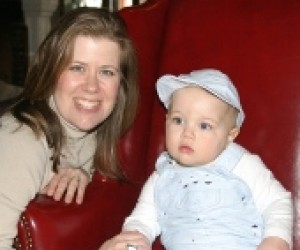 Mothers Day Weekend 2010: 10 Things to Do for New York City Moms With and Without Kids
Mother's Day is Mom's day so shouldn't she get to pick how to spend it? Some moms want to spend it with their families all together, but what some moms secretly crave is a day to themselves—hey, no guilt, it's perfectly understandable.
We've lined up a whole weekend of activities that are great whether you want to do something just for you or run amok with your kids — or whether you want dad to run amok with the kids while you do something just for you. So plan your own day, you know, for after you kvell over the lovely home made cards and macaroni necklaces. And if you choose to sit home and do absolutely nothing – well that is just fine, too. Read on and have a Happy Mother's Day no matter what you decide to do.
For the mom who wants a day of museum fun for the whole family:

Family Day at Tutankhamun and the Golden Age of the Pharaohs
Sunday, May 9, 2010
226 West 44th Street
Tickets: $27.50 for adults, $17.50 for kids (4 – 12 years), FREE for 3 years and under.
Packages available for families of four

If you missed Tut the first time around (or even if you didn't) this exhibit is bigger and better than the first Tut tour 30 years ago. It includes personal items unearthed from his tomb, his crown and his coffin and over 100 more artifacts. Also, scientists have been studying the life and death of the boy king using modern forensics and DNA technology and their findings will be on exhibit. To celebrate Mother's Day Tut is hosting a special family day with Egyptian styled face painting, mummy wrapping and a gift for the kids.

The Affordable Art Fair
Saturday, May 8 or Sunday, May 9, 2010, noon to 8:00 pm
7 West 34th Street
$20 for adults, Kids 12 and under FREE
Kids 12 and under get their mom in free on Mother's Day

Affordable (think: $100 to $10,000, with 75% under $5,000) pieces of art from over 70 galleries of up and coming young artists. This year they have even added a special Brooklyn section. Come to shop or just to see tons of great art. Plus, if you are bringing the kids, have them drop into "The Book Factory", where they can learn unique book making methods from artist and bookmaker Nathalie Trovato and other craft projects.
Playing with Pictures: The Art of Victorian Photocollage at The Met
Through Sunday, May 9th
1000 Fifth Avenue at 82nd Street, Manhattan
Free with suggested donation, kids free

Though seeing any art at the Met is always a pleasure, this particular show, Playing with Pictures: The Art of Victorian Photocollage is especially delightful and perfect for Mother's Day. What you will find are whimsical collages made from personal family photos including pictures of mothers and their darling children. Never intended for public display, artistically inclined young ladies (and the occassional gent) were responsible for the humor and delicate watercolor work that made these family keepsakes so endearing. Many have a bit of a surreal, "Alice in Wonderland" feel as family members' faces grace the bodies of animals, acrobats, and even adorn umbrellas. Children of all ages and their moms will appreciate this charming show. May 9th is the last day of the show. The museum is open from 9:30 am to 9:00 pm on Saturday and from from 9:30 am to 5:30 pm on Sunday.


For the mom who wants a relaxing day outdoors with her family:

Emily Dickinson's Garden: The Poetry of Flowers
May 8 and 9, 2010 – all day
New York Botanical Garden
FREE with garden admission (Adults: $20, Children (2–12): $8, Children under 2 Free)

This spring the garden is exploring the life, works and flowers of Emily Dickinson, one of America's most beloved poets. In the greenhouse you can see her Victorian gardens brought to life and walk through a reproduction of her home and surroundings. A wander through the perennial gardens allows you to read snippets of her poems surrounded by the flowers that inspired her writings.
On Mother's Day weekend throughout the garden visitors can create a period inspired greeting card from pressed flowers and herbs. Or enjoy a reading of Dickinson's poems presented for young people by the acclaimed author, Barbara Dana at 1:00 and 3:00 on Saturday and Sunday. On Sunday, the Children's Theatre Company at Lehman College will be presenting a family friendly rendition of the classic fairy tale, Beauty and The Beast at 1:00 and 3:00 pm. Plus a whole lot more for mom.
On a Wing: Flight of the Monarch
Saturday, May 8, 2010 1:00 – 3:00 pm
Belvedere Castle, Central Park, Mid Park at 79th Street
FREE

Learn about Monarch butterflies from butterfly expert, Maraleen Manos-Jones, she will discuss myths and science of the Monarch as well as issues facing them today. You will find out where the butterfly boxes are in Central Park (and what they used for) plus how to create a Manhattan sized mini-butterfly garden for a window box to attract butterflies to your home. "The Butterfly Lady", as she is called, will also be showing off some live butterflies, too.

For the Mom who wants to get out of town with the family:

Mother's Day at Stone Barns Center for Food and Agriculture
Sunday, May 9, 2010
Stone Barns Center for Food and Agriculture
630 Bedford Road, Pocantico Hills, NY
FREE with a $5 parking fee (programs extra)

A wonderful place to spend any day but even better on Mother's Day when they are offering all sorts fun farm chores for city slicker families: gardening, collecting eggs and special farm tours. When you finish up take a self guided walk around the amazing complex and don't forget to grab a bite at the fantastic Blue Hill Café, especially if your children aren't ready for the real restaurant.

Drop in between 10:00 am and 4:00 pm so the kids can decorate a pot and plant a seedling or transplant a plant (available at the Mother's Day Plant Sale) into it for dear old mom. (Planting program is $10 and includes one pot, seedling and card.)

Kids aged 2 to 14 can try their hand at collecting eggs while learning about hens and life on the farm. (10:00 – 11:00 am, $7.00 for children, parents can attend free of charge, registration is required). Parents can give it a go, too, but in a slightly more intense adult program where you have to feed the chickens some lunch -but you also get to take home some farm fresh eggs! ($9.00, Registration required, 12:00 or 2:00 pm).

Families with children aged 2 to 14 years can garden together in the fields or the greenhouses, pulling weeds, planting seeds or harvesting vegetables.
(1:00 pm, $7 per child and parents accompany for free, advance registration required)

Or take in a no work farm tour and see the spring babies born on the farm: lambs, goslings, chicks, piglets and baby plants. (1:00 pm or 3:00 pm, $10 for adults, $7 for children, advance registration required.)
For the mom who wants some time to indulge herself:

Mother's Day Chocolate Walking Tour
Saturday, May 8, 2010 or Sunday, May 9, 2010 at 1:00 pm
$45

Indulge your chocolate fix while burning off the calories. Take a kid-free walking tour of the best chocolate Manhattan has to offer and sample the wares at all of them, including Jacques Torres, Marie Belle, Kees and Vosges.
Live Beautiful — A Mother's Day Makeover Event
Sunday, May 9, 2010 from 4pm
Fashion 40 Lounge 202 West 40th Street between 7/8th
Tickets are $50 in advance or $75 at the door
Need to get your mojo back? The event "Live Beautiful" is a makeover party where women will be pampered with skin treatments, massage, and makeup application. The makeover culminates in photo-shoot for each participant. There will be an open bar and passed hors d'oeuvres, as well as beauty give-a-ways.
Special for Mommy Poppins readers: mention "Mommy Poppins" and get 10% off before May 1 and 5% off after.


For the mom who wants dad to take them for the day

The Little Red Light House
Saturday, May 8, 2010
Meet at West 181st Street and Plaza Lafayette
1:00 – 4:00 pm
FREE

Let them take a tour of the Jeffries Hook Light House, aka, the Little Red Lighthouse, made famous in the book: The Little Red Lighthouse under the Great Gray Bridge. It is only opened a few times a year – and kids who love the book will love going to see it in person.
Free Puppet Show at MiniMax
152 Atlantic Ave, Brooklyn.
Free puppet show. You could go on any Sunday but here's one way to make May 9th extra special. Best for the under 6 set. Sundays including Sunday May 9th at 10am.

This post was also contributed to by Marcy.