Family-Friendly Hotels on the Upper West Side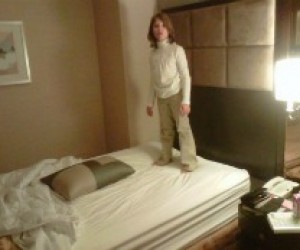 [UPDATED: July 26, 2010]
We don't usually post about NYC hotels since, well, we all live here, and most of our readers do too. But with the holidays coming up, we know lots of out-of-town families will be looking for affordable kid-friendly places to stay. While staying in Times Square or another tourist area may seem like the way to go, we recommend the Upper West Side.

We've been focusing on this super-family-friendly neighborhood all month long, and it really is a kids' paradise with big attractions like the American Museum of Natural History and the Children's Museum of Manhattan, Riverside and Central Park, and tons of places to play, eat and have fun. While hotels here are no bargain, they're usually a bit cheaper than their Midtown Manhattan counterparts. (We're not including prices though, since they change so often and many websites offer discounted rates.) Plus, since it's a residential area, visiting families can get a taste of how "real" New Yorkers live.

As a longtime UWS resident, I suggest these hotels to my family and friends when they come to town (they can't stay with me, my apartment barely fits my own family!). All five are within walking distance of the UWS' best spots and near subway lines that will have you in Midtown in minutes.
On The Ave
2178 Broadway at 77th Street, 212-362-1100
This boutique hotel's modern lobby feels like a trendy Soho loft, so at first glance it may not appear family-friendly. But it's got a relaxed neighborhood vibe, and kids of all ages are welcome and made to feel at home by the cheerful staff. Rooms are small but full of amenities like plush terry cloth robes and comfy bed linens. There is a business area with free Internet, a 24-hour fitness center and a concierge. Best of all is the location: Although the hotel is on Broadway just two blocks from the subway, its actual entrance is on a quiet side street. Children under 18 stay free of charge, and all rooms have two full or queen-size beds. Pack 'N Play cribs are provided free of charge.

The Hotel Excelsior
45 West 81st Street between Columbus and Central Park West, 212-362-9200
No other hotel is closer to the American Museum of Natural History than the Excelsior. You can visit then cross the street and head back to your room for a nap before your next activity. This pre-War building is full of old-world charm, and the lobby gives the impression of a residential building. There is an entertainment room that features a fireplace, fitness center and a television. Children under 12 stay free, and there's a $20 fee for teens. Many of the rooms are spacious with two large beds, and free cribs are provided.

Hotel Beacon NYC
2130 Broadway at 75th Street, 212-787-1100
The Beacon offers ample-sized one- and two-bedroom suites, with a sofa bed in the living room. The lobby is always bustling with activity, so it's nice to be able to relax in your mini-apartment. Its proximity to mega-grocery store Fairway means you can purchase healthy snacks and prepared meals, and eat them in your suite. Children under 18 stay free. Rollaway beds are $20 per night and cribs are free.

The Milburn Hotel
242 West 76th between Broadway and West End Avenue, 212-362-1006
This hotel has clean one-bedroom suites that come with functional kitchenettes. Lots of kid-friendly amenities are available upon request, like PlayStations, family DVDs and children's books. Continental breakfast is included in the room rate, which is a real money saver. There's a computer room, exercise room and free Wi-Fi throughout the hotel. Children under 14 stay free; 14 and up pay $10 per night. Cribs and rollaway beds are free of charge.

The Lucerne
201 West 79th Street between Broadway and Amsterdam Avenue, 212-875-1000
Housed in a 1904 landmark building, this hotel was recently renovated. The plush lobby has a club feel, with comfy chairs and jazz music playing. The doorman at the entrance adds a touch of swank, as does the uniformed concierge. Rooms come with two double- or queen-size beds, or you can opt for a deluxe family suite with two separate bedrooms. Children under 16 stay free. Cribs, both Pack 'N Play and standard, are free of charge. The popular bistro Nice Matin is located right next door, and hotel guest receive a 15% discount on breakfast.


Read all of our posts about the Upper West Side.