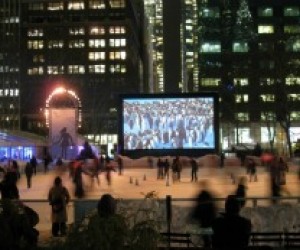 Free Winter Film Festival in Bryant Park
Sadly Bryant Park isn't having a Winter Film Festival in 2014. Who says free outdoor film festivals are a summer-only activity? On Monday, February 4, Citi Pond at Bryant Park launches its third annual Winter Film Festival and Mommy Poppins is a media sponsor! My son and I attended a screening of Happy Feet a few years back on a balmy, 17-degree evening. The movie was shown on a tremendous blow-up movie screen on the Sixth Avenue side of the ice rink. It was pretty cool (in more ways than one).

Think you are hearty enough to brave the freezing temperatures to catch a free flick? Read on to find out more about this fun, frigid film festival and ways to keep warm while you are there. Plus, make sure you come out for the very first screening, Disney's 1953 flick Peter Pan on Monday, February 4—the Mommy Poppins team will be there and we'll be giving out vouchers good for one hot chocolate at Citi Pond's concession stand Ice Bites.
Bundle up, bring a blanket or two, and don't forget a thermos of cocoa when you attend the Citi Pond Winter Film Festival. Films will be shown on four consecutive Monday evenings at 7pm on a 900-square-foot outdoor screen.

There are different viewing options, depending on how much of this arctic blast you can handle. The festival goes on snow or shine. You'll be able to see the movie from all of the locations covered here.

Coldest: Grab a chair at the dedicated seating area right outside the rink's eastern end adjacent to the Celsius restaurant. Make sure to dress for the weather, and bring blankets or sleeping bags with you.
Warmer: Strap on skates and hit the ice at Citi Pond. The physical activity will keep your body temperature up as you enjoy the movie al fresco.


Warmest: During the movie, enjoy dinner or drinks at the rink-side restaurant Celsius. The glass-walled second floor offers a perfect viewing location, or sit under the heat lamps at the indoor-outdoor lounge on the first floor. You'll still want to dress warmly: The restaurant's tented ceiling and the windy weather makes it a little chilly inside, even cold, once the sun sets. There's a children's menu as well as plenty of regular items that should appeal to all, like the chicken pot pie or ravioli.


The festival lineup is below. Movies start at 7pm.

Monday, February 4 – Peter Pan (G)
Monday, February 11 – Singin' in the Rain (G)
Monday, February 18 – Chicago (PG-13)
Monday, February 25 – Grease (PG).


Citi Pond Winter Film Festival in Bryant Park
40th Street at Sixth Avenue
FREE