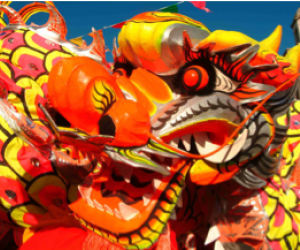 Chinese New Year Celebrations for Kids on Long Island
February 14, 2010 marks the start of the Year of the Tiger on the Chinese Lunar Calendar. It's the year of the tiger, celebrate the Chinese New Year holiday with great kids' activities and crafts all over Long Island. These events are fun and give kids a chance to learn about the history and meaning behind Chinese New Year traditions and symbols.
Saturday, February 13th
1:30 pm – 3:30 pm
Main Street Petite Gallery (Huntington)
213 Main Street in Huntington
Call or e-mail Caitlin Apostoli at (631)271-8423x14 or capostoli@huntingtonarts.org
$20 for the workshop
In this special Chinese New Year workshop, participants will make traditional lion puppets and Chinese paper lanterns. Children will experience authentic Chinese cultural artifacts.


Sunday, February 14th
11:00 a.m. to 4 p.m.

Long Island Science Center (Riverhead)
11 West Main Street, Riverhead, N.Y. 11901
For information and directions, call (631)208-8000
Admission $5.00 Children, $2.00 Adult
Coupons available on website
Learn about the history and meaning behind the Chinese New Year symbols.
Add with an abacus and discover what math and science ideas came from the ancient Chinese culture. Fortunes and wishes are a large part of this celebration, so make yours and put them in your fabric fortune cookie to take home.


Tuesday, February 16th
1:00 p.m.

Long Island Children's Museum (Garden City)
11 Davis Avenue, Garden City, N.Y. 11530
$3.00 with Museum Admission ($10 General admission)
$2.00 LICM members
Start off the Lunar New Year by making a mask, and then line up for a parade!
Sunday, February 21st
1:30 pm – 3:30 pm

WMHO Educational and Cultural Center (Stony Brook)
Stony Brook Village
Advance Reservations required. (631) 689-588
Celebrate the Year of the Tiger with festivities including a Lion Dance by Wu Mei Kung Fu Association, Spotlight Dance Academy and Stony Brook Taiko Drum Ensemble. Includes "Year of the Tiger" Craft Activity.