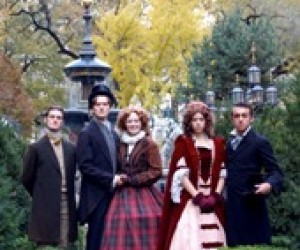 Don't Be a Scrooge: Take Your NYC Kids to See A Christmas Carol this Holiday Season
[UPDATED: NOVEMBER 11, 2012]
There are many wonderful holiday stories but none as iconic as Charles Dickens' A Christmas Carol. In fact, the tale was so popular when it was first published in 1843 that revelers took the holiday greeting "Merry Christmas" straight from its pages. This spooky Christmas ghost story is the ultimate tale of redemption and it still rings true after two centuries.

So this holiday season, don't be a Scrooge! Take your Tiny Tim to see a family-friendly adaptation of this treasured classic. Since there are many stage versions of A Christmas Carol around New York City, we've highlighted the ones that are the most family-friendly.
The Morgan Library & Museum is home to Dickens' original A Christmas Carol manuscript, which was purchased by Pierpont Morgan shortly after its publication. The manuscript recently received extensive treatment by the Morgan's conservators and can currently be viewed online. On Sunday, December 2 from 2-5pm, children are invited to celebrate A Christmas Carol, along with Beatrix Potter's works, as part of the Morgan's annual Winter Family Day event. Highlights include art workshops, puppets, a costume photo shoot and more. Free with museum admission: $15 for adults, $10 for children under 16, free for children 12 & under.

The Literally Alive children's theater company presents its annual one-hour musical adaptation of the story at the Players Theatre in Greenwich Village. The production includes an interactive pre-show workshop, where kids learn how the novella was transformed into a stage show. Performances run from Sunday, November 25 through Sunday, December 30. Visit the website for the complete schedule. $25-$45.

For more mature children (think older tweens), try Reid Farrington's A Christmas Carol at the Abrons Arts Center. This intriguing recreation of the classic tale blends film clips with live performances on stage. The offbeat show runs from Saturday, November 24 through Sunday, December 23. Visit the website for the complete schedule. $25 for adults, $15 for students and seniors.

Here's a good one for younger kids: A Christmas Carol by the Puppet People at the Brooklyn Lyceum brings Charles Dickens' holiday classic to life with handcrafted marionettes, shadow puppets and masked performers. The climax features a giant nine-foot parade puppet! Runs Saturday, December 15 and Sunday, December 16 at 1, 3 and 5pm. $11 per person, $33 for a family four-pack.

If your kids are very young and you don't think they can sit through a live show, head to the Sony Wonder Technology Lab to see Dora's Christmas Carol Adventure, which is being screened on Saturday, December 22 at 11am. Call 212-833-8100 for reservations. FREE

Looking to bring the Christmas tale to your kid's school? In November and December, the Hampstead Stage Company performs a just-for-kids version of the holiday tale on its national educational tour. Book the troupe at your elementary school, theater or library for $535 per performance. Grants are available through the Oliver Twist Initiative to help schools in need.

Check out our Holiday Event Guide for lots of other ways to celebrate the season in NYC and find great gift ideas in our NYC Shopping Local Gift Guide.