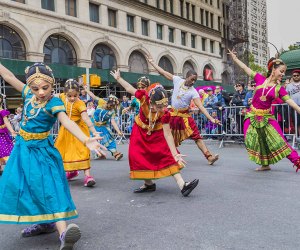 Weekend Fun: Spring Flings, Dance Parades, Food Fests, Ninja Turtles
Spring fling takes on a whole new meaning this weekend at Saturday's spectacular 13th Annual Dance Parade, plus Brooklyn's Spring Fling in Prospect Park, and the bound-to-be-wild Swamp in the City Cajun Family Dance in Red Hook. Speaking of swamp things, the Paley Center's new Teenage Mutant Ninja celebration may be right down your manhole—er, up your alley, with giveaways and a meet-and-greet with the rad reptiles on Saturday.
Fairs and festivals are everywhere, of course. The 9th Avenue International Food Festival takes over the west side all weekend—though vegetarians might want to detour to 18th Street for the Vegetarian Food Fest. Truck afficionados can touch their fill at PS 295's Touch-a-Truck extravaganza, and the Bronx Kid Fest promises deep sea VR fun in addition to the usual kids' activities.
On Sunday, don't miss Brooklyn's Fabulous Fifth Street Fair, the Annual Fleece Fest at the Prospect Park Zoo, and the National Museum of the American Indian's annual Children's Festival. Ferry to Ellis Island for the Asian American & Pacific Islander Fest. Or get your barbecue on at the Essex Street Market Block Party.
Looking for evening entertainment under the stars? Shakespeare in the park kicks off with an abbreviated, female-led Hamlet: Princess of Denmark in Bryant Park. Bring blankets and other critical movie-watching paraphernalia to FREE evening screenings of Sing in Queens, Ralph Breaks the Internet and Teen Titans Go! to the Movies in Brooklyn, or Incredibles 2 on the Upper East Side, in the Bronx, and in Brooklyn.
Planning ahead? Today would be the perfect time to sign up for a 4th of July cruise to maximize fireworks fun (before they all sell out!).
Meanwhile, the MommyPoppins events calendar continues its breakneck buildup of spring and summer events. Dig in!