Wegmans Comes to Brooklyn: 3 Things to Love about NYC's Newest Grocery Megastore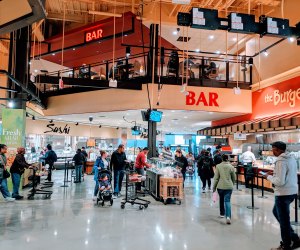 Believe it or not, I had never heard of Wegmans before it opened here in NYC last week. (As a native New Yorker growing up in the city in the 70s, I was raised thinking that the only chains you saw in NYC were gold and should be tucked under your coat on the subway.) So while I was excited to hear about Wegmans coming to the Vinegar Hll neighborhood of Brooklyn, I admit I had no idea why the Rochester-based chain was all that. Did Wegmans acquire its legion of fans by its unique products, the way Trader Joes does? Was it just the suburban size value, like Costco? Did it offer better-sourced produce and meats like Whole Foods?
What I discovered is that the secret of Wegmans is that they are going for all of the above. Wegmans is the store that wants to be everything to all people. And, they seem to be pulling it off. I recently went to find out what makes NYC's newest grocery store and food hall different from other stores. Here are the top things that make Wegmans a win for New York City families.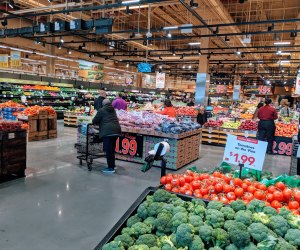 The produce section alone at Wegmans is bigger than most NYC grocery stores.
1. Specialty Products and Big Box Convenience in One
The hardest part of being a foodie in the city is trekking across NYC like Calvin Trillin to pick up all the specialty foods you need; cheeses from Murray's, smoked fish from Russ and Daughters, heirloom tomatoes from the farmers market...Wegmans offers an under-one-roof solution for finding specialty items. I thought Wegmans was going to just be a giant suburban-style grocery store, but in fact it's more like a collection of specialty food stores attached to a big box store.
RELATED: 14 Fun and Offbeat Stores to Visit with NYC Kids

You didn't realize your life was incomplete without French butter until today.
Whereas most grocery stores seem to be limiting the number of products they sell and focusing more on prepared foods and popular items, Wegmans has a dizzying number of specialty food items. Every department is deep with specialty items, from the cheese aisle to the butcher counter to the produce section. I found everything from exotic mushrooms to dragon fruit to kobe beef. The coffees and teas fill an entire aisle.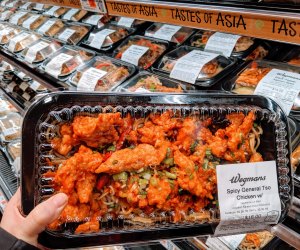 Family size General Tso's Chicken is just one of dozens of heat-and-eat options.
2. Family-Size Prepared and Ready-to-Cook Meals
Most stores now offer plenty of unique prepared foods. The only problem is that most of them are single-serving sizes. Wegmans offers a wide selection of family-sized meals, whether you want heat-and-eat, frozen meals, or prepped dishes to simply cook at home. With marinated meats, whole pizzas, family-sized entrees ready to heat and eat, full-size meatloafs ready to pop in the oven, and tons of varieties of specialty burgers, Wegmans is a dream for fast family meals.
RELATED: Play Space and Toy Store CAMP Comes to Brooklyn in November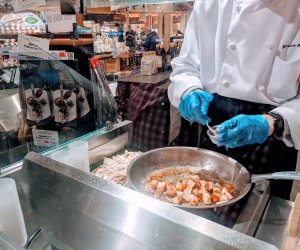 Free samples of seared scallops while you shop? Yes, please!
3. Vegetarian, Kosher, and Gluten Free Options Galore
If you have special dietary needs, Wegmans has you covered. I was interested to see Impossible and Beyond brands of vegetarian ground beef, a large section of gluten-free baked goods from the bakery, and a refrigerated section full of Kosher foods.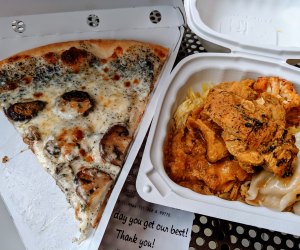 I fueled up with a mushroom and truffle pizza slize plus some chicken curry from the Asian food bar.
I'm sure Wegmaniacs are going to be freaking out about the orange cranberry bread and the bacon-and-cheese-stuffed burgers. I'm certainly interested in returning to Wegmans and trying more of their unique products too. But for families, the convenience of a grocery store with parking, tons of family-sized prepared meals, and huge variety of products in one place are what makes Wegmans a winner in my book.
Want to see my first Wegmans haul? Check out the Mommy Poppins Instagram story.