Stranger Things Pop-Up Store Opens in Times Square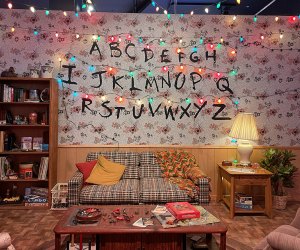 Fans of Stranger Things take note: Just in time for the holiday season, the first official Stranger Things-themed pop-up store has opened in the heart of Times Square. If you're biding your time waiting for Season 4, head over to the store which offers a one-of-a-kind immersive retail experience with exclusive merchandise and interactive photo-ops. Read on for details on how to get your foot in the door.
Subscribe to our newsletters to get stories like this delivered directly to your inbox.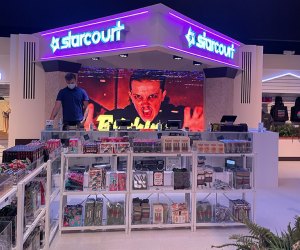 The new Stranger Things store lets you step inside the Starcourt Mall without leaving NYC.
The store has perfectly re-created Stranger Things' most iconic locations, settings, and props including the Byers' living room, the Starcourt Mall, the Snowball Dance at Hawkins' Middle School, and the Russian Lab—all perfect for photos. And, just like watching the series, you're enveloped in '80s nostalgia.
Beyond picking up a curated selection of Stranger Things merchandise, guests can play video games at the Palace Arcade, turn on the machine that opens the Rift, and get up close to the Demogorgon from the Upside Down world. There's even an old-school rotary phone like that rings every half hour. If you answer, you'll hear Will Byers on the other end.

Test your retro gaming skills at the Palace Arcade inside the pop-up Stranger Things store in Times Square.
Of course, the store is chock-full of merchandise and unique memorabilia, including action figures, clothes, candy, board games, cereal packaged in original '80s boxes, and even customizable pieces of apparel. A trip here could yield the perfect holiday gift for a Stranger Things superfan.
RELATED: Do You Have What it Takes to Tackle City Climb NYC's Newest Sky-High Attraction?

Pose for an old-school photo-op at scenes straight out of Hawkins in the new.
The retail experience is free however reservations are recommended. The store is located on the corner of 42nd Street and 7th Avenue and open until January 2, 2022, after which you'll only see it in the Upside Down world. Of course, the Stranger Things store is only a preview of the themed fun in store: An immersive Stranger Things experience is slated for a Spring 2022 debut.
Photos by the author