SPONSORED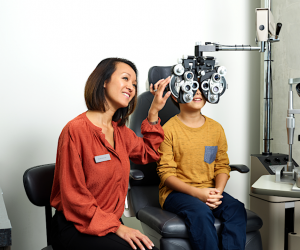 MiSight 1 day Contact Lenses Can Help Kids 8-12 Manage Eye Health
As we all embark on the school year, let's not forget about the importance of eye health. Most eye doctors recommend that kids get a comprehensive eye exam each year to help identify any possible conditions. Children diagnosed with nearsightedness or "myopia"—a common condition that makes distance vision blurry—may be able to benefit from advances in myopia management that slow its progression, making early diagnosis that much more meaningful.
Read on to find out what parents need to know to ensure their kids are getting the best eye care for lifelong vision health—and to learn about Brilliant Futures™ Myopia Management Program with MiSight® 1 day contact lenses, a new option available for age appropriate children dealing with myopia.
The Importance of Pediatric Eye Exams
School nurses are often the first line of defense when it comes to detecting vision issues in children. When nurses are able to conduct vision checks in school, it can be extremely helpful in catching problems early on. When school nurses aren't able to conduct vision checks, simply knowing the telltale signs of vision problems—like squinting, complaints of headaches, etc.—can help nurses, teachers, and parents identify if a child is struggling. To make sure nothing is missed, eye doctors often suggest annual comprehensive exams with an eye care professional, much like how children get regular teeth cleanings and routine vaccinations.¹
When it comes to myopia, most kids are diagnosed between the ages of 5 and 10, and it can worsen or progress during the child's growing years.² It can also lead to a number of secondary conditions later in life including cataracts, glaucoma, retinal detachment, and myopic maculopathy.³ That's why early diagnosis is critical, so that the progression of myopia can be slowed and eyes can have a higher likelihood of staying healthy long term.⁴
Contact Lenses That Can Slow Myopia Progression in Kids
So, what happens if your child is diagnosed with nearsightedness? Well, there's a new option on the table: MiSight® 1 day contact lenses, the first and only soft contact lenses FDA-approved* to slow the progression of myopia in children ages 8-12 at the initiation of treatment.†⁵ MiSight® 1 day contact lenses feature something called ActivControl™ Technology, which utilizes a special design with alternating vision correction and treatment zones to both improve blurred distance vision and slow myopia progression.
Contact lenses for kids, you ask? Believe it or not, studies show that kids prefer contact lenses to eyeglasses because they don't get in the way of being active and they don't change the way they look.⁶ In one survey, 57% of children aged 8 to 12 found putting contact lenses in to be easy after trying it for one week, while 85% felt they had mastered the skill within a month.⁷
The MiSight® 1 day contact lenses should be worn for a minimum of 10 hours a day for best results and can be used until eyes stop growing and prescription stabilizes.²
A Comprehensive Myopia Management Program
If disposable contact lenses sound like a lot to take on, you'll be relieved to hear about the Brilliant Futures™ Myopia Management Program with MiSight® 1 day. The program is available to all MiSight® 1 day wearers and features free no-hassle shipping and returns on orders, plus a handy interactive mobile app. The app offers easy access to all of the myopia management info you might need, lens handling instructions, appointment scheduling, and even reminders to order new contact lenses. The comprehensive program makes myopia management simple and straightforward, offering you and your child the support you need to take on myopia between eye appointments.
Thinking it's about time to schedule that back-to-school eye exam? See how your child's vision health checks out and learn more about this innovative myopia management program by finding a Brilliant Futures™ certified eye care provider in your area. Plus, you can read more about the Brilliant Futures™ Myopia Management Program with MiSight® 1 day here.
....................................
Indications and Important Safety Information
Rx only
Results may vary.
ATTENTION: Reference the Patient Information Booklet for a complete listing of Indications and Important Safety Information. *Indication: MiSight® 1 day (omafilcon A) soft (hydrophilic) contact lenses for daily wear are indicated for the correction of myopic ametropia and for slowing the progression of myopia in children with non-diseased eyes, who at the initiation of treatment are 8-12 years of age and have a refraction of -0.75 to -4.00 diopters(spherical equivalent) with ≤ 0.75 diopters of astigmatism. The lens is to be discarded after each removal. Warnings: Problems with contact lenses could result in serious injury to the eye. Do not expose contact lenses to water while wearing them. Under certain circumstances MiSight® lenses optical design can cause reduced image contrast/ghosting/halo/glare in some patients that may cause difficulties with certain visually-demanding tasks. Precautions: Daily wear single use only. Patient should always dispose when lenses are removed. No overnight wear. Patients should exercise extra care if performing potentially hazardous activities. Adverse events: Including but not limited to infection/inflammation/ulceration/abrasion of the cornea, other parts of the eye or eyelids. Some of these adverse reactions can cause permanent or temporary loss of vision. If you notice any of the stated in your child, immediately have your child remove the lenses and contact your eye care professional.
†Compared to a single vision 1 day lens over a 3 year period.
Read more about the facts in this article from these references:
1 American Optometric Association. Evidence-based clinical practice guideline: Comprehensive pediatric eye and vision examination. Guideline Brief 2017. Available at: https://www.aoa.org/Documents/AOA%20Peds%20Guidline%20Brief%202017_FINAL%20v4.pdf
2 COMET Group. Myopia stabilization and associated factors among participants in the Correction of Myopia Evaluation Trial (COMET). Invest Ophthalmol Vis Sci. 2013;54(13):7871-7884. Published 2013 Dec 3. doi:10.1167/iovs.13-12403
3 Flitcroft DI. The complex interactions of retinal, optical and environmental factors in myopia aetiology. Prog Retin Eye Res. 2012 Nov;31(6):622-60. doi: 10.1016/j.preteyeres.2012.06.004. Epub 2012 Jul 4. PMID: 22772022.
4 Xu L, Wang Y, Wang S, Wang Y & Jonas JB, 'High Myopia and Glaucoma Susceptibility: The Beijing Eye Study' Ophthalmology, Volume 114, Issue 2, February 2007; Praveen MR,Shah GD, Vasavada AR, Mehta PG, Gilbert.
5 Chamberlain P, et al. A 3-year randomized clinical trial of MiSight® lenses for myopia control. Optom Vis Sci. 2019; 96(8): 556-567.
6 Walline JJ, Gaume, A, Jones LA, et al. Benefits of Contact Lens Wear for Children and Teens. Eye & Contact Lens 2007; 33(6): 317-321
7 Sulley A et al, Wearer experience and subjective responses with dual focus compared to spherical, single vision soft contact lenses in children during a 3-year clinical trial. AAO 2019 Poster Presentation.