Public or Private School in NYC? It's Not Just About Money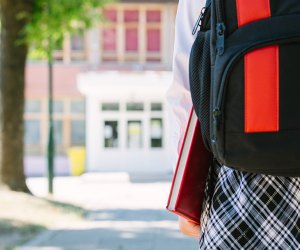 By Clara Hemphill and Gina Malin
Deciding where to send your child to school can be a stressful and intimidating decision for parents, especially in New York City where the options (and forms) can seem endless. The choice between public or private school causes many a NYC parent to fret, from pre-K to high school, so we wanted to lend our expertise to help readers examine the pros and cons of each.
By the way, it's not just about money.
Before getting started, check out this helpful application timeline, which outlines when to start the research phase of seeking out independent schools, take tours, send in applications, and ultimately select a final school.
Now we'll examin some of the top benefits and drawbacks of each option.
Benefits of Private or Independent Schools
You'll find a smaller class size at private schools. Classes are typically 10 to 15 children, sometimes fewer. This offers kids more personalized attention, which we can all agree is a good thing in education.
Another perk? Less bureaucracy. Independent schools do not receive funding from the government, so they do not have the follow the same regulations and bureaucratic processes that govern public schools. The teachers have more freedom to create educational experiences that meet each child's needs, without state mandates.
The facilities at these schools are often nicer than at public, too. You'll find state-of-the-art science labs, gyms, theaters, and auditoriums.
Drawbacks of Private Schools
Price is certainly a factor. Private schools are expensive. Although the price tag is daunting, parents should not automatically rule out private schools on cost alone. On average 20 to 25 percent of the students receive financial aid. Is there enough aid for everyone? No, but there is aid available, so don't be afraid to ask.
Also, while public schools are mandated to meet the needs of all the children that come to them for education, private schools are not. This means these schools might not have the resources for children with different learning needs, or you might need to pay additional costs for these services.
These factors noted above can also mean a less diverse student body and less of a close-knit neighborhood vibe.
RELATED: NYC Public School Calendar for 2018-2019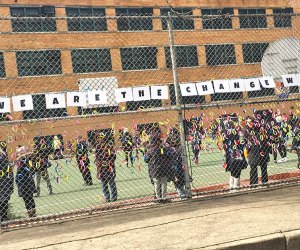 Public schools can provide a built-in neighborhood community.
Benefits of Public Schools
At a local public school there is often the feeling that you're a part of a neighborhood or community. I remember talking to a mother at PS 180 in Harlem. In some ways it's an ordinary school. But a mother there told me, "I feel like I'm part of a community in a way I never expected." She finds pleasure in making friends with other parents, sharing babysitting and after-school pick-ups, and even holiday meals together.
At their best, public schools are also places of diversity where people of different races, religions, and family income levels learn to get along. I remember talking to a Jewish father some time ago who was choosing between a Jewish day school and a public school. I told him, yes, I understand, you want your child to learn about your religious traditions. But if you sent your child to public school, I guarantee your child will meet at least one child who celebrates Ramadan. And at least one child who celebrates Ramadan will meet—He interrupted me: "You don't need to finish the sentence." And that clinched the deal for him. In a time when our country is so divided, I think that's important.
Drawbacks of Public Schools
It's true that class size tends to be larger in public schools. In public pre-kindergarten, class size can reach 18 with two teachers. In kindergarten, it can reach up to 25, and in the upper grades, it can be 30 or 32. Some class sizes will be smaller, especially at public schools that aren't at capacity, but popular schools often do hit these upper caps.
It's true, too, that the facilities generally aren't as fancy, but it's the quality of teaching that really matters. You can have a great teacher at a private or a public school, or you can get stuck with a lousy one at either one, so look for a school that really values its teachers and a principal that makes good hiring decisions.
Decision Time
First of all, remember that this is not an all-or-nothing choice. Many families start kids in public school and then move to private and vice versa.
Check out InsideSchools.org to find your neighborhood school. You can also learn about gifted programs, charter schools, and other public school options like dual-language programs. To explore private or independent schools, consider joining the Parents League, which offers workshops and individual advice to members.
Go to school events, such as open houses, PTA meetings, fairs, and diversity evenings, to meet current parents. Go to events where there is a panel of teachers/students to hear about the curriculum. Keep in mind that every school has its own culture and you need to feel comfortable there. Trust your gut.
Continue to weigh the pros and cons we've discussed against who your child is and what their needs are in terms of education, as well as what your abilities and needs are as a family in terms of time, finances, and cultural fit.
Time and Convenience
If you are working 60 hours a week to pay private school tuition, maybe you are better off sending your child to public school, because a stressed-out parent isn't going to be the best parent. Money saved on tuition can be spent on travel, a less stressful job, and more time with kids.
Convenience counts. If you are trying to decide between a great school 20 blocks away and a pretty good school across the street, choose across the street. If you choose a non-neighborhood school, you might also find yourself traveling more for playdates and birthday parties, which can be another drawback.
Must-Haves
Are there fixable elements at the school you're considering? For example, my children's school had physical education just once a week, so we had them join a soccer league on weekends. If there isn't enough math drill in a school, you can supplement at home or with outside classes. But if there is a school where the teachers yell, that's going to be harder to fix.
Don't forget that a child's education is not just what happens from 9am to 3pm, 180 days a year. Just living in the city of New York gives you access to myriad educational resources, from great museums, parks, enrichment classes, and even fantastic summer camps.
RELATED: 10 Questions to Ask During a Preschool Tour

A small class size can provide kids with more individualized attention.
Cultural Fit and Philosophy
You should also consider your child's character and personality. Some children are like dandelions—they are robust and can flourish in a lot of places. Others are more like orchids—delicate and need just the right temperature. Some schools do a good job with children with special needs, others do not.
As you look for a school, you'll want to consider its philosophy and that of its principal. Is it traditional or progressive? Classes in traditional schools tend to be more teacher-directed, less project-based, and less hands-on. Learning will be based on facts and skills and less around the students' individual interests. You might see lots of homework and frequent quizzes.
Progressive schools tend to encourage children to work more at their own pace and follow personal interests. Classes focus on problem-solving and critical thinking. There might be less teacher direction, more group work, and plenty of hands-on projects.
Many schools will adopt a "best practices" strategy, taking pieces from each of these philosophies and others to develop a unique program.
Choosing a school is a time-consuming process, but if you stay organized, you will find yourself less overwhelmed. And if you are less overwhelmed you will have more time to reflect on this decision. Remember that no school is perfect, whether public, private, urban, or suburban. Think about what can you can you live without and what you can't, and ultimately, select a school that your children love to go to each day.
Gina Malin is executive director of the Parents League of New York, and Clara Hemphill is founding editor of InsideSchools.
Photos by Sara Marentette-Nighswander except where noted.