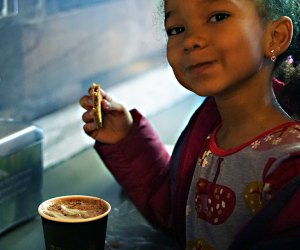 Harry Potter-Themed Cafe Opens in East Village
Potterheads take note: A new coffee shop has opened in the East Village serving steamy brews and magical potions, along with a side of Harry Potter-themed fun. At Steamy Hallows, you can fill the void of the recently departed History of Magic exhibition with a Butterbeer, or even treat your sweetheart to a "Love Potion No. 9 3/4." Read on for a peek inside the new spot and details about the magic-inspired menu. Accio, hot cocoa!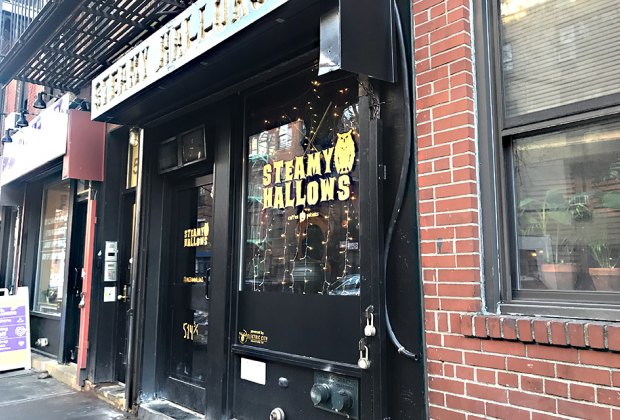 Step into Steamy Hallows for a taste of Harry Potter.
Situated on a sleepy side street in the East Village, at 514 3/4 (natch!) East 6th Street, Steamy Hallows is really more a coffee counter than a sit-down-and-linger spot. Four stools line one wall at a narrow ledge just big enough to rest your brew. The space may be small, but true Potter fans will appreciate the effort that went into the decor.
RELATED: NYC Cafes with Play Spaces for the Best of Both Worlds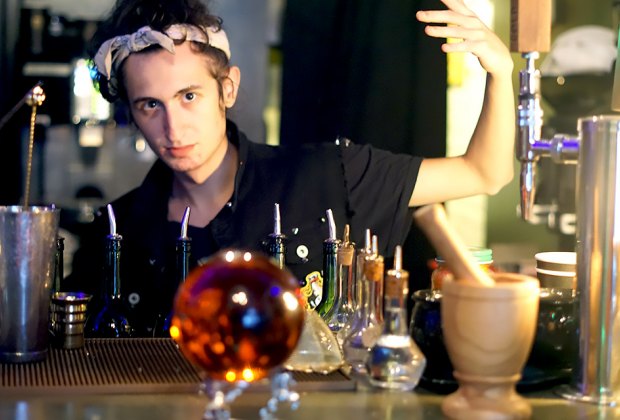 The baristas are magical at Steamy Hallows.
From the magic wand that waves over the credit card machine when you pay, to the baristas sporting the colors of their houses (and asking which one you're in), there's plenty of Potter-lore here.
Fake spiders zig zag along the walls, old-fashioned keys dangle from the ceiling, candles and broomsticks float overhead, a cauldron bubbles in the window, and a mirror on the wall lets you try on Harry's glasses and tousled hair for a moment.
RELATED: Harry Potter and the Cursed Child, Plus 13 More Broadway Shows Great for Kids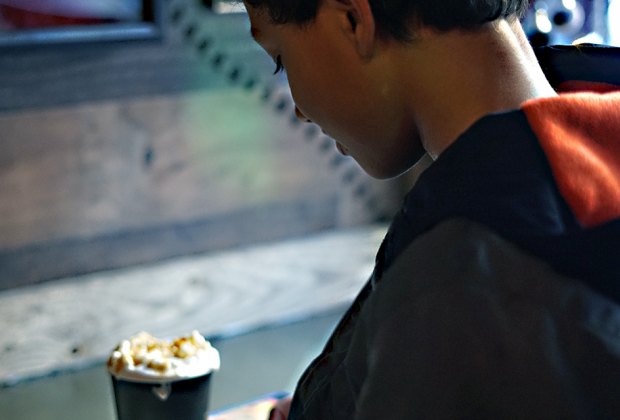 Butterbeer doesn't have real beer in it, but it does have caffeine—so make sure to order decaf for the kids!
Drinks—including coffee from Electric City Roasting Company—come with a bit of theater in their mixing. The baristas are more potion masters, adding a bit of this and a drop of that to craft a finished product. I did have a little sticker shock when my bill for four small drinks and a cookie came to nearly $35! A single, homemade (and tasty, I suppose, because it magically disappeared before I got a bite) cookie was $6.
Parents should note that while the staff is happy to make any drinks sans espresso, it's not clear from the menu that the special brews are caffeinated. I mistakenly ordered my teenager a Butterbeer latte, which he didn't drink—although he enjoyed slurping up the whipped cream and butterscotch syrup.
Steamy Hallows made for a fun midwinter outing, and is worth the trip for a special treat if you've got a Potterhead on your hands. But hurry: While there is no end-date set, this coffee shop is a pop-up that will eventually disapparate. Steamy Hallows only takes credit cards, and there's no public bathroom on-site.
Photos by the author
Steamy Hallows
514 East 6th Street
New York, NY 10009