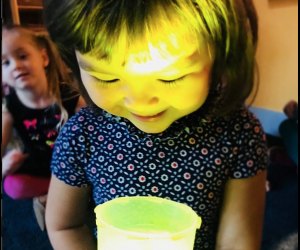 Preschool Watchlist: 5 New NYC Preschools
Shopping around for a preschool program is a daunting task. At the top of your preschool criteria list are probably cost, location, and a good personality fit for your child, with class size and educational philosophy factored in as well. Fortunately New York City parents have a broad range of options when it comes to finding the right preschool fit. Interested in bilingual immersion, Montessori, Reggio-Emilia inspired, or a traditional preschool program? Are your goals for your child academic, social, learning through play, or all the above? Maybe your child has a love of nature you would like to see celebrated in an outdoor classroom.
Our Preschool Guide is a resource that can help you find the perfect preschool for your child. Below we've highlighted a few preschools that are new to the MommyPoppins Preschool Directory to add to your watchlist.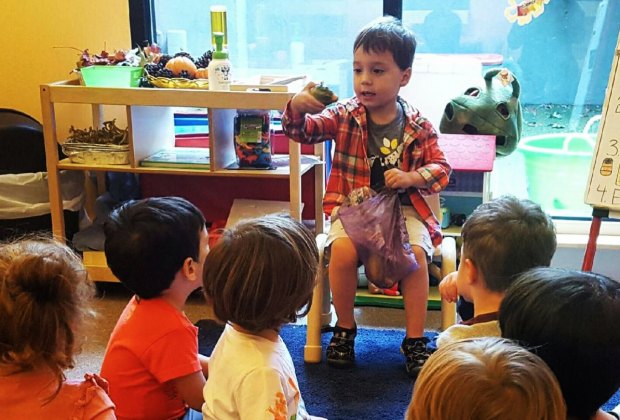 Show and tell at the Brooklyn Preschool of Science
RELATED: 10 Questions to Ask During a Preschool Tour
Brooklyn Preschool of Science — Brooklyn Heights
78 Amity Street
With locations in Cobble Hill and Park Slope, Brooklyn Preschool of Science is excited to announce the opening of its latest addition in Brooklyn Heights this fall. The school uses an age-appropriate, science-based curriculum to get children excited about learning, focusing on creating positive early experiences with science and math. Whether exploring a living wall of plants or observing their 300-gallon fish tanks and a multitude of classroom pets, children will learn to respect, question, and nurture the natural world. Brooklyn Preschool of Science provides a foundation for math, language, and literacy development..
Discovery PitStop — Clinton Hill, Brooklyn
467 Vanderbilt Avenue
Founded by a husband and wife team raising their children in the Clinton Hill community, Discovery PitStop is an early learning environment for children four months to four years of age. Curriculum focuses on movement, arts, physical activity, crafting, and science experiments. In addition to their nursery and preschool programs, Discovery PitStop offers parenting classes and a weekend Play Space featuring a Tech PitStop with tablets and computers for toddlers and preschoolers.
Elements Preschool — Lower East Side
99 Suffolk Street
Elements Preschool integrates progressive research-based philosophies like Montessori, Reggio Emilia, and Bank Street methods into its educational philosophy, focusing on play-based learning. Instructors employ an inquiry-based learning model to teach art, literacy, science, math, and social-emotional lessons in a natural setting. Through intuitive exploration, children explore and learn in a custom-landscaped garden. The curriculum is based on the five elements: Fire, Space, Air, Earth, and Water.
Lycée Français de New York — Upper East Side
505 E 75th Street
Lycée Français de New York is a French bilingual school founded in 1935. The academically-focused program is modeled after the French educational system with American influences, and instruction is provided in both English and French. In September 2019 a new preschool classroom for three year-olds is scheduled to open. At Lycée Français exposure to bilingual education and culture at an early age creates a foundation for lifelong learning.
New York Preschool — locations in Manhattan, Brooklyn, and Queens
Founded in 2001 by Pam Wolf, the NY Kids Club provides creative and innovative children's classes and day camps. It has since expanded into an independent day school with 17 locations in Manhattan, Brooklyn, and Queens. New York Preschool offers a unique learning environment for children 18 months to 4 years old, with instruction in art, gym, music, science, language, and math. One of the newest locations currently accepting applications is in Dumbo.
Photos courtesy of the schools