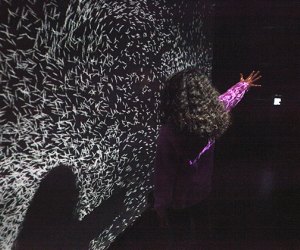 Interactive Digital Installation with VR Opens for Kids at BAM
Hands-on art is almost always fun for families, but BAMkids' interactive high-tech playground Teknopolis is truly mind-blowing. At this multifloor installation, which is on view through March 12, school-age kids (and their parents) can enjoy augmented-reality storytelling, virtual-reality simulations, motion-capture dancing, and other cutting-edge technological experiences that you might already know a bit about.
But what really makes Teknopolis special is its immersive first-floor gallery, a darkened room featuring 10 interactive stations, where visitors can manipulate a variety of digital landscapes via touch, movement, and even breath. Just like Alice stepped through the looking glass, you'll feel as if you've slipped through a screen into a shimmering world of black and white, where everything reacts to your presence. It's totally trippy and completely unforgettable.
But before you run off to buy tickets, we have some tips to share, including don't-miss highlights, appropriate ages, and, most importantly, how to get in since it is sold out. (Don't worry—there's a way.)
Although Teknopolis is cool for grown-ups as well as children, the installation was put together by BAM's Education and Family Programs department and designed with kids in mind. It's housed on 3½ floors of the BAM Fisher building, and tickets are sold in 90-minute slots. Make sure you arrive on time. You need the full session if you want to try everything (and you still might not be able to do that).
When you enter, staffers probably will suggest you head to the fourth floor, to the Virtual Adventure Room curated by the Future of Storytelling. These stations are insanely popular. There were long lines (filled with kids and adults) for Owlchemy Labs' Job Simulator, a game in which goggled players enter a virtual-reality animated environment and perform a variety of tasks; Google's Tilt Brush, which allows users to paint in 3D via virtual reality; and The Turning Forest, an interactive virtual-reality fairy tale. Yes, they're all amazing, and on timers so turns don't last forever. But since they only accommodate one or two people at a time, waiting is inevitable. Frankly, it feels more like a VR expo than a creative, playful experience. (Even more so, because some of these products are available for purchase online.)
RELATED: March GoList: Best Things to Do with Kids
My daughter and I vastly preferred XYZT, Abstract Landscapes on the first floor. The moment you step into the dark room you're totally immersed in an eye-popping digital environment, where you manipulate grains of "sand" with your fingertips; step into a cube and change patterns on the walls by moving; blow on stacks of letters to make them fall; dance in front of "clouds" that mirror your moves; or peer at a fun-house video reflection of yourself. And that's just a handful of the experiences you'll enjoy. No lines here; most of the stations can accommodate multiple visitors, which leads to collaboration. It's the best and most breathtaking part of Teknopolis, hands down.
RELATED: Kid-Friendly Fort Greene Restaurants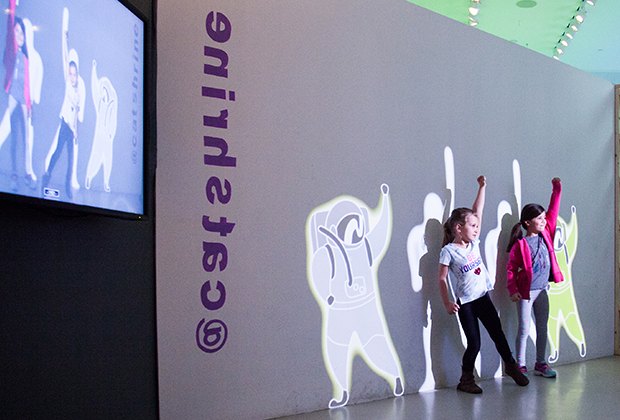 The Pop n' Lock Dance Machine captures your movements, turning them into an animated dance video. Photo courtesy of BAM.
There are three other exhibits. Just up from the first floor on the balcony is Lumarca, which displays a digital avatar of the viewer, although it looked rather abstract and didn't follow my kid's movements all that well. It's still worth checking out, because its pre-programmed animations, especially a T.rex, are great. Downstairs you'll find the Pop n' Lock Dance Machine, which uses motion capture to turn your moves into an animated dance video; again, expect a line. Save time for Exp. Inst. Rain, a unique instrument that requires no lessons, only your touch, to produce a variety of sounds and projected abstract images. It's quite fun to play around with.
Are you sold yet? Here are some important things to know before you go:
Teknopolis is for ages 6 and older. Many activities require fine-motor skills and detailed directions, which means tots could easily get frustrated. That said, we did spy a few preschoolers enjoying coloring pages at the Quiver table on the fourth floor, which then came to life via the company's augmented-reality app.
Instructions can be elusive. Staffers are available on the fourth floor and in the basement to guide you. But you're pretty much on your own on the first floor, and it's not always obvious what you should do at each station. Look for the labels telling you to move, dance, or blow—they'll clue you in (though we never did get the hang of the blow ones).
There are coat racks and bathrooms in the basement. There's also very limited stroller parking. It's best if you leave your wheels at home. No large items, including strollers, are allowed in the exhibit.
The list of rules includes no food, gum chewing, running, phone calls, or flash photography; be sure to supervise kids closely.
Arrive on time! We said it before, but it bears repeating. You really want the full 90 minutes, especially if you plan to wait for the VR stations.
How to get in since it's sold out. Advance tickets are all gone. But the BAM folks assured us a limited number of walk-up tickets are available each day. Yes, there's a chance you'll be turned away. However, if you go to an early session you should have a good shot. It's worth the risk. Worst case, you do something else fun in Fort Greene with the family.
Teknopolis is on view Friday through Sunday at BAM Fisher through March 12. Tickets are $15 for daytime slots, $25 for evening sessions. Tickets are no longer being sold online. Try calling BAM ticket services at 718-636-4100 or buying day of at the box office.
Top photo: XYZT, Abstract Landscapes. Photo by Rebecca Greenfield/courtesy of BAM. Videos by the author.