Special Offers on Winter Family Vacations at Smugglers' Notch Resort in Vermont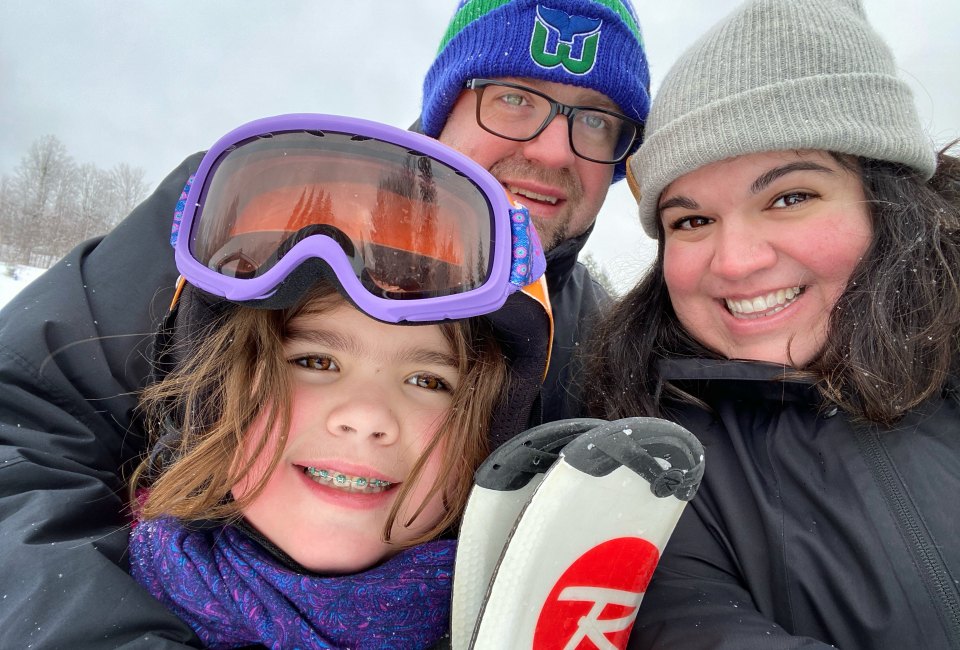 1/16/20
- By
Ally Noel
No one does winter fun quite like the charming countryside of Northern Vermont. And if you're looking for the perfect destination for a Vermont family winter getaway, Smugglers' Notch brings quintessential activities like skiing, snowshoeing, ice skating, and plenty of free hot chocolate to kids and adults of all ages. Plus, special offers and a range of inclusive packages make that dream family vacation all the more accessible.
Winter Activities for Kids and Families
We checked into Smuggs on a chilly Friday afternoon, where we were warmly greeted with a copy of the super handy Resort Information Guide—or the R.I.G, as it's affectionately known in these parts—and a list of the weekend's activities. From snowcat rides in the mountains and mini snowmobile tours to family sports tournaments and the epic FunZone 2.0 26,000 square-foot indoor play center, the options were winter perfection and we got right to work planning our itinerary.
An evening of "Glow Tubing" was at the top of my 8-year-old daughter's wish list, so the three of us hurried to our condo to unpack and settle in a bit before the big event. With a quick call to the front desk, I was able to reserve us a tube with just hours to spare, and the very kind receptionist helped me tack on a quick kids' snowmobile tour and a dinner reservation at the on-site Morse Mountain Grille, while patiently answering my long list of questions. What service!
Later that evening, we bundled up for our big night of adventure and headed over to Sir Henry's Hill to get our glow on. Our centrally located condo meant a short walk to most activities, but the resort's free on-demand shuttle is also available for longer treks, so there's never a need to use your car. As it turns out, Glow Tubing is brand new to Smuggs this winter, and it's been drawing quite the Friday night crowd. Well, no wonder! Techno music and multi-colored LED lights over the trails make it a memorable snow tubing experience unlike any other. It was the perfect way to kick off our weekend, and we were only just getting started.
Skiing in Vermont
After a restful night in our cozy condo, we started Saturday morning with a ski lesson for my daughter—and let me add that we were literally able to ski from our deck to the mountain! She's been on the slopes a few times each winter since she was little, but this was the first time I actually had to beg her to get off. Morse Mountain's gentle slopes are the perfect spot for newbies and the instructors are so supportive, so it was no surprise to see that SKI Magazine readers ranked Smugglers' Notch the #1 Family Friendly Ski Resort in the East. After my daughter's lesson wrapped up, my husband and I joined her on Sir Henry's Learning Hill and spent a few hours watching her proudly show off her newly acquired skills and confidence.
Finally, I managed to pry my daughter off the mountain with the promise of some pool time and a soak in the hot tub, followed by a stop by Mogul Mouse's Pizza Party for music, dancing, and games for all ages. As always, there was a steady line-up of family-friendly activities slated for the evening hours, including Night School for Boarding or Jibbing, crafts, and family S.T.E.A.M activities, so we talked about our options over a couple of slices. We decided on "I-Did-A-Sled," where we were challenged to build a sled using the provided tools and materials, then race it down Sir Henry's Hill. We constructed ours out of duct tape, cardboard, and a whole lot of imagination, and didn't win—I mean, not even close—but we did have an awful lot of fun working together and making another special memory on our last night at Smuggs.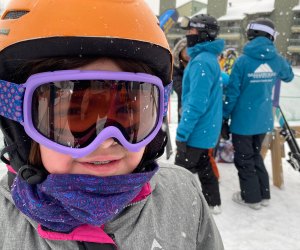 On Sunday morning, we squeezed in one last ski lesson before packing the car up to head home, much to my daughter's disappointment. "But, Mom! We didn't get to go play games at the FunZone, I wanted some more time in the pool, and we didn't get to go ice skating or snowshoeing!" Hey, the kid was right, our Smugglers' Notch vacation was so much fun none of us wanted it to end. I guess we'll just have to come back, huh!?
Special Offers
Smugglers' Notch vacation packages are definitely priced to please, and the inclusions are seemingly endless—lift tickets, bonfires, ice skating, heated pools and hot tubs, snow tubing, guided walks, and access to The Ozone at FunZone 2.0. Right now, call to find out how you can save an additional $600 on your winter Club Smugglers' Vacation Package of 3 nights or more.
Looking for winter vacation ideas? Start planning your visit to Smugglers Notch Resort now by taking a look at their winter vacation packages and rates, or call (800) 419-4615. For more special offers, click here!