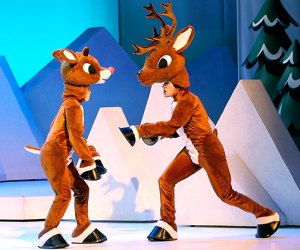 Rudolph Live On Stage: A Nostalgia Trip with a Certain Reindeer
After a few seasons of touring North America, Rudolph the Red-Nosed Reindeer has flown into the Theater at Madison Square Garden for a holiday run just right for NYC and visiting families.
Unless you're a screen-free family, chances are you and your kids have seen Rankin/Bass' classic, stop-motion holiday TV special Rudolph the Red-Nosed Reindeer—probably many times. After all, it's been airing annually on CBS since it debuted in 1964! And if not, you certainly have heard a thing or two about the most famous reindeer of all.
With its iconic aesthetic, and kooky but cute characters like Hermey the aspiring dentist elf, gold prospector Yukon Cornelius, an entire island of misfit toys, and the red-nose afflicted hero, the somewhat surreal tale charms children and sparks warm waves of nostalgia in parents. It was inevitable that some enterprising producers would adapt the property for a live stage show. The big questions are: Is the live version any good; is it worth the money; and which ages is it best suited for? We've got the answers, plus links to deeply discounted tickets!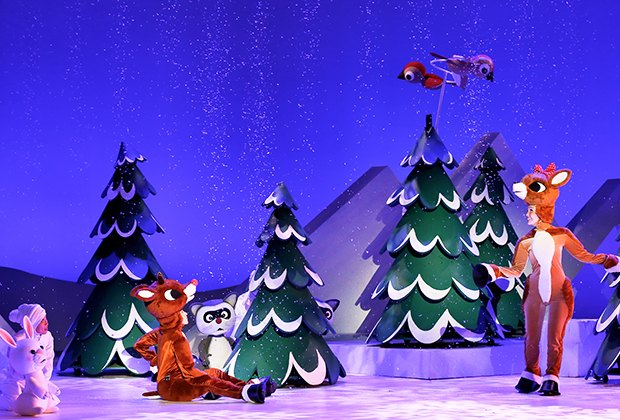 Rudolph and Clarice amidst the gorgeous retro winter backdrop.
For families who've ODed on Radio City's Christmas Spectacular, Rudolph the Red-Nosed Reindeer is a slick, sweet, more secular alternative. The two-hour show is a fairly faithful recreation of the original TV special, right down to its unmistakable style. The longer run time includes additional production numbers, such as a spirited "Rockin' Around the Christmas Tree," but also an overlong intermission, during which you'll have ample opportunity to load up on the merchandise and snacks—or take a bathroom break to avoid opening your wallet!
From a design standpoint, the show is impressive. It's amazing to see how the behind-the-scenes artists successfully transform actors into animated characters with wigs and hats, magical makeup, giant heads, and larger-than-life puppets. The 12-foot-plus-tall Abominable Snowman is jaw-dropping but too adorable and lumbering to be scary. The performers are, overall, strong singers and dancers. A few are saddled with restrictive costumes—narrator Sam the Snowman can barely move—but the ensemble of elves dance up a snowstorm, and Rudolph enjoys some literal high-flying moments that made the kids go wide-eyed.
RELATED: Best Holiday Shows for NYC Kids in 2016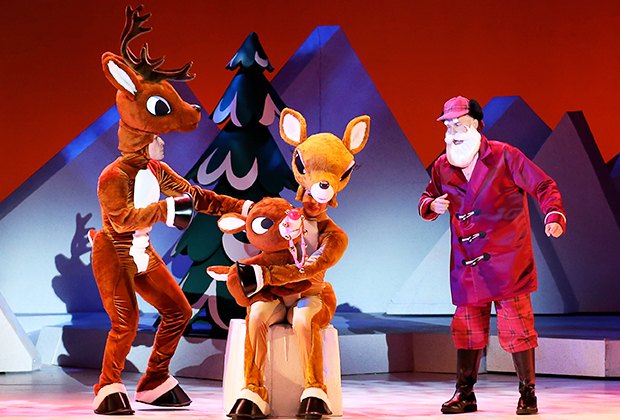 Poor Rudolph is even misunderstood by Santa.
I haven't mentioned the plot because, well, you probably know it from TV. In brief: Sam the Snowman shares the legend of Rudolph (played delightfully by Sarah Errington, who really has the voice down), a reindeer who was born different. At first, he's shunned by almost everyone in the North Pole because of his glowing red nose—even his dad and Santa make him feel bad about it. After an embarrassing incident at the competitive reindeer games, Rudolph runs away and meets fellow outcast, Hermey (Wesley Edwards), an elf who prefers dentistry to toy making. As they wander looking for a new place to call home, they connect with the wacky Yukon Cornelius (a very funny Fred Inkley), and end up on the Island of Misfit Toys, who implore them to tell Santa about their lonely fate. Missing his family, Rudolph heads home, discovers they left to find him, and then the three friends work together to rescue them from the Abominable Snowman. Sadly, there aren't many female characters, and the few there are (Rudolph's mom, his crush Clarice) have little agency.
Rudolph the Red-Nosed Reindeer is really the title character's backstory before he makes his climactic, heroic flight, guiding Santa's sleigh through a terrible blizzard. The tale's love yourself/anti-bullying message has resonated for more than half a century, but feels particularly timely considering the reported increase in hateful incidents—especially in schools—since Election Day.
Watching these adventures unfold onstage I was struck by how much the story meanders, but it's authentic to the TV special as are Johnny Marks' famous tunes like "A Holly Jolly Christmas," "We Are Santa's Elves," and the title number. They're all well sung and brightly choreographed. Unfortunately, the accompaniment is prerecorded and even the exuberant cast isn't able to completely fill the cavernous space. Although the sight lines are excellent regardless of where you sit, you feel much more involved if you're able to sit in the front section.
I would say the sweet spot for this holiday show is ages 4 to 8. The young kids around me were consistently quiet and engaged, no crying or whining, and several were dancing in the aisles. While it's not a Broadway production, Rudolph the Red-Nosed Reindeer is an enjoyable and decidedly less expensive seasonal outing for families. Arrive early and there are even "reindeer games" (basically bean bag toss type activities) to play in the lobby.
Rudolph the Red-Nosed Reindeer is playing at the Theater at Madison Square Garden through Sunday, December 18. Tickets are $39-$129, but check Broadwaybox.com, Goldstar, and Groupon for special offers.
Top image: Rudolf and Donner. All photos courtesy of Character Arts.
The Theater at Madison Square Garden
4 Pennsylvania Plaza
New York, NY 10001