Review: Ballerina Swan Meets Her Nutcracker in New Holiday Show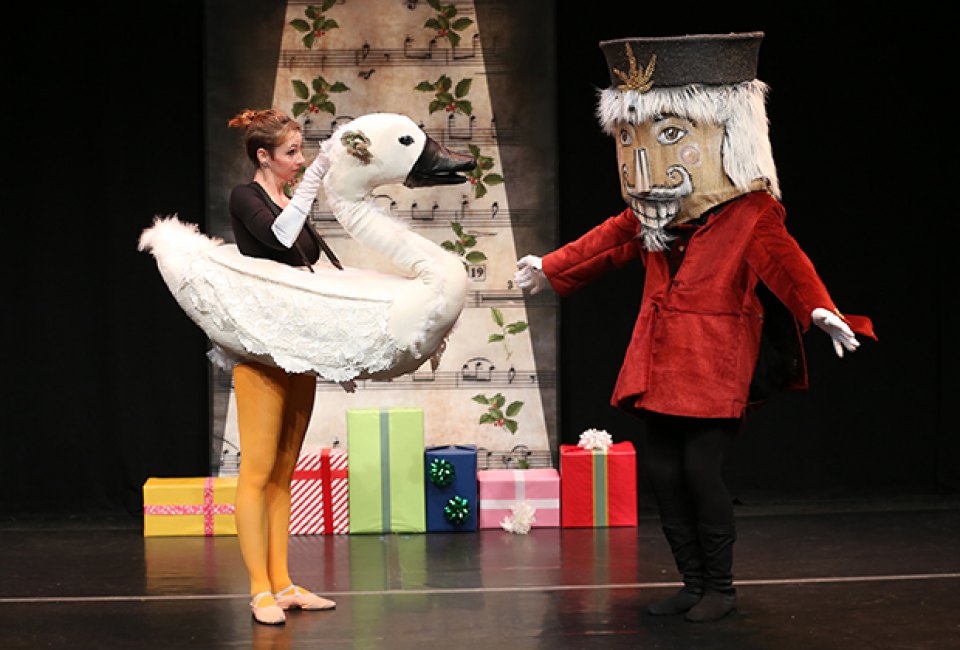 12/8/16
- By
Rose Gordon Sala
The city is awash in Nutcracker performances come holiday season, from the iconic New York City Ballet's production at Lincoln Center to the abridged, children-friendly Keith Michael's The Nutcracker. For NYC families with kids under 5, the question always is: are they ready? Will they even make it to intermission before they lose it?
I had that same thought as my almost 4-year-old and I took our seats at the Clurman Theatre on 42nd Street for a Nutcracker-themed family musical, Ballerina Swan and The Nutcracker, from The New York City Children's Theater, and it was only 50 minutes with no intermission.
I shouldn't have worried. As soon as the dancers took to the stage, my daughter was riveted. Read on for our parent review of this brand-new piece that incorporates ballet, acting, and puppetry into a special holiday show for young children.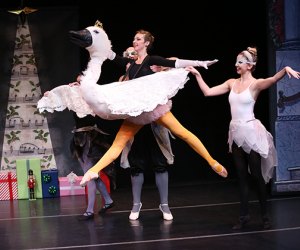 Sophie the swan worked hard to earn her top position in the ballet company.
Ballerina Swan and The Nutcracker is a sequel to Ballerina Swan, based on the book of the same name by NYC ballerina Allegra Kent and illustrated by Emily Arnold McCully, featuring a NYC swan desperate to learn the graceful moves she sees on display in a children's ballet class. The company debuted Ballerina Swan in 2013, but decided to give fans something new in 2016.
If you saw last year's show, or are familiar with the book, you'll know that it stars a swan turned ballerina star. She's overcome, ahem, adversity and prejudice to get to where she is now, a well-respected member ­– and only avian dancer – of a successful ballet company. The new show follows this swan, named Sophie, as she and the other dancers get ready for their first Nutcracker performance. Everyone is very excited, but nerves fray when it's announced that a newcomer will play the title role of Nutcracker. It's a play within a play, where we're watching the actors/dancers vie for and practice their parts for the upcoming show. There are petty spats and misunderstandings, jealousy, make-ups, and new friendships formed—​all sweet lessons for our little ones.
A surprising twist midway through the show adds a level of drama that parents will appreciate, and yet another moment for a couple of age-old lessons, including not judging a book by its cover and remaining true to ourselves.
RELATED: Best Holiday Events for NYC Preschoolers in 2016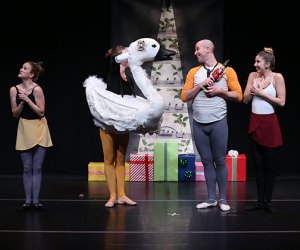 The cast is warm and engaging throughout, speaking directly to the kids in the audience with big smiles.
It's a modest production in that there are just five players, and the set, props, and costumes are not as elaborate as you'll find at larger shows, but it hits the right note for younger kids, keeping things simple, warm, and engaging. The theater is small, so every seat affords a great view and puts kids closer to the stage than you'll be able to get (for this price) at the larger shows. The dancers engage the audience at several instances, asking the kids for their names, among other questions, and later getting them out of their seats to learn and try out a few dance moves. My daughter was shy at first, marching in place while looking downward, but by the time they got to a freestyle arm wave, they had won her over and she was beaming.
RELATED: Best Holiday Shows for NYC Kids: Rudolph, Charles Dickens, and Nutcrackers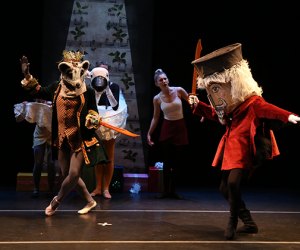 Although the musical isn't a Nutcracker per se, you'll see a few of the iconic scenes as the dancers rehearse for the upcoming show.
The show is also a great introduction to the Nutcracker story for little kids. You'll see some of the most iconic parts of the holiday tale, including the epic battle between the Mouse King and the Nutcracker, the Christmas tree that grows taller and taller, and the classic Nutcracker scores, without worrying about how your kid will handle sitting through two hours of a wordless ballet. It was just enough to whet my kid's appetite for ballet. Suddenly I am being begged for lessons this winter! The recommended age range for the show is 3-8, making it just right for the preschool crowd and up, although I'm sure tutu-loving 2-year-olds could enjoy it even if they might not follow the story. Certainly there were captivated 7 year olds in the crowd, and a nearly even split between boys and girls.
Ballerina Swan and the Nutcracker runs on weekends (two showings each day) through December 18. Admission is $25-$45. Stick around for a selfie with the feathered cast post-show. We grabbed a treat afterward at the nearby Pinkberry on 9th Avenue, but you might head north a couple blocks to City Kitchen, for lunch or dinner, or one of these Times Square area restaurants just right for kids.
Top photo: The Nutcracker and Sophie the swan meet. Photos by Carol Rosegg/courtesy of the production.
Places featured in this article:
---
Clurman Theatre on Theatre Row
Click Here to Sign Up!
i