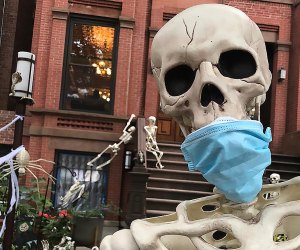 Where to See Halloween Decorations Around New York City
With Halloween on the horizon, city dwellers are digging out the cobwebs and showing off all the skeletons in their closets, setting up fun Halloween decorations for passersby to enjoy. Some neighborhoods go all out with spooky, sweet, creepy, and cool Halloween decorations, and we're sharing some of our favorites below.
In a season when Halloween events are fewer in number and trick-or-treat plans may be replaced by safer alternatives, there's still plenty of seasonal fun to be found. Read on for some of the most creative stoop displays we've stumbled upon, plus some striking, professional installations worth seeking out for a selfie or a family photo.
Photo-Worthy Professional Halloween Decorations to Visit

The pumpkin arch returns to the South Street Seaport, ready to frame your stunning fall photo. Photo by Jane Kratochvil
Pier 17 Pumpkin Arch – Seaport District
FREE
Daily through Thursday, November 26
With more than 500 pumpkins and twinkling fairy lights, the annual Pumpkin Arch at Pier 17 makes a striking display in its own right. The nighttime view of it framing the Brooklyn Bridge just adds to the breathtaking display.
Pumpkin Point – Governors Island
FREE
Saturday, October 24-Sunday, November 1
Head to Nolan Park on Governors Island for its annual pumpkin patch. Fun fall decorations dot the expansive outdoor space making this a great spot to snap a seasonal selfie, too. Don't forget to pluck a pumpkin to take home; they're FREE!
The Great Pumpkin Path – Bronx Park, the Bronx
Daily through Sunday, November 1
Head to The New York Botanical Garden to explore its seasonal installation, which takes visitors on a winding trail through the Conservatory Lawn, where "hordes of gourds" await at every turn. If you've already been, it might be worth a return visit after Saturday, October 24, when the giant pumpkins arrive—some weigh more than a ton.

Industry City has gone all out decorating its grounds and interior for the Halloween season. Photo courtesy of Industry City
Industry City – Sunset Park, Brooklyn
FREE
Daily through at least Halloween
This sprawling multi-use complex is super family-friendly and has a pair of photo-worthy fall installations to explore right now. Outdoors, you'll find a towering riser full of pumpkins. Head indoors for the more sinister display above, which still manages to maintain an air of Halloween chic.
The Fall Escape – Floral Park, Queens
Daily through Sunday, November 29
We loved the colorful, over-the-top displays of this floral installation on the Queens County Farm Museum grounds when we visited a few weeks ago. While not traditional Halloween decor, it is definitely more interactive than the other photo ops on our list!
Creative Halloween Decorations on NYC's Stoops and Sidewalks
Strike out on a virtual Halloween decoration hunt with us. Our team combed their neighborhood streets, stalking the best DIY displays in Brooklyn and Harlem.
Be sure to keep your eyes peeled because you never know who's watching...

Photo by Sara M
...Or lurking in the planters waiting to reach out and grab you.
New Yorker's Halloween creativity has taken over front yards with ghosts hanging from trees and overlooking a spooky graveyard scene...

Photo by Sara M
Backyards, where we stumbled upon a rather creepy cradle scene...
And side alleys.
Caged skeletons are itching to escape.
And join their almost angelic ghostly friends whose accessories are very 2020.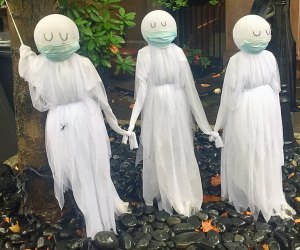 Photo by Ros Muggeridge
We even spotted some political pumpkins making their every-four-year appearance on a local stoop (and we bet they're not the only ones in town).
Best Bets For Spotting Halloween Decorations
In our experience, the best bets for these homemade displays are the stoop neighborhoods. Spots that usually go all-out with Halloween decorations include the Upper West Side, particularly West 69th Street. The Upper East Side's 78th Street between Park and Lexington is a long-time standout, too. The East 90s regularly draw crowds, but perhaps no Manhattan neighborhood does local celebrations better than Harlem, where you'll find decked out brownstones surrounding Mount Morris Park in the 120s. Hamilton Terrace in the 140s, Astor Row, and Striver's Row are also hot spots.
Brooklyn really takes the cake for Halloween decor. Family-friendly neighborhoods Park Slope, Brooklyn Heights, Carroll Gardens, and Fort Greene go all out. Ditmas Park's Victorian homes play particularly well with spooky decor, too. In Queens, Jackson Heights, known for its long-time parade, really gets into the act.
Unless noted, all photos by the author