Halloween Parades in New York City for Kids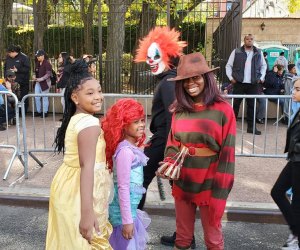 Everyone loves a parade, but there's nothing quite like a neighborhood Halloween parade. While families with older kids may venture out to the iconic Village Halloween Parade on Sixth Avenue in Manhattan, it can be pretty scary—it's always insanely crowded and loud, and many of the costumes are risque, gory, or in poor taste. If your children aren't up for that big Hallow-baloo, there are plenty of smaller, kid-friendly NYC neighborhood Halloween parades in Manhattan, Brooklyn, Queens, and the Bronx, including the mega Jackson Heights parade, the famed Park Slope march, and Carnegie Hill's annual bash for little ones.
We've rounded up a collection of community-driven Halloween parades in New York City for families to watch or march in. If you don't live in a great trick-or-treating area, these parades are a wonderful way to hunt for candy in another neighborhood. Find even more seasonal happenings in our Halloween Fun Guide.
Note that, in case of rain, some parades may be postponed or canceled. Be sure to click through to each event's website before heading out.
Subscribe to our newsletters to get stories like this delivered directly to your inbox.