Hot Dog Bus Serves Art (and Free Food) at Brooklyn Bridge Park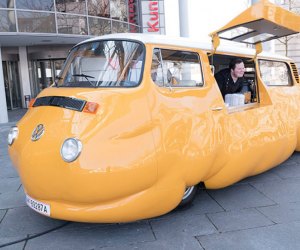 Austrian artist Erwin Wurm transformed a vintage Volkswagen Microbus into a bright yellow sculpture that may look like an overstuffed hot dog bun, but actually serves as a functioning food truck. During its summer residence in Brooklyn Bridge Park, Wurm's Hot Dog Bus will give away all-beef hot dogs (limit one per person) from 12 to 6pm every weekend from June 9 through August 26. Hot Dog Bus will be parked at Pier 1 on Saturdays, and Pier 5 on Sundays, and the franks are FREE while supplies last.
RELATED: Best June Fairs and Festivals for New York City Families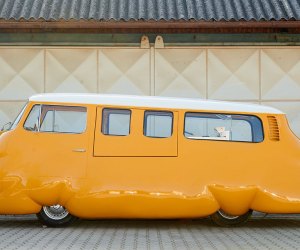 Stop by this interactive art installation for a FREE hot dog.
Hot Dog Bus in Brooklyn Bridge Park is a project of the Public Art Fund, a nonprofit organization that brings free contemporary artworks to New York City. In an email interview, curator Daniel S. Palmer said the project "inspires a conversation about the many forms that art can take, how our everyday actions can be artistic, and how art can be both fun and serious." Erwin Wurm's work, which Palmer characterizes as "inviting, witty, and yet also deeply thoughtful," connects New York's most famous street food with the artist's Austrian background, and introduces kids to contemporary art in a fun and delicious way.
The hot dogs are FREE, but visitors who want to help support more free public art exhibits like this one can donate to the Public Art Fund.
Photos courtesy of the Public Art Fund