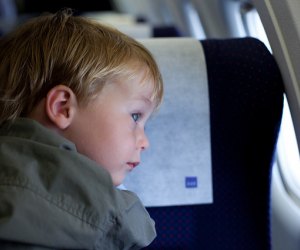 Taking an International Flight With Your Toddler: 20 Things to Bring
A family vacation may sound idyllic, but once travel plans involve crossing oceans and international borders, bringing a two-year-old with you may make the hassles of travel feel even more daunting. What do you need to bring in your carry-on to make a ten or twenty hour flight with a toddler bearable?
We recently took our two-year-old to Kenya to spend some time with his grandparents who live on the Mombasa coast. In the course of three flights and twenty-seven hours in transit, we learned a lot about how to prepare for the next trip. While in-flight entertainment or kids shows streaming through the Wi-Fi will help pass the time, toddlers have a short attention span. We planned to switch activities every 20 minutes. Here are 20 things to keep a kid entertained, plus supplies to get through the literal and figurative turbulence.
Be prepared for fun and comfort:
1. Bring a stack of your kids' favorite books. Paperbacks take up less space than hardcovers, and weigh less too. Add a book or two they haven't heard to the stack. We enjoyed bringing picture books about airplanes so our son could match his experience to the story.

2. Toy airplane. Like books about airplanes, a small toy airplane gives kids a way to relate to their experience through play.

3. Seat tray felt board. We made a felt board to hang off the seat tray when it is in the upright position by cutting a piece of cardboard from a cereal box to about 17 X 10 inches, gluing two strips of elastic to the back, and then covering the front with felt. Then we cut shapes and animals out of different colors of felt. This gives kids something to play with when the tray tables have to be up.

4. Stickers and a pad of paper. Our toddler loves peeling stickers and placing them onto a pad. If you can find reusable stickers, all the better.

5. Magnetic play sets. We got ours from Stellabella Toys in Cambridge. They can be great fun if your child is past the putting things in the mouth stage.

6. Little cars or animals. Our son is big into cars, so we brought a half dozen for him to drive around and line up on his tray table. Small animals or figurines would work just as well as long as they are small enough for a child to effectively play with in the limited space available.

7. Small, portable art supplies. We have a handmade crayon roll similar to this one, which is great for traveling. We also brought a Leap Frog Dry Erase Activity Pad, with color matching, counting, and other activities. Our son was too young to really do the activities, but he enjoyed talking about the pictures and scribbling with the dry erase marker. He also spent fifteen minutes or so putting the marker in and out of the spiral binding.

8. Small puzzles. We picked up a set of four travel puzzles by Melissa and Doug at Marshall's for $5.00.

9. A set of Duplos, Megablocks, Stickle Bricks, or other blocks that do not rely on balance. Trying to build a tower out of wooden blocks during turbulence will mostly like result in tears and frustrations, but blocs that snap together somehow should withstand the bumps and jostles of flying.

10. Car seat. A two-year-old child will need his or her own ticket and will therefore have a seat on the airplane. You may want to bring your car seat to install in the airplane seat for extra safety. Some toddlers may also be more comfortable in a car seat, if they are accustomed to long car rides. We found the car seat to be more of a problem than a solution, however, since our son is used to traveling by public transportation. Think hard about the disposition and habits of your kid when making a decision about whether or not to use your car seat in flight.

11. Overnight diapers. Diapers meant for sleep time can be worn for up to twelve hours without being changed. While it is possible to change a diaper on an airplane, the bathrooms are small and the procedure is awkward. If you can get away with fewer diaper changes, you will both be happier.

12. Old wallet with expired cards. Our younger toddler enjoyed taking all of our old library cards, student ids, and expired insurance cards in and out of a beat up wallet. Kids like to have their own versions of adult possessions, and the "stuff in stuff" game is always a hit.
Be prepared for air sickness and other complications:
13. Pack 3 to 4 changes of clothes for your kid in your carry on in case of air sickness. Even though our son does not get car sick or motion sickness when bumming around town, long flights combined with changes in altitude and travel fatigue seem to wreak havoc on his little tummy.

14. Lots of wipes. In addition to diaper changes, wipes are useful for cleaning up throw-up from the aforementioned air sickness, plus cleaning little hands and faces before and after meals.

15. Receiving blankets. We ended up with about two dozen of these when our son was a baby, and used them for all sorts of general clean up. They come in handy in traveling for much the same reason.

16. Changes of clothing for yourself. Queasy kids like to cuddle. This can wreak havoc on your wardrobe.

17. Vomit bags. There is usually one in the pocket on the seat back, but one may not be enough. Bring your own or ask the flight attendant to bring you a stack. On this trip we learned that some airlines provide bags that are sealed on both ends. Check to make sure they are open before they are needed.

18. Plastic bags to put any soiled clothes in, so that they are not just floating loose in your carry on.

19. Something for your child to suck on to reduce problems with air pressure changes and ear pain. If your child nurses, takes a bottle, or uses a pacifier—great! If not, try a lollipop. (Be aware that some small candies can be a choking hazard.)

20. Children's acetaminophen and other necessary medicines. A little acetaminophen may help with ear pain from pressure changes. Pediatricians can give advice for the contents of a carry-on first aid kit, and of course if you are traveling internationally, your pediatrician can also give you information on any necessary vaccinations.
Visiting family, returning to the country of your birth, or simply vacationing far from home can lead to many wonderful memories. And if you plan well, getting there doesn't have to be a nightmare.
Photo by Lars Ploughmann via flickr