Where to Take Fitness Classes With Your Big Kids in NYC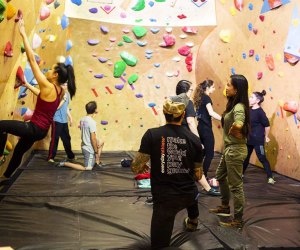 Baby and me exercise classes for everything from swimming to yoga are practically a rite of passage for NYC families. And as your baby grows up, there are tons of popular drop-off and drop-in classes for busy toddlers and preschoolers—introducing little kids to dance, gymnastics, and beyond. But what about when your kids age out of baby-and-me classes and play gyms?
The good news is, there are lots of fitness classes you can take with your older kids in NYC. And what better way to bond with your child than to take a class together, and get healthier at the same time? It's a win-win. Check out these destinations that allow you to get active and let your kid tow along for the fun and exercise.
Fitness Programs for Kids and Parents
Marathon Kids – any location
Marathon Kids is a dynamic national organization that encourages families to start local running clubs. They provide guidance for how to set up, track, and maintain a family running routine, with the goal of running four marathons, or 104.8 miles, in a season. The best part is, you can participate from home or any location you like—no need to travel. The program also provides incentives for reaching milestones and offers online coaches to help keep you on track. If you and the family have been looking for ways to get active together, this program is a convenient place to start.
Shape Up NYC – all five boroughs
Run by the New York Parks and Recreation Department, Shape Up NYC is a huge treasure trove of free classes—over 350!—that you can take with your kids. They offer everything from chair yoga, awareness through movement, and swimming classes to dance classes such as Zumba, jazz, Bollywood, and Afro-Caribbean. Classes take place at various locations including churches, hospitals, parks, and recreation centers in all five boroughs.
Fitness Centers That Allow Kids
A number of national gym chains with locations in New York City allow kids, such as the worthy contenders listed below.
24 Hour Fitness – Kips Bay and Midtown East
With locations on the east side of Manhattan, 24 Hour Fitness allows kids ages 12 and up as long as they're accompanied by an adult member.
Crunch Fitness – multiple locations
This friendly gym (with memberships on the more affordable side) has a slew of locations throughout Manhattan as well as a modest smattering in the outer boroughs. They allow children age 13 and up with an adult member aged 21.
Equinox – multiple locations
This more exclusive gym has locations throughout all of Manhattan, and some in Brooklyn, Long Island, and Westchester. They allow kids ages 14 and up if accompanied by an adult member.

Planet Fitness – multiple locations
Planet Fitness calls itself "the people's gym," and that also includes people ages 13 to 18—when a parent has a membership in good standing. The gym is low-priced and marketed as the gym anyone can go to and not get judged, so it can get crowded. But it's a great Saturday night date with your kid when everyone else is out gorging on restaurant food and prepping to hit the gym on Sunday.

YMCA – all five boroughs
The YMCA is good for so many different activities for families, and that doesn't stop when it comes to fitness classes you can participate in with your kids. From Zumba and aerobics to jazz and hip-hop dance, local Ys across the five boroughs offer fitness classes that allow teens, and some even allow younger children. Plus, you don't necessarily have to be a member to attend one-off classes. Check with your local Y to see what classes are available near you. Kids ages 14 and older get access to some of the adult classes, and those who have completed orientation can access many of the facilities without a parent.
Fitness Studios With Parent-Child Classes
Many studios that offer martial arts, kickboxing, yoga, and rock climbing also offer mixed-age training classes or allow families to work out side by side. Some worthy options below.
Everyday Athlete — Carroll Gardens, Brooklyn
Feel like your kids are bouncing off the walls? Check out this rad rock-climbing gym where the whole family can get their climb on, with various levels to choose from. What better bonding activity than serving as one another's trust buddy on a rope with a decent height between you?
Love Child Yoga — Meatpacking
While many of the classes at this yoga studio are for prenatal and neonatal moms and parents with babies, they also offer classes for kids up to three and a half years old, as well as family classes where all ages are welcome to bend and breathe together.