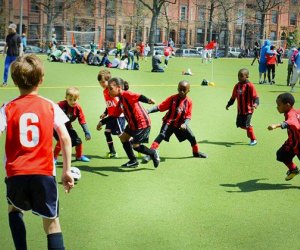 Game On: 10 Soccer Classes for NYC Kids
We've rounded up a variety of NYC soccer programs for budding kid athletes, from preschoolers just learning to kick that checkered orb, to middle-schoolers ready to master the roll and step over dribble.
Kids soccer is a year-round sport in NYC: You can get your kids into the game through a day camp over the summer, at drop-in classes throughout the year, or by participating in a season-long program with one of the youth soccer organizations listed below. Bonus: Many of these places also offer soccer-themed birthday parties, too.
Read on for 10 spots offering soccer sessions to NYC kids. You can find even more options in our NYC Directory and our NYC Classes and Enrichment Programs Guide.
Aviator Sports and Events – Marine Park, Brooklyn
Ages 18 months to 14 years
Home a program run by Dutch Total Soccer, which focuses on technical and tactical development, classes at Aviator Sports cater to athletes as young as 18 months with a parent-and-me class. Older kids can graduate to special skills classes, scrimmages, and even full-fledged leagues.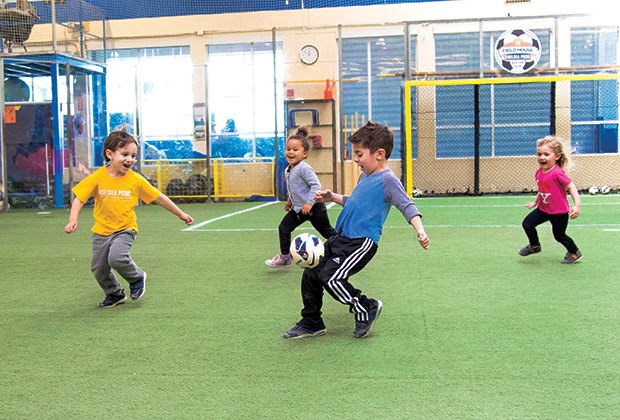 Preschoolers through teens can join a soccer class or camp at The Field House. Photo courtesy of Chelsea Piers.
The Field House — Chelsea Piers
Age 2 to 19
Chelsea Piers is a sports hub year-round, with classes in more than a dozen sports for all ages. Its soccer programs are divided by age and skill or interest level. Little Athletes, ages 2-5, learn the fundamentals of the sport and how to work together. Ages 5-14 learn more advanced skills, and the organization also runs a competitive youth soccer league for ages 8-14, plus travel teams starting at age 7.
Riverdale Soccer Club — Riverdale, the Bronx
Ages 6 to 14
The Riverdale Soccer Club offers spring and fall sessions, which fill up fast so it's a good idea to grab a spot early. This soccer club is also a bit more serious, as programs require tryouts, though there is a 90-minute "Peewee" instructional program for first- and second-graders on Sunday mornings in the spring that includes drills and some game play.
Soccer Kids NYC — Queens
Visit website for locations.
Ages 2-10
Children can enroll in seven-week seasons with Soccer Kids NYC throughout the year. They can also try a summer camp or afterschool session. Classes are grouped by age to ensure no one is left out. Kids will sprint, jump, dribble, and even crawl through obstacle courses. Although the program is headquartered in Middle Village, classes are held all around Queens, including Elmhurst, Flushing, and elsewhere. No trial classes are offered, but this program gives you a full refund if your kid decides it just isn't their thing before the third class. Win-win!
RELATED: NYC Classes Guide for NYC Kids: Sports, Art, Tech, and More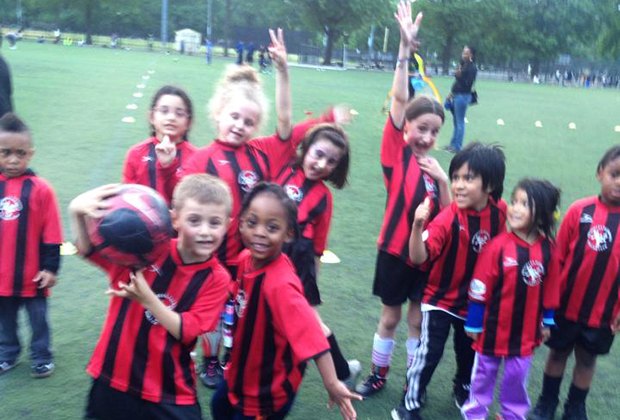 Soccer R Us offers classes for kids in Prospect Park.
Soccer R Us — Prospect-Lefferts Gardens, Brooklyn
Ages 2 to 12
Courses are divided by age, including a 45-minute parent-and-me class for toddlers. Younger children and their parents can participate in bonding and pre-soccer skill-building activities like simple drills and warmups, as well as songs and games. Preschoolers and kindergartners can build on their budding skills, while older kids can foster a sense of teamwork and cooperation. Classes move to an indoor space in Prospect-Lefferts Gardens during the fall and winter and take place in the Prospect Park Parade Grounds during the spring and summer.
Sonic Soccer Academy — Brooklyn
Visit website for locations.
Ages 3 to 8
The Sonic Soccer Academy offers both co-ed classes and a beginner girls' academy. Sessions are held at indoor and outdoor locations throughout Brooklyn, including Park Slope and Brooklyn Heights, but also Bay Ridge and Windsor Terrace. Typical classes aim to develop motor skills, teach soccer basics, and give kids a chance to put their skills to the test with scrimmages. While the youngest might focus on balance, older kids move on to dribbling, defending, and developing technical skills and a love of the game.
Super Kickers — Queens
Visit the website for locations.
Ages 1 to 12
Super Kickers is home to more than just soccer, including classes in dance, martial arts, and even piano. The soccer programs focus on getting exercise, working together, and developing soccer skills. A more advanced soccer program is also available for kids who want to take their game to the next level.
RELATED: Free Summer Sports and Outdoor Programs for NYC Kids
Super Soccer Stars – Citywide
Visit website for locations.
Ages 1 to 12
Super Soccer Stars classes introduce the skills necessary to enjoy the sport to kids as young as 1 year old in its Parent & Me classes, and build from there all the way up to advanced travel teams. Choose from full-semester sessions, drop-in classes, afterschool lessons, and even summer camp. Classes take place indoors and out in all five boroughs, as well as the Hamptons, Long Island, Westchester, and New Jersey. Classes are held year-round, including on weekends, and class locations are scattered throughout the city, including some in city parks and local school gyms.
Williamsburg Soccer Club – Williamsburg, Brooklyn
Visit the website for locations.
Ages 18 months to 8 years
Register for long-term classes or choose a drop-in option at this Williamsburg org. Classes are held throughout the 'hood and afterschool pickup is even offered from PS 31 and PS 34. Weekly classes build skills, focusing on a new one each session. All are led by qualified and background-checked coaches, too, who emphasize a love of the game alongside learning skills.
Yorkville Youth Athletic Association – Upper East Side
Ages 4-13
Utilizing the fields on Randall's Island (fall) and in Central Park (spring), the Yorkville Youth Athletic Association sponsors everything from intro classes up to competitive leagues and even sleepaway camps for those interested in the beautiful game. Indoor training is available when the weather turns.
Top image: Soccer R Us. Photo courtesy of the class.
A version of this story was published in 2016; it has since been updated. Katie Nave Freeman contributed additional reporting.