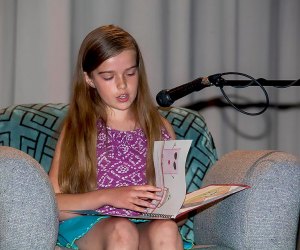 6 Writing and Art Contests and Opportunities Just for Kids and Teens
When my daughter was in fourth grade, she was struggling socially and academically—but I noticed that any free time she had was used typing away on the computer. Eventually, I took a peek into her writing folder. There were several compelling short stories and poems, way better than the writing assignments she was turning in for school. With the hope that positive affirmation from a source outside of school would inspire her, I sought out kid-focused writing initiatives that might encourage her to develop her budding skills.
As children get older and their interests and personalities develop, special opportunities and internships can foster their passions and develop their strengths. If you have budding artist, writer, or future game designer in your home, take note of these contests and opportunities from the likes of Scholastic and Time to help kids, tweens, and teens explore and showcase their creative work, while boosting their skills and confidence—including two amazing opportunities with deadlines that are right around the corner!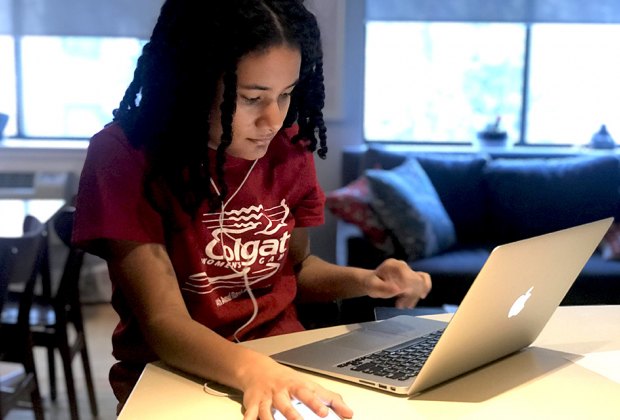 Creative programs and opportunities can help kids find the right fit for their talents.
At first it was hard to find viable contests and writing programs for my then 10-year-old, but then I stumbled across the NHPBS Kids Writers Contest and the TIME for Kids Kid Reporter Contest, two opportunities designed to help foster kids' writing skills and confidence.
"Frequently for kids, encouragement from outside sources besides parents and teachers saying you can do this, you are good at this gives them confidence," says Susan Adams of the NHPBS Kids Writers Contest. "That's what we want, for children not to be afraid of writing, to not be afraid of telling their own story."
Once my child was on board with the idea of applying for a writing contest, the real work began. Filling out the application, working on the essays, and helping my daughter identify something she would be passionate enough to write about were all part of the process.
In 2017, my daughter Marley became a Time For Kids Kid Reporter, which proved to be an amazing opportunity. Here is what Marley has to say about her experience: "When my parents told me about the contest I asked why? Because it sounded like a lot of work. And I do not like doing a lot of work unless it is the work I like to do! But it turned into the work I like to do, because I like meeting people. The first person I met was Malala Yousafzai. I thought to myself, 'I have never done this before.' But since I did that interview, I feel like I can pretty much handle anything."
Now she's a reporter for Scholastic Kids Press Corps and continues to build on her writing and journalism skills. "Working for Scholastic Kids Press Corps is awesome!" she says. "I learned how to get into the rhythm, learning to send emails, communicate with an editor, ask good questions, write an article, go places and be ready, be on your toes, thinking about what you are going to say."
"Coming up with questions, asking follow-up questions, and bringing stories back to one's peers all help young journalists understand how much power they have to influence the larger discussion and make a positive difference in the world," adds Suzanne McCabe, editor for the Scholastic News Kids Press Corps. "Our reporters develop self-confidence through the experience."
Whether your child is a passionate writer or you are trying to encourage your child to hone their creative skills, these annual contests and educational opportunities are well worth the time and consideration.
Writing and Art Contests for Kids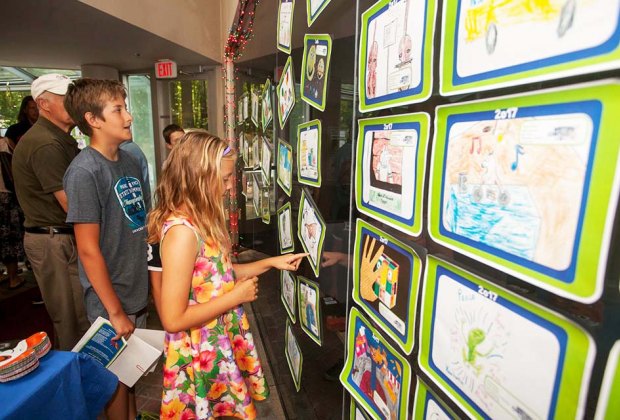 Gallery Wall at 2018 NHPBS Kids Writers Contest Awards Ceremony. Photo by Mark Bolton
NHPBS Kids Writers Contest
Next deadline: March 31, 2019
Ages: Grades K-5
The New Hampshire PBS (NHPBS) Kids Writers Contest is open to children in and outside of the United States at every grade level from kindergarten through 5th. Dedicated to appreciating and encouraging kids' creative writing, the contest gives every child who enters a ribbon, certificate, and personalized response to their story, plus publication online. Beyond first, second and third prize, there are also winning categories for honorable mention and outstanding achievement in writing and illustration.
Sports Illustrated Kids Kid Reporters
Next deadline: March 31, 2019
Ages: 10-14
For kid athletes and sports enthusiasts, Sports Illustrated Kids is now accepting applications for their Kid Reporter program. SI Kids Kid Reporters write stories and blog posts for SIKids.com and work with SI Kids editors to pitch stories. You may even meet a sports icon or two along the way.
RELATED: Classes Guide for Babies, Kids, and Teens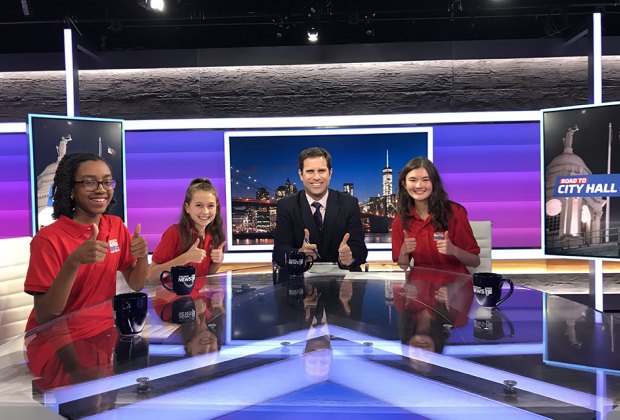 Kids are the newscasters at Scholastic News Kids Press Corps. Photo courtesy of Scholastic News Kids Press Corps
Scholastic News Kids Press Corps
Next deadline: May 31, 2019
Ages: 10-14
From across the country and around the globe, Scholastic News Kids Press Corps gathers aspiring journalists ages 10-14 to cover breaking news, entertainment, and major events. Their stories appear online and in issues of Scholastic Classroom Magazine, which reaches more than 25 million students in classrooms nationwide. "Scholastic is dedicated to helping cultivate literacy in young people. This includes media literacy and civic awareness. We know that kids sometimes listen to other kids before they listen to adults, so it's a natural fit for us to offer 'news for kids, by kids,'" says Suzanne McCabe, Editor, Scholastic News Kids Press Corps.
TIME for Kids Kid Reporter Contest
Next deadline: June 21, 2019
Ages: 13 and under
Interested in reporting local and regional news stories for TIME for Kids magazine and TIME for Kids online? Every school year TIME for Kids magazine looks for students from around the nation to be members of the TFK Kid Reporter team. Andrea Delbanco, Editor-in-Chief, TIME for Kids explains why it's so important for kids to learn the art of journalism: "A major focus of our work at TIME for Kids is addressing news literacy. Given the current crisis of misinformation, it's our responsibility to teach the next generation to better navigate the news. Our writers and editors all strive to create stories that show children what authoritative, fact-based journalism looks like. But kids learn best by doing, and having students actively write and report news articles teaches them what it takes to be a good reporter. They learn to find multiple sources, fact-check their work, and other important parts of the process of putting together a solid story."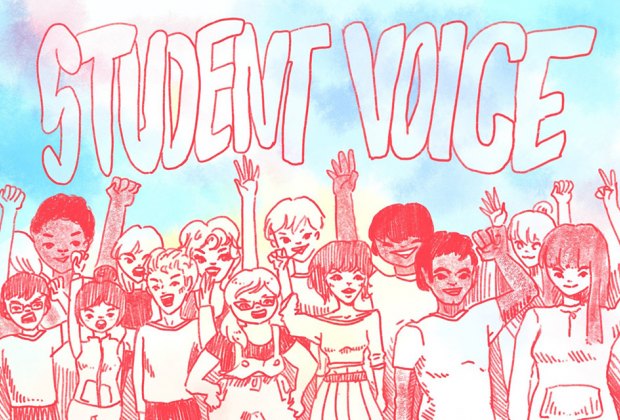 An image by Darcie Wu, 13, created in response to a NYT Learning Network call for illustrations on the concept of "student voice." Courtesy Darcie Wu, 13 via the NYT Learning Network
The New York Times Learning Network
Deadlines vary by contest; view the website for a complete list of contests and deadlines
Ages: 13-19
For 20 years The New York Times Learning Network has offered free classroom resources such as lesson plans, writing prompts, quizzes, and student contests based on materials published on NYTimes.com. The editors are former high school teachers who develop content based on news and sound pedagogy. The Learning Network also produces free features for students, including a resource list for young writers who want to publish their work, and an ongoing contest calendar that includes poetry, podcast, photography, editorial cartoons, and writing. "We invented this series of contests because we know as former teachers that teachers are looking for what they call 'authentic audience,' meaning kids need to rehearse writing for a real audience," says Katherine Schulten, an editor at The Learning Network. While the Learning Network is primarily online, four times a year they publish the best student work in the Learning Section of The New York Times print edition. As Schulten says, "we have heard teacher after teacher say it can change a kid's life to be in The New York Times!"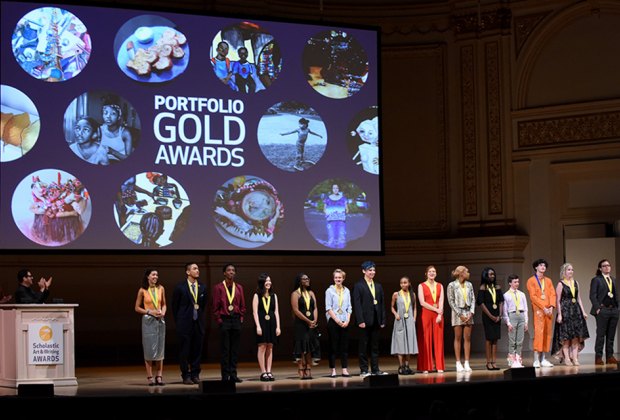 Scholastic Art & Writing Awards ceremony recipients on stage. Alliance for Young Artists & Writers/Scholastic Art
Scholastic Art & Writing Awards
Next deadline: 2020 awards will open for submissions on September 12, 2019
Ages: 13 years and up, grades 7–12
The Scholastic Art & Writing Awards has an enduring legacy as the nation's longest-running and most prestigious scholarship and recognition program for creative teens. With notable alums including Andy Warhol, Truman Capote, Richard Avedon, Sylvia Plath, Kay WalkingStick, Stephen King, Lena Dunham, and Zac Posen, the program has a rich history of identifying early talent. Students in grades 7–12 can submit their work to 29 different categories of art and writing, which includes poetry, photography, sculpture, humor, editorial cartoon, and video game design, to name a few. According to Virginia McEnerney, the Executive Director of the Alliance for Young Artists & Writers, which presents the awards, "Recognition in the Scholastic Art & Writing Awards not only serves as early validation for young artists and writers, but also provides them with access to scholarships, workshops, and the ability to have their work published and exhibited."